Vauxhall releases first details and pictures of Astra coupe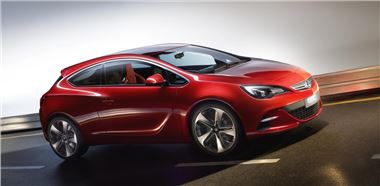 Vauxhall has released the first details of the Astra GTC Paris coupe concept, which it plan to show at The Paris Motorshow at the start of October.
Although labelled a concept, it's expected to be extremely close to the finished three-door coupe that will join the five-door hatch and estate in the Astra range next year.
Mark Adams, Vauxhall/Opel's Vice President of Design, has described the GTC Paris as, 'bold, pure and iconic' in its appearance. Vauxhall has hinted that a production version will not stray far from the rakish lines of the concept, and if the GTC moniker were to be adopted, it would be the first time that a Vauxhall has been so named.
At 4.46 metres, the GTC Paris offers ample space for five people, yet still maintains a svelte and sporting appearance. Adams' team has maximised 'tension' in the design by limiting the amount of lines in the car's profile, and leaving the impression that the car's highlights and surfacing are 'pressed' on to the concept's 21-inch wheels.
Slim, eagle-eye shaped headlamps, flanked by LED running lights with chrome surrounds dominate the front of the GTC Paris. A sharp centreline crease runs down the bonnet (a trademark styling cue from Vauxhalls of yore) and leads to a dramatically low trapezoidal grille incorporating a chrome emblem bar.
At the rear, the imposing features of the concept are enhanced with LED tail lights, showcasing a long, stretched 'wing' night time graphic.
The GTC Paris features an electronic limited slip differential and an updated version of Vauxhall's FlexRide adaptive damping system. The new Astra's unique compound crank / Watt's link rear suspension provides excellent packaging and secure, driver-focused dynamics.
A four-cylinder, 2.0-litre turbocharged engine, with direct petrol injection and Start/Stop technology is mated to a six-speed manual gearbox, providing drivers with high levels of performance and fuel efficiency.
More details about the GTC Paris Concept will be revealed before the Paris Motor Show.
Click here to read our 2010 Paris Motor Show A-Z guide.
Comments