Citroen to unveil Lacoste concept car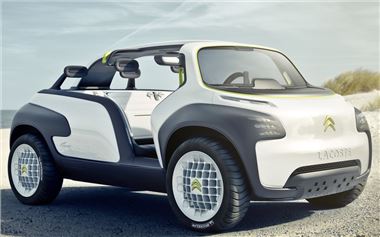 Citroen and Lacoste have joined forces to create the Citroen Lacoste concept car which will be officially unveiled at the Paris Motor Show in October. The offbeat model is designed to take a simplified, no-nonsense approach to motoring but without forgetting refinement. Citroen says it's 'positioned at the crossrads of the automotive world, where fashion and sport meet.'
The Lacoste features a high waistline, textured wings, short overhangs front and rear and golf ball-style alloy wheels, placed in the furthest corners of the body. Inside, passengers enjoy an open-air experience thanks to the broad cut-outs that replace the front doors and the lack of a hard-top roof. The windscreen can also be lowered out of sight, providing an uninterrupted line around the entire cabin, front, back and sides.
Access to the rear seats is made easy, with passengers simply jumping onto the rear bench. For transporting luggage or sports equipment, the rear bench slides handily into the boot. The car can also be fitted with specially designed sports equipment, including tennis rackets, golf clubs, skis, a surfboard or a bike.
The cabin contains numerous storage areas such as compartments discreetly located under the dashboard and within the two bench seats - with sliding covers that echo the colour of the upholstery. The seats themselves are overstitched in white cotton, with a weave closely resembling that of a polo shirt - an iconic Lacoste design. Building on this theme, the seatbelt anchorage points have "necklines" like a polo shirt, while the seats are covered in robust, rope-like cotton.
Like a wardrobe full of different clothes, accessories and fabrics, the Citroon Lacoste uses a range of colours and materials with the emphasis on bold, traditional colours like white and deep blue. The cabin is dotted with bright - almost fluorescent - yellow splashes in the storage compartments and on the grab handles, which are finished in soft and tactile rubber, with a tennis ball-like effect.
Other details make reference to the sporting world of the Lacoste brand. It boasts square relief designs that resemble sections of a tennis net on several parts of its body. The fairing that rises up from the underbody, at both the front and the rear, recalls the print left by a tennis shoe on a clay court.
It is powered by a three-cylinder petrol engine with plenty of performance on tap to power a vehicle of this size and weight. With its light structure, the economical powerplant is a perfect match for the car's "back to essentials" nature and the compact dimensions (it is 3.45m long, 1.80m wide, 1.52m high and has a 2.30m wheelbase), mean it's ideal for the city.
Comments