Bentley introduces new Continental GT coupe

Bentley has launched a revised version of its luxurious Continental GT coupe which adds further improvements to the original model, launched in 2003, with a sharper exterior look along with a contemporary, hand-crafted cabin which promises class-leading refinement. The immense V12 engine has also been upgraded and a new V8 powerplant will be added to the range in 2011.
Inspired by the iconic Bentleys of the past, the trademark Bentley grill is now more upright, while a new headlamp design includes LED daylight-running lamps. At the rear, 'floating' LED lamps extend around the corners of the wings, emphasising the new coupe's width. The track is 41mm wider at the front and 48mm wider at the rear than the previous model. The bootlid design has a 'double horse-shoe' motif, reminiscent of the new Bentley Mulsanne, while there are flared elliptical exhaust tailpipes.
The shape of the new GT coupe's body is also more aerodynamic. In conjunction with a range of extensive underbody refinements (including wheel arch and exhaust aerodynamic aids) the GT's drag coefficient has been reduced to create greater stability at higher speeds.The new GT is comes with 20-inch alloy wheels as standard, with - for the first time on the Continental family - the option to upgrade to 21-inch designs. Three styles of wheel are offered - a 20-inch five-spoke version and two 21-inch Elegant and split-rim Sports variations, which come in a variety of chromed and painted finishes.
When it comes to power, the Continental GT has a choice of two high-performance engines. In addition to the new 575bhp version of the renowned 6.0 litre W12 powertrain, a new high-output 4.0-litre V8 engine option will be introduced in late 2011 with 40 per cent lower emissions than the W12.
The GT coupe is 65kg lighter than its predecessor thanks to reductions in all areas of the car from engine components through to new seats. With its power output raised by 15bhp and torque by 50Nm - to 575bhp and 700Nm the result is a 0 to 60mph time of just 4.4 seconds with a top speed of 198mph. The increased power and torque are transmitted to the all-wheel drive system via an uprated six-speed Quickshift transmission, which halves shift times (to just 200 milliseconds). The revised gearbox also has the ability to deliver double downshifts (sixth to fourth gear, for example) and improves acceleration across the entire gear range.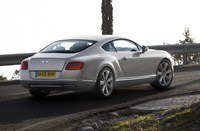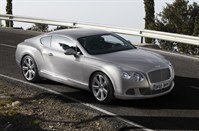 With an entirely hand-crafted interior, Bentley says the Continental GT's cabin sets new standards in refinement and luxury to create a stylish space in which up to four people can relax in total comfort. There's new touchscreen technology and chrome-bezelled dials which rise from the centre console in the form of dramatically surfaced 'wing' buttresses.
The unique 'Cobra' design seats are supremely comfortable thanks to the introduction of the latest body-supporting materials which use complex foams to provide softness at first touch but with excellent support over longer journeys. They can be specified with front-seat ventilation as well as a state-of-the-art massage system with 10 individual massage cells. The new slim-line front seats with scalloped backs also provide a further 46mm of legroom for back-seat passengers and easy access to the rear cabin.
The cabin is trimmed with soft-touch leathers, a full range of wood veneers, cool-touch metals and deep-pile carpets - all hand-crafted in Bentley's workshops at the factory in Crewe. The attention to detail even extends to applying a UV stabilizer to the wood veneers to protect from bleaching. Every leather hide is still sewn under the watchful eye of Bentley's highly skilled craftsmen and women. Other practical functions include a powered boot as standard, Electronic Park Brake with Move Off Assist and newly designed, leather-lined door stowage bins with an integrated bottle holder.
Perhaps the most stylish new storage device in the new Continental GT is the folding, removable case designed to hold items such as keys and pens which can also be slipped into a pocket or bag. Crafted from veneers to match those of the coupe's interior, the case (available as a cost option) is finished with inlaid Bentley wings, satin-chromed and leather-lined, and is secured in a recess above the twin drinks holders in the centre console.
The new Continental GT also features advanced new touchscreen technology with rich map imagery and a 30GB hard drive. The 8-inch screen displays the car's audio system, telephone, ride and comfort settings and the very latest navigation system, which uses both an in-car hard-disc drive and a DVD player to access route data. It also employs dynamic navigation to guide you around areas of heavy traffic, finds destinations using geo-tagged photos from an SD memory card and is Google Maps-compatible.
Click here to read our 2010 Paris Motor Show A-Z guide.