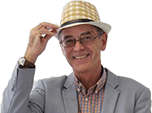 Paris Motor Show 2014: Infiniti premieres Q80 Inspiration concept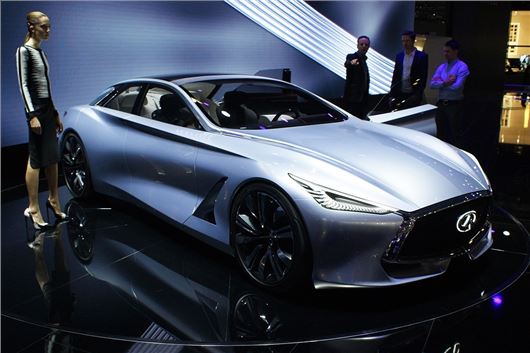 Published 02 October 2014
Infiniti has revealed the Q80 Inspiration concept at the 2014 Paris Motor Show. The large luxury model previews a production model set to go on sale in a few years, competing against established competition like the Audi A7 and Porsche Panamera. Expect prices from around £50,000.
The show car features a coupe-like roofline and large, 22-inch alloy wheels. The flanks feature swooping lines, the roof is made of glass and the rear bumper has integrated exhaust pipes. Quite how much of the styling makes it into production is unclear, however.
The cabin has four individual seats – the Q80 Inspiration concept is billed as a '1+1+1+1'. The production car is likely to get an adaptive suspension system to control body roll while maintaining cabin comfort, while acoustic glass and sound deadening should mean impressive refinement.
Power comes from a V6 hybrid petrol engine, which previews a new range of production powerplants due in coming years. Peak power is 550PS, yet emissions are said to be impressively low at 129g/km, which equates to economy of 42.8mpg.
The Q80 Inpiration is packed with high-tech driver aids, which assist the driver and suggest courses of action for highway driving or traffic jams – but the system doesn't drive the car autonomously, leaving decisions with the driver. Information from all the onboard technology is displayed in the windscreen via a head-up display.
It's not clear when a production Q80 will be available, but Infiniti has a handful of new models planned, all of which should arrive in showrooms by 2020. The first of these will be a Sunderland-built rival for the Audi A3 and BMW 1 Series, called the Q30. This will be followed by a QX30 crossover – with the Q80 flagship following some time after.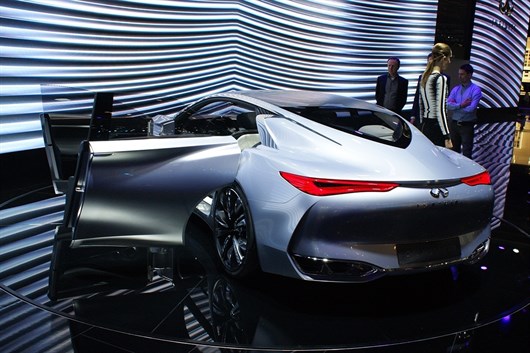 Comments
Author

John Slavin
Latest