Ford to debut new B-MAX at Geneva show
28 Feb 2011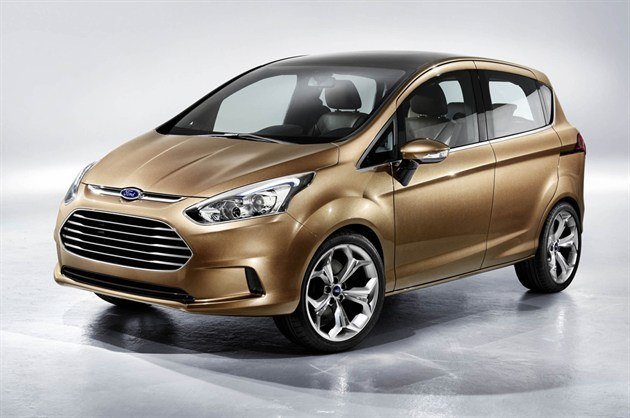 Ford will take the wraps off its new B-MAX at the Geneva Motor Show, a mini MPV with clever twin-rear sliding doors to make getting in and out incredibly easy. It's described by Ford as 'production ready' so we should see it launches this year, following on from the new C-MAX and Grand C-MAX.
Ford says the B-MAX has 'exceptional space and versatility for such a compact vehicle' while the brand is promising a high quality cabin and generous standard equipment levels too. Based on the same platform as the Fiesta, the B-MAX is around four metres long (so just 11cm longer than a Fiesta five-door), but shorter than the new C-MAX.
But the big feature is the doors. With both front and rear doors open there is impressively easy access, with an aperture measuring more than 1.5 metres wide, so it's ideal for fitting child seats in the back or for more elderly passengers.
The rear seats fold 60/40 plus the front passenger seat folds down to create a flat load floor. With the front passenger seat folded, the interior is capable of handling exceptionally long loads measuring up to 2.35 metres in length. Sitting 11cm taller than Fiesta, the B-MAX also provides extremely generous accommodation for its occupants. Drivers benefit from a higher 'command' seating position, while rear seat legroom and headroom is significantly improved.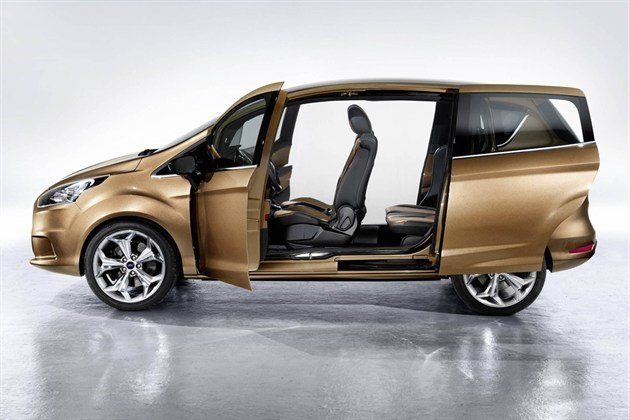 To deliver the required strength in side impacts, the structure of both front and rear doors has been significantly strengthened - with ultra-high-strength Boron steel in key load-bearing areas - so that the door frames work together to absorb energy like a 'virtual B pillar'. Special safety interlocks and reinforced latch mechanisms ensure that the doors remain firmly fixed to the roof and floor structure during an impact, and enable the front and rear doors to act together to protect the occupants.
The cabin retains the sporty feel of Ford's small-car interiors, but introduces premium touches and other elements from the larger C-MAX. The driver controls are based on Ford's HMI (Human Machine Interface) approach, with a large six-inch touch screen display mounted in the centre of the upper IP, above the much-acclaimed mobile-phone style integrated control panel.
The B-MAX is powered by an ultra-low-CO2 engine, featuring a state-of-the-art three-cylinder 1.0-litre Ford EcoBoost petrol engine equipped with the Ford Auto-Start-Stop system. Like the 1.6 and 2.0-litre four-cylinder Ford EcoBoost engines, which have recently been launched in Ford's European medium and large cars, the 1.0-litre unit combines direct fuel injection, turbocharging and twin independent variable cam timing to achieve significant reductions in fuel-consumption and CO2 emissions.
Designed to replace larger conventional four-cylinder petrol engines, the three-cylinder Ford EcoBoost engine is undergoing final development prior to its production launch.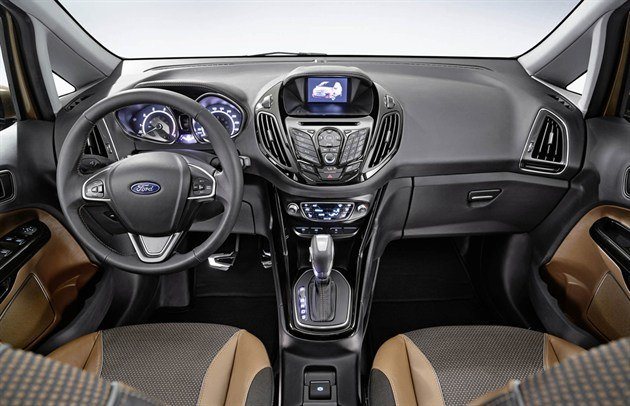 Full coverage of the Geneva Motor Show 2011