Volkswagen's new commuter concept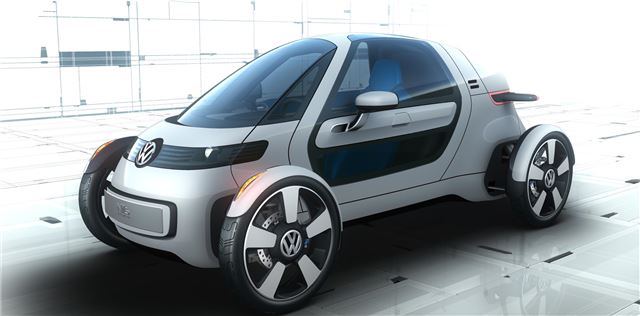 Volkswagen's latest concept car, NILS, is designed as a solution to modern mobility. The single-seat electric vehicle is small, with space for just one occupant, and is powered by an electric motor.
Top speed is 80mph, and maximum range is 40 miles, which is suitable for the majority of commuters in Volkswagen's home country of Germany.
The battery is relatively small and inexpensive, and can be charged from a conventional 230V socket and takes just two hours to charge.
The design in Formula 1 inspired, with the driver in the middle, the engine in the back and free-standing outboard 17-inch alloy wheels. The NILS is designed to be entertaining as well as environmentally friendly. Thanks to the lightweight body, power steering isn't needed, and optimal weight distribution means handling is 'go-kart' like.
The instrument cluster takes the form of a seven-inch TFT screen, and there's also a slot for the Portable Infotainment Device (PID) featured in the up!.
"NILS anticipates the future.  The goal of the NILS project is to research a technically concrete and economically feasible vehicle concept for micromobility which restructures individual transportation to make it more efficient and environmentally compatible based on electric drive technology," said Dr Ulrich Hackenberg, member of the Board of Management and Head of Development for the Volkswagen Brand.
Comments