Land Rover premieres two Defender concepts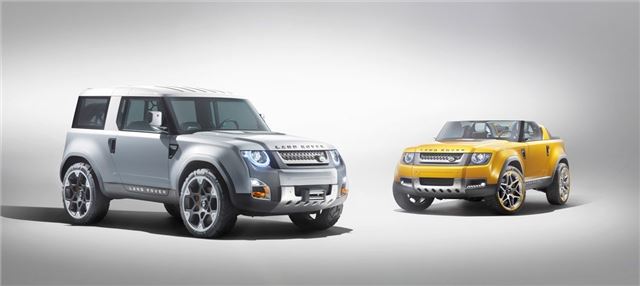 Land Rover has premiered two concepts at Frankfurt, the DC100 and the DC100 Sport. Both models are based on the same platform, with permanent four-wheel drive and a 2.0-litre diesel engine.
The two models are distinctly different – the sport takes design cues from canvas roofed Land Rovers of old, but with a more stylish design.
The 'regular' DC100, though, is much more rugged in its appearance, to appeal to the current Land Rover off-road aficionados.
The engine is plug-in and hybrid capable, and features fuel saving technology such as start/stop, as well as a system to physically decouple the rear axle when all-wheel drive isn't needed.
There's a lot of technology in the DC100 concepts, including a waterproof RFID based key, removable touchscreen infotainment system and wireless charger for the likes of mobile phones and iPods.
Technology supplements the rugged, off-road ability of the Land Rover, with sonar based depth sensor to tell the driver how deep water ahead is, as well as to advise of difficult obstacles ahead and suggest alternative routes.
Land Rover has confirmed that a new Defender will be introduced in 2015, but the DC100 is a concept and while the new model will take some cues from it, it's unlikely to be the same.
For more Frankfurt information, click here.  
Comments