Toyota Claims Lowest Whole Life Costs For Prius Plug-in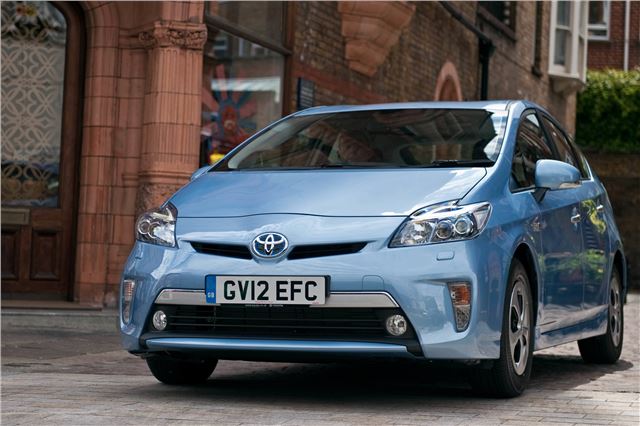 Toyota today claims that its new Prius Plug-in offers lower whole life costs than the Vauxhall Ampera and Peugeot 408 Hybrid4.
In addition to this, Toyota asserts a £3,587 advantage in specification and price under the Vauxhall Ampera.
Toyota states there is no other car on the UK market that exactly matches the benefits offered by its Prius Plug-in Hybrid Synergy Drive full hybrid powertrain: it offers the near-silent, zero emissions performance of an electric vehicle, being able to run on its lithium-ion battery for around 15.5 miles (v/s 30 miles for the Ampera) and at speeds up to 51mph. When battery charge runs low, the car's full hybrid system – which includes a highly efficient 1.8-litre petrol engine – takes over, so the driver doesn't have to worry about whether the car has enough power to reach its destination.
Compared to the Ampera, which uses a petrol engine as a "range extender" to support the electric motor, Prius Plug-in offers a higher specification, more seats on board and can save almost £2,000 on costs over three years/60,000 miles with its greater range and quicker battery charging time. 
| | | |
| --- | --- | --- |
|   | TOYOTA PRIUS PLUG-IN | VAUXHALL AMPERA EARTH |
| OTR price (including £5,000 OLEV grant) | £27,895 | £29,995 |
| Driving range | 769 miles | 360 miles |
| Battery charging time | 90 minutes | 4 hours |
| Cost to charge | £0.60 | £2.20 |
| Cost per mile electricity | 3.9p | 4.4p |
| Number of seats | 5 | 4 |
| Navigation system | Included | - |
| Rear-view camera | Included | - |
| Specification adjustment value vs Prius Plug-in* | - | +£3,587 |
| Whole life costs over 3 years/60,000 miles** | £36,272 | £38,130 |
* Data provided by JATONet
**Data calculation by Kwikcarcost
Independent car data specialist Kwikcarcost also rates Prius Plug-in a stronger proposition for company car drivers in terms of cost-per-mile, compared to the Peugeot 508 Hybrid4 saloon and Vauxhall Ampera. The Toyota comes in at 60.45p, compared to 69.12p and 63.55p for the Peugeot and Vauxhall respectively. In the course of a year – an average 20,000 miles – this will see the Toyota costing £700 less to run than the Vauxhall and more than £1,700 less than the hybrid 508.
For company car drivers Prius Plug-in attracts a five per cent benefit-in-kind tax rating for the first three years, rising to 13 per cent in year four. For fleet operators it benefits from a 100 per cent write-down allowance in the first year. And for all owners, the 49g/km CO2 figure means there is no annual road tax (VED) bill to pay, plus exemption from theLondon congestion charge.
More at Toyota
Comments