Scrap Cars Raise £500,000 For Charity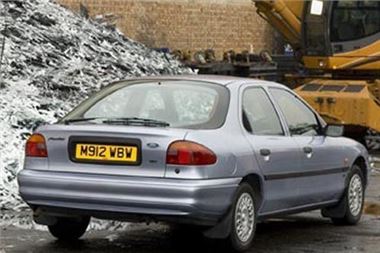 Giveacar, one of Britain's most dynamic social enterprises, has just passed the landmark of half a million pounds raised for charity in less than two years.

The target was reached with a donation of £479.50 to the Chestnut Tree House Children's Hospice, in Arundel, West Sussex, a charity chosen by car owner Mr Claudio Tessaro, also from Arundel.

Mr Tessaro says: "I didn't know much about how to get rid of an old car and so I was really happy to come across the Giveacar scheme. It allowed me to give a great donation to a local hospice that is doing wonderful work for children with life-threatening illnesses."

Giveacar raises money for charity by scrapping old cars, recycling the parts and passing the proceeds to the charity of the owner's choice. Anyone who has an old car they no longer need can use the scheme. Cars can be picked up from anywhere in Britain - all it takes is a phone call.
Linda Perry, Director of Children's Services at the hospice adds:

"We are over the moon that a donation to Chestnut Tree House has helped Giveacar reach this important
milestone and on behalf of the children and families at the hospice, I would like to say a big thank you to Giveacar and to everyone who has made a donation to Chestnut Tree House in this way."

Giveacar pioneered the idea of scrap car donation in the UK and has already supported the work of more than 450 charities, helping them to make a real difference to people's lives both here and overseas. A not-for-profit company, Giveacar has raised over £85,000 for Cancer Research UK alone.

Giveacar's manager, Alex Harvey, comments:

"We are thrilled that we have been able to raise £500,000 in such a short time. I'm particularly glad that, in the run-up to Christmas, we reached this target with a donation to a charity that cares for children in very difficult circumstances.

"Giveacar works because we make it really easy for people to donate their cars and help the causes closest to their hearts. Wherever people live, we can take their car away, break it down and recycle the raw materials, take care of all the paperwork and make sure that the proceeds reach the charity of their choice – it couldn't be
simpler."
Giveacar's pioneering approach to raising money for charities has attracted widespread acclaim and recently resulted in it being named as the only British finalist in the World Challenge 2011, a global search for the most effective social enterprise, supported by the BBC and Newsweek.

Alex Harvey concludes: "A big thank you for the valuable work of the many volunteers and charities who have shown faith in a new idea and, of course, to Giveacar's founder, Tom Chance, whose determination and tireless efforts put Giveacar firmly on the fundraising map.

"We are also grateful to all those who have contacted us and asked us to scrap their cars and help their
chosen causes. The half a million pounds that Giveacar has raised helps charities to continue their amazing work and we look forward to doubling that amount as soon as we can. To do so, we need people to donate their old cars and decide which charity they want to support – call 020 0011 1664 or visit www.giveacar.co.uk and we will take care of the rest."


Launched innJanuary 2010 by social entrepreneur Tom Chance, Giveacar was the first service of its kind in the UK and it allows charities to tap into a brand new source of funds. At the same time it gives car owners a simple way to get rid of their unwanted cars and put them to good use, raising money for their favourite charities.

Giveacar's customers ring up, have the details of their cars taken and are asked for the name of their favourite charity. Cars are collected by tow truck directly from customers' home addresses. Some will be scrapped and others will be sold on. Giveacar has built a network of scrap merchants and auction houses reaching into almost every corner of the UK, and always aims to get the best price for each car donated. Giveacar is happy to deal with any registered UK charity.

For car owners, this is a simple, hassle-free way of getting rid of an old banger and helping a good cause. For charities, it's a new funding stream from a previously untapped source. The environment benefits too: dangerous and unsightly cars are taken out of circulation. All Giveacar's scrap cars are depolluted and processed to the highest environmental standards.

In the company's first month of operation it handled the donation of just seven cars, but this figure has grown steadily and now Giveacar often receives that many enquiries in a single morning.

Having appointed an enthusiastic and highly committed team to run Giveacar, Tom Chance has now stepped back from day-to-day operations, whilst retaining a strategic advisory role. Giveacar remains a truly independent social company, not owned by or tied to any commercial operation.

www.giveacar.co.uk.
Comments