Prime Minister Acknowledges Importance of British Car Industry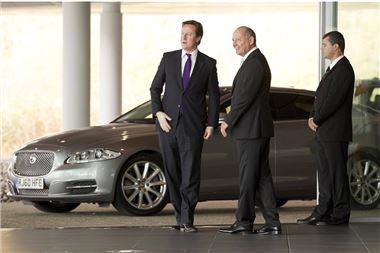 In a week when Prime Minister David Cameron visited McClaren's new supercar production facility in Woking, the SMMT announced: "October was another positive month for UK vehicle production, with output up 12.5% and car manufacturing at its highest level since March."
UK-based car manufacturing rose 14.1% in October and is up 5.8% over the year-to-date while UK engine production rose 12.0% in October and is up 5.7% over the first 10 months of 2011..
Paul Everitt, SMMT Chief Executive said. "Strong export demand for UK-built cars and engines is good news
for the economy during this difficult period. Weak UK market demand is a cause for concern and makes it essential that the Chancellor uses his Autumn Statement to help encourage private sector investment and boost economic growth."

The automotive industry is a vital part of the UK economy accounting for £40 billion turnover and £8.5 billion value added. With over 700,000 jobs dependent on the industry, it accounts for more than 10% of total UK
exports and invests £1.5 billion each year in R&D.
During the Prime Minister's visit to McClaren, McClaren Chief Executive Ron Dennis said, "In the UK, there has been an over-reliance in the past on the financial and service sectors. Now, industry is realising that Britain's grand manufacturing tradition is a solid platform upon which to build – and I want the McLaren Group to play its part in the crucial recalibration of UK plc.
"I'm delighted that the Government is embracing that initiative too: we need to encourage young people to embrace the STEM subjects, by which I mean, science, technology, engineering and mathematics.
"This should not trigger the abandonment of the arts – of which I am also a keen patron. However, I firmly believe it is the role and duty of British industry to offer STEM graduates the appropriate destination jobs – the provision of a worthwhile career path that ensures that our brightest scientists, technicians, engineers and mathematicians aren't lured into finance or banking – simply because they feel that engineering cannot compete to offer equal satisfaction or reward."
Appropriately, the Prime Minister arrived at the McLaren Technology Centre in a Jaguar XJ
Jaguar LandRover reported a healthy rise in profits and sales for the second quarter of this year - boosted by a 66% sales jump in China where it's looking to set up a new factory in a joint venture. JLR also announced a 9% rise in second quarter profits for the three months to September to £287million on the back of a 30% rise in global sales.
For more details see SMMT's Motor Industry Facts at www.smmt.co.uk/publications.
Comments