Audi to show off 503PS Audi A1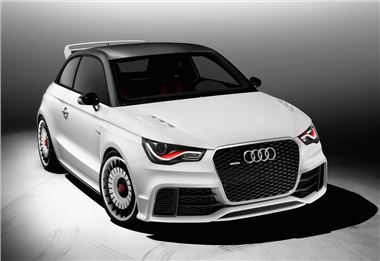 Audi is to show a one-off 503PS A1 Clubsport quattro at the annual Wortherseetour meet this year. It's powered by a 2.5-litre five-cylinder TFSI engine, which produces 660Nm of torque and allows the car to hit 62mph in 3.7 seconds. The top speed is limited to 155mph.
The car, which Audi calls 'larger-than-life' will appear at the 30th Worthersee meeting, an annual get together for Volkswagen Group cars and enthusiasts.
The A1 Clubsport quattro is powered by a modified Audi RS3 engine and features the six-speed manual gearbox and four wheel drive system from the Audi TT RS. From a standstill it can reach 124mph in 10.9 seconds.
The car is finished in matte white, with a black roof. Larger front, rear and side skirts, as well as a large rear spoiler, give the exterior an aggressive, purposeful look.
The interior is stripped out, with just one seat, and no infotainment or audio system.
The A1 Clubsport is a one-off and will not be available for sale, but those of you who enjoy video games can experience a virtual version in Need for Speed World, which is a free-to-play game available now.
Comments