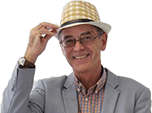 Team Mazda UK pilot Eric Vazeille wins Bronze medal in World Aerobatic Championship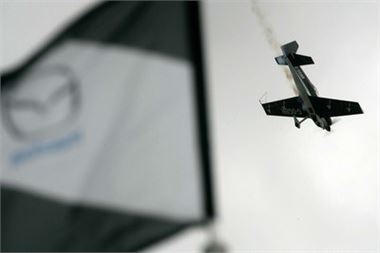 ---


French pilot Renaud Ecalle crowned World Champion in both the classic World Championship and the freestyle World Championship




Team Mazda UK pilot Eric Vazeille takes bronze in the four minute freestyle


Mazda sponsored Russian team takes second place in the team placings


Team Mazda UK pilot Eric Vazeille won the bronze medal in the World
Freestyle Aerobatic Championship yesterday with a stunning display of
precision and skill in his French built Cap 232 airplane. The ex-World
Champion demonstrated why he is one of the best aerobatic pilots in the
World with a flight that seemed to defy the laws of gravity with
gyroscopic figures and tumbles that wowed the Silverstone crowd.
The Gold medal in the World Freestyle Aerobatic Championship went to
French pilot Renaud Ecalle with Jurgis Kairys from Lithuania taking
silver.
The classic World Aerobatic Championship was also won by French
pilot Renaud Ecalle after flying the Q programme, (known and practised
prior to the event), and the free, (a sequence of his own design), with
Team Mazda UK pilots Gerald Cooper in seventh and Mark Jefferies in 10th. The championship started on the 20th
August with 60 of the world's best pilots from 18 countries competing
for the title of World Champion, the championship finished yesterday,
Saturday 29th August.
In the team ranking the French team took the gold medal, with the
Mazda backed Russian team securing the silver medal and team USA in the
bronze medal position, Team Mazda UK just missed out on a medal with
fourth place.
FINAL RESULTS
Individual Results
| | | | | | | | | | |
| --- | --- | --- | --- | --- | --- | --- | --- | --- | --- |
| Rank | Team | M/F | Pilot | Aeroplane | Registration | "Q" #1 | Free #1 | Totals | O/all % |
| 1 | FRA | M | Renaud Ecalle | Extra 330SC | F-TGCI | | | 6155,26 | 78,51 |
| 2 | RUS | M | Alexander Krotov | Sukhoi 26M3 | RA-00665 | | | 5952,45 | 75,92 |
| 3 | FRA | M | Francois Le Vot | Extra 330SC | F-TGCJ | | | 5946,61 | 75,85 |
| 4 | RUS | M | Mikhail Mamistov | Sukhoi 26M3 | RA-00665 | | | 5923,65 | 75,56 |
| 5 | FRA | M | Pierre Varloteaux | Extra 330SC | F-TGCJ | | | 5888,76 | 75,11 |
| 6 | RUS | M | Oleg Shpolyanskiy | Sukhoi 26M3 | RA-00665 | | | 5884,63 | 75,06 |
| 7 | GBR | M | Gerald Cooper | CAP 232 | G-OGBR | | | 5869,98 | 74,87 |
| 8 | USA | M | Jeff Boerboon | Extra-330SC | D-EXUS | | | 5853,51 | 74,66 |
| 9 | RUS | F | Elena Klimovich | Sukhoi 26M3 | RA-01059 | | | 5851,10 | 74,63 |
| 10 | GBR | M | Mark Jefferies | Extra 330SC | G-IIHI | | | 5850,33 | 74,62 |
Team Results
| | | | | | | | | |
| --- | --- | --- | --- | --- | --- | --- | --- | --- |
| 1 | | France | Aeroplane | Registration | "Q" #1 | Free #1 | Totals | O/all % |
| FRA | M | Renaud Ecalle | Extra 330SC | F-TGCI | | | 6155,2611 | 78,5110 |
| FRA | M | Francois Le Vot | Extra 330SC | F-TGCJ | | | 5946,6120 | 75,8496 |
| FRA | M | Pierre Varloteaux | Extra 330SC | F-TGCJ | | | 5888,7639 | 75,1118 |
| | | | | | | | 17990,6370 | 76,4908 |
| 2 | | Russia | | | | | | |
| RUS | M | Alexander Krotov | Sukhoi 26M3 | RA-00665 | | | 5952,4535 | 75,9242 |
| RUS | M | Mikhail Mamistov | Sukhoi 26M3 | RA-00665 | | | 5923,6465 | 75,5567 |
| RUS | M | Oleg Shpolyanskiy | Sukhoi 26M3 | RA-00665 | | | 5884,6256 | 75,0590 |
| | | | | | | | 17760,7256 | 75,5133 |
| 3 | | United States | | | | | | |
| USA | M | Jeff Boerboon | Extra-330SC | D-EXUS | | | 5853,5059 | 74,6621 |
| USA | M | Michael Racy | Sukhoi 26M3 | RA-00665 | | | 5815,1293 | 74,1726 |
| USA | M | David Martin | Extra-330SC | D-EXUS | | | 5655,5919 | 72,1377 |
| | | | | | | | 17324,2271 | 73,6574 |
| 4 | | Great Britain | | | | | | |
| GBR | M | Gerald Cooper | CAP 232 | G-OGBR | | | 5869,9831 | 74,8722 |
| GBR | M | Mark Jefferies | Extra 330SC | G-IIHI | | | 5850,3321 | 74,6216 |
| GBR | M | Tom Cassells | CAP 232 | G-IITC | | | 4890,4664 | 62,3784 |
| | | | | | | | 16610,7816 | 70,6241 |
Final Freestyle Results
| | | | | | | | |
| --- | --- | --- | --- | --- | --- | --- | --- |
| Rank | Team | Pilot | Aeroplane | Registration | 4m Free | Totals | O/all % |
| 1 | FRA | Renaud Ecalle | Extra 330SC | F-TGCI | | 3223,33 | 80,58 |
| 2 | LIT | Jurgis Kairys | Sukhoi 31M | LY-LIK | | 3175,54 | 79,39 |
| 3 | GBR | Eric Vazeille | CAP 232 | G-OGBR | | 2905,40 | 72,64 |
| 4 | ESP | Ramon Alonso | Sukhoi 31 | EC-HGL | | 2899,66 | 72,49 |
| 5 | RUS | Mikhail Mamistov | Sukhoi 26M3 | RA-00665 | | 2861,73 | 71,54 |
| 6 | RUS | Oleg Shpolyanskiy | Sukhoi 26M3 | RA-00665 | | 2838,56 | 70,96 |
| 7 | FRA | Francois Le Vot | Extra 330SC | F-TGCJ | | 2830,16 | 70,75 |
| 8 | FIN | Sami Kontio | CAP 232 | OH-SKA | | 2732,12 | 68,30 |
| 9 | CZE | Martin Sonka | Sukhoi 31M | OK-HXB | | 2674,96 | 66,87 |
| 10 | GBR | Gerald Cooper | CAP 232 | G-OGBR | | 2568,53 | 64,21 |
Comments