Motorpoint offers deal on nearly-new Subaru Tribeca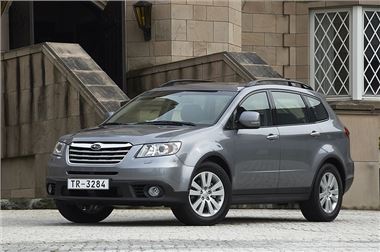 Although it hasn't been on UK Subaru price lists for a couple of years, Motorpoint is offering buyers the chance to buy an as-new Subaru Tribeca for just £17,999.
The Tribeca has not been imported in the UK since it was facelifted in 2008, but has continued to be sold in Ireland. The deal from Motorpoint represents a £13,206 saving off the list price when it was last available in the UK.
The 3.0-litre flat-six-powered, leather-trimmed, seven-seater SUV has proved popular since it arrived in the UK several years ago - thanks in part to the manufacturer's permanent four-wheel-drive system, which handles more like a sports tourer than a 4 x 4.
Equipment levels are also extremely generous with the SE model featuring Electric Front-Seat Adjustment, Dual-Passenger Climate Control, 18in Alloy Wheels, CD Multiplayer together with Leather Upholstery as standard.
For those looking for a smaller off-roader then Motorpoint also has the new Subaru Forester 2.0D XS 5dr with Metallic Paint for only £22,999 - a saving of £5,959 off list price.
Says David Shelton, Managing Director of Motorpoint: "This is a great example of the efforts we making to ensure owning a 4 x 4 as affordable as possible for motorists."
More Motorpoint deals can be found here, or through our deals map.
Comments