Five Grand Friday: Nissan Cube
Published 30 October 2015
It's the Tokyo Motor Show this week. True, it may not always have the big unveils we see at Geneva or Frankfurt, but when it comes to the weird and wonderful - Tokyo is where it's at. If you want an insane concept car, look no further. So we've been inspired to find something a bit leftfield for this week's £5k Friday.
Step forward the Nissan Cube. If ever there was car with an apt name - this is it. It may not be sexy or sporty, but it has bags of character and you're guaranteed to never lose it in a supermarket car park. If there's the polar opposite of a silver Vauxhall Corsa, this is it. The London Design Museum even named it as one of the 50 cars that changed the world. 
Of course Nissan isn't the only manufacturer to go a bit off-the-chain when it comes to little MPVs. Daihatsu had the Materia, there was the original Suzuki Wagon-R and our personal favourite - the Honda SMX. The latter was sadly only ever available as an import and that was the case the Nissan Cube until it officially came to the UK in 2010.
Prior to that you could get hold of the second generation model through importers with around 500 brought over to the UK. Looking through the classifieds there are still a fair few about with prices starting at around £2000. 
For our budget we're able to go for an official UK model and we found a lovely 2010 Cube with 45,000 miles on clock. It's white - which they all seem to be - depsite the fact the Cube was available in variety of colours including such delightfully named hues as Bitter Chocolate, Sea Turquoise and Witty Military. Quite.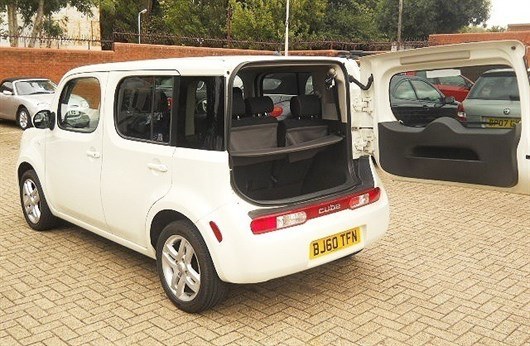 The Cube was only ever available with a 1.6-litre petrol engine in the UK. There were plans to launch a diesel version fitted with a 1.5 dCi, but slow sales meant this never happened leaving the 1.6-litre petrol as the only choice. The car we found also has the preferred manual gearbox rather than the CVT automatic.
This is the standard model rather than the higher spec Kaizen. There is also a limited edition LDN model, although these were limited to the first 100 cars sold in the UK, so they're fairly hard to come by. Equipment levels are pretty good though with the standard car coming with 16-inch alloys, rear privacy glass, conditioning, Bluetooth connectivity, ESP, cruise control and the i-Key with stop/start button.
>>Find a used Nissan Cube for sale 
The Cube also comes with a glass roof with a 'shoji' shade. The glass panel is almost a metre wide and stretches over the back seats so it's ideal if you've got kids. After all a normal roof is just so dull. It has insulated glass so you won't all melt in the summer but the neatest feature is the shoji shade - a sliding sunblind inspired by the rice paper shades popular in Japan.
This 2010 Cube looks pretty immaculate. As we always say, it can be hard to tell from photographs in an advert so it's imperative to have a proper look at the car 'in the metal' but from what we can see this appears to be a well cared for Cube. Given that the funky Nissan is a car that has a keen following and tends to be bought by people seeking something a little different, it's not unsurprising that it's been looked after.
We've had no real issues reported with the Cube. Although that could be down to the fact few were sold in the UK. Sadly it never really caught people's imagination like the Skoda Yeti did. We're big fans though and think it makes a really intriguing alternative to your run of the mill MPV. Plus it's reasonably cheap to run with Real MPG showing an average of 41.6 mpg - pretty much spot on with the official 42.8mpg. Annual road tax is a bit more hefty at £180 though.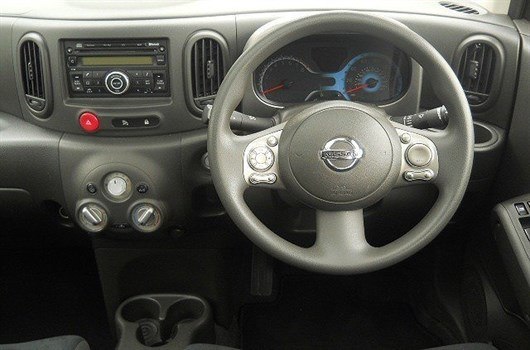 So if you want something fun, funky and a little different, the Nissan Cube, with its designer feel could be the perfect choice, especially if you want your kids to arrive at school in something unusual. Who knows, it could even go on to be a future classic...
Comments
Author

David Ross
Latest