New car registrations down 35 per cent as one in five dealerships remain closed
Published 06 July 2020
New car registrations fell by a third in June, with one in five dealerships remaining closed due to the Covid-19 coronavirus pandemic, according to new data from the Society of Motor Manufacturers and Traders (SMMT).
Car showrooms were given the green light to reopen in England on 1 June, while dealers in Wales and Scotland had to wait until the end of the month. Official data from the SMMT show that 145,377 new cars were registered in the UK during the month - 78,044 fewer than June 2019. 
>>> Scotland's car dealers reopen after 14 weeks in lockdown
The SMMT figures are a clear improvement on the 89 per cent decline in May but provide a strong indication that trading conditions will be tough for the remainder of 2020, with research showing that many car buyers are planning to delay their next purchase.
AA Financial Services surveyed 2131 car buyers in June and found that 38 per cent had decided to delay buying their next car until the virus is under control, while 16 per cent said they had decided to buy a used car rather than a new model. Just 33 per cent said the coronavirus hadn't impacted their car buying plans.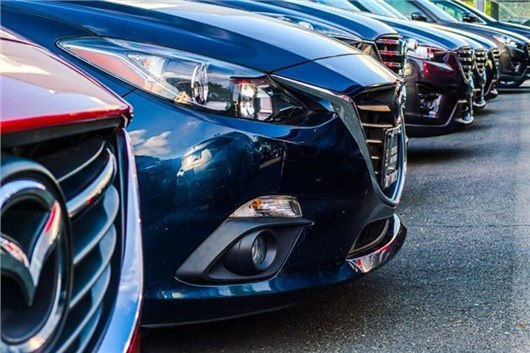 The SMMT figures show that the new car market is almost 50 per cent behind the same period last year, with 616,000 fewer new cars being sold over the first six months of 2020. This has resulted in an estimated £1.1 billion loss to the Treasury in VAT receipts - figures that have prompted market commentators to renew their calls for a scrappage scheme.  
"July figures will probably give us a clearer idea where consumer confidence and appetite to buy is right now. By that time, any pent-up demand for new vehicles will have dissipated, enabling us to see where we really are," said Alex Buttle, director of car selling comparison website Motorway.co.uk.
>>> Coronavirus: How to buy a car after the lockdown
"The worry is that in the current economic climate, with many people unsure about their jobs when they come off furlough, the new car market will be slow to return to a sense of normality, without any meaningful incentives from the Government to turbo-charge growth."
The Government is reportedly considering an EV scrappage scheme to boost the UK automotive market, with car buyers being offered £6000 to trade-in their old car for a new electric vehicle (EV). The 2009 Government-backed scrappage scheme cost £300 million, with buyers getting up to £2000 off the price of a new car.
Comments
Author

Dan Powell
Latest