Honda confirms Swindon plant closure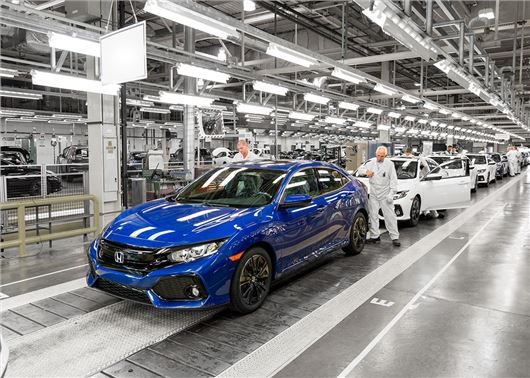 Published 19 February 2019
Honda has announced that it will close its factory in Swindon in 2021, with the loss of 3500 jobs.
The plant is Honda's only factory in the EU and builds the Civic, producing 150,000 cars a year. Honda said in an official statement that the move was due to 'unprecedented changes in the automotive industry'.
"This proposal comes as Honda accelerates its commitment to electrified cars, in response to the unprecedented changes in the global automotive industry. The significant challenges of electrification will see Honda revise its global manufacturing operations, and focus activity in regions where it expects to have high production volumes.
The Japanese Government has been in negotiations with the EU for months over a new free trade deal that will end EU tariffs on Japanese car imports.
The agreement will come into force in March and allow Honda to shift production of the Civic back to Japan. Swindon is currently Honda's only production base within the EU. 
Honda has spent £2.2 billion in Swindon since it opened its factory there in 1989. In 2018 it invested an additional £200 million to increase capacity for the production of the tenth-generation Civic. 
At the time, Honda said it would make the UK its production hub for the Civic, with the model being exported to more than 70 countries around the world, including North America and Canada.
Honda directly employs 3500 people at Swindon, with thousands more supported in the wider supply chain. However, in January 2019, Honda said it would pause production for six days in April to prepare for potential Brexit disruptions. 
Katsushi Inoue, Chief Officer for European Regional Operations, Honda Motor and President, Honda Motor Europe said, "In light of the unprecedented changes that are affecting our industry, it is vital that we accelerate our electrification strategy and restructure our global operations accordingly."
"As a result, we have had to take this difficult decision to consult our workforce on how we might prepare our manufacturing network for the future. This has not been taken lightly and we deeply regret how unsettling today's announcement will be for our people," he added.
Comments
Author

Dan Powell
Latest