Mercedes-Benz B-Class (2012 – 2018) Review
Mercedes-Benz B-Class (2012 – 2018) At A Glance
The second generation of Mercedes-Benz B-Class aimed to be the premium manufacturer's take on a small MPV or a beefed-up hatchback when it was on sale from 2012 to 2018. It's a sort of 'best of both worlds' attempt of blending posh with practicality but without the huge price tag of the brand's bigger SUVs. Mercedes isn't the only brand to have tried this – the BMW 2 Series Active Tourer is a similar concept, as is the Volkswagen Golf SV (or Golf Plus) but it is a bit of a rarity.
The Mercedes-Benz B-Class is a development of the ideas originally thought up for the first generation of A-Class. This is why the B-Class has tall sides and single box styling, whereas the A-Class has developed into a more traditional premium hatch.
Those tall sides give the B-Class ample interior space for five, making it a plausible alternative to many MPVs and crossover rivals. Add in the appeal of the Mercedes-Benz three-pointed star badge, a large boot and strong build quality and the B-Class begins to build a case for itself.
There's a choice of two petrol versions, which both use the same 1.6-litre turbo petrol engines in two different outputs. You can also choose from a 1.5-litre diesel or two versions of the 2.1-litre diesel and the most powerful diesel is also available with 4Matic all-wheel drive.
While the variety of engines and premium appeal of the B-Class will attract some to its ranks, this Mercedes-Benz does not offer much in the way of driving thrills. The handling is at best average for the class and the firm ride is necessary to stop the tall-sided B-Class from lolling about too much in corners.
Where the B-Class does regain ground is the amount of safety equipment supplied as standard with the car. All B-Class models have seven airbags, a Collision Prevention Assist Plus system to avoid accidents happening in the first place, plus a driver drowsiness warning. Mercedes-Benz also includes automatic child seat recognition to deactivate the front passenger airbag when a child seat is fitted.
There are three main trim levels on offer in the Mercedes-Benz B-Class, with SE, Sport and AMG Line. Given the market that Mercedes looks to appeal to, the standard level of kit is good even on the basic model. Even the SE cars got toys such as a reversing camera, leather substitute trim, a seven-inch display and active parking assist.
Sport adds more tech and some visual upgrades while AMG Line is the one that brings more in the way of a body kit and lowered suspension, for those of you that want your people carrier to have a degree of sportiness.
For many buyers though, the B-Class will be too expensive compared to rivals that make do without a Mercedes-Benz badge.
What do owners think of the Mercedes-Benz B-Class (2012 – 2018)? Check out our
Owners' Reviews
from people who live with the car day in, day out.
Reviews for Mercedes-Benz B-Class (2012 – 2018)'s top 3 rivals
Volkswagen Golf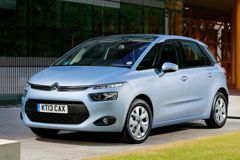 Citroen C4 Picasso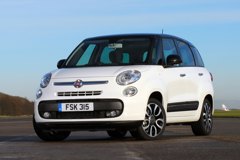 Fiat 500L
Ask Honest John
Is it legal to upgrade my headlights to LEDs?
"I have a 2017 Mercedes-Benz B180 SE, the headlights are normal bulbs, is it legal to upgrade to LED headlamps?"
No, your car would fail its MoT. The DVSA issued guidance on this last year, see: https://www.gov.uk/government/publications/special-notice-01-21-headlamp-conversions/mot-special-notice-01-21-headlamp-conversions
What is the knocking noise I hear when turning at low speeds?
"I have a 2018 Mercedes-Benz B-Class. When turning the steering wheel, I get a light knocking from somewhere - but only at low speed. What could it be? The mileage is about 5000. Thank you."
Reads like a problem that needs immediate investigation. The A-Class is front-wheel drive so the sound could be linked to an issue with the constant velocity (CV) joints (which connect to the driveshaft). Alternatively, it may be an issue with the steering rack or tie rods. Whatever the cause, you should get it checked by a qualified mechanic.
I'm at a loss when it comes to options and trims. Any advice?
"We are both in our 70s and live in Somerset where these are very narrow lanes etc. We go to Cardiff frequently so motorway driving and a bit of city. We have had a Volkswagen Passat Estate, which was very comfortable and reliable with heated seats and the like. We're looking for a used car fairly that's not as long as the Passat Estate but has good boot space. We'd prefer a hatchback with parking assist and infotainment systems. It must be safe, comfortable and quiet with reasonable running costs. Up to around £20k. We've looked at the Volkswagen Golf but the boot is too small. The Golf estate is better but not exciting. BMW Series 2 Active Tourer seems possible but I'm at sea with all the options, trims etc. Any advice greatly welcomed!"
A BMW 2 Series Active Tourer sounds like an ideal choice. All models come with rear parking sensors and a very good 6.5-inch infotainment system. Look out for Technology Pack 1 if you'd prefer a reversing camera, and Technology Pack 2 for the bigger 8.8-inch navigation system. Heated seats are an optional extra, too, available as part of the Comfort Pack. You might wish to avoid the top-spec M Sport model as this comes with larger 18-inch alloy wheels and sports suspension which means it's a bit firmer and less comfortable than other trim levels. As an alternative, have you considered a Mercedes-Benz B-Class? The latest model will be in budget and it's a very comfortable rival to the BMW 2 Series Active Tourer, with a superb cabin and plenty of space.
A seller didn't tell me the car's nav was broken. Should I worry about it?
"I want to get a good, used Mercedes-Benz B-Class diesel around 6-7 years old. On a test drive, everything was good. Only that the car's sat nav screen doesn't work and the seller didn't know about it. They said they will fix it. Should I worry about this issue in a long term? Can I ask fo the lower price? I want to get a car for things like going for a grocery shopping, dropping the kids off at school etc and I've found searching for a used car exhausting. There are so limited options out there. I want to wait but I also don't know if I will find a car like this one again. Thank you in advance."
The faulty sat nav is a big red flag. The seller would have probably known it was faulty. And he/she should have pointed this out to you (or got it fixed before advertising the car). The fact they said nothing and waited for you to spot it would make me wonder what else might be faulty on the car. I'd recommend finding another car for sale with a more trustworthy seller.
More Questions