MINI Cooper Resolute Edition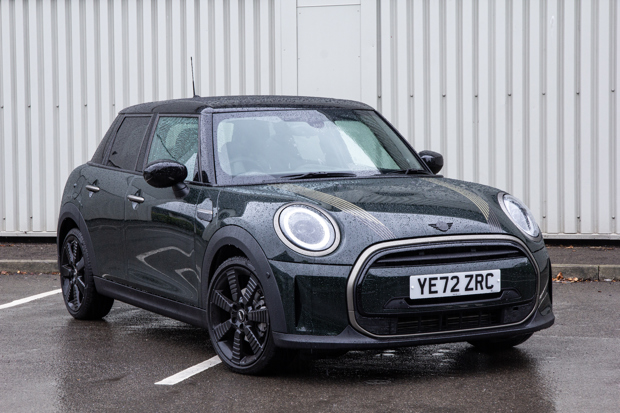 Specifications: MINI Cooper Resolute Edition
Run by: David Ross since July 2023
Price when new: £27,230 (£29,680 including options)
Engine: 1.5-litre petrol
Power: 136PS
Torque: 220Nm
Claimed economy: 48.7mpg
CO2 emissions: 134g/km
Report 1: Does the MINI Hatch still cut it?
It feels like it's been around forever, but is the MINI Hatch still a fun and practical hatchback?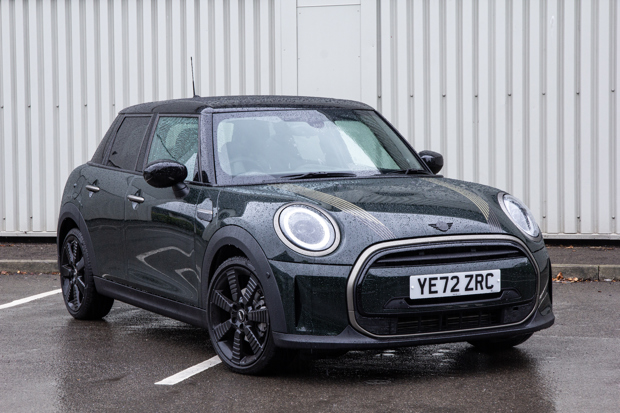 Date: 20 July 2023 | Current mileage: 2427 | Claimed economy: 47.9mpg | Actual economy: 32.5mpg
It scarcely seems believable, but the first generation MINI is approaching the 23rd anniversary of its unveiling. It turned the small car market upside down with its cheeky looks, bubbly driving experience and also redefined what people were prepared to pay for a small car.
20 years on and the world is a very different place, but the current generation MINI still follows the same recipe. There's a clear visual link between today's car and the 2000 original, and although it has grown up (and out) since then, it's still sold as a car that's more fun than a regular hatch.
Our car is probably right on the money in terms of a typical specification too. Yes the Cooper S is a blast, but most people will plump for the slightly more sensible Cooper, its 1.5-litre three-cylinder petrol engine dishing out a useful 136 PS. We've also gone for the Steptronic auto too - a smart choice if you plan to spend time in traffic, with the manual shift option for when you want to have a little bit of fun.
This particular MINI is also a special edition - the Resolute Edition, although what is resolute about it is not immediately clear. It's largely an appearance pack, but a good one at that. Rebel Green paint is standard, previously only available on John Cooper Works cars, as well as a complete absence of exterior chrome. Add in the standard 18-inch black alloy wheels and it looks surprisingly sinister.
Inside it gets sports seats, as well as some distinct visual touches. The perforated Union Flag motif in the headrests is probably a matter of personal taste, but the illuminated light ring around the central display and the pinstripe pattern on the dashboard trim looks smart.
Refreshingly this MINI hasn't had the entire options list thrown at it either. The Premium Plus Pack has been added, and while it isn't cheap at £2200 it comes with a stack of desirable kit. Highlights include electric folding mirrors, rear view camera, panoramic roof, wireless charging with Bluetooth and the Harman/Kardon audio system to name a few.
Our MINI will see a fair mix of use too, with plenty of city work as well as regular motorway hacks, so it will be interesting to see if its fun-to-drive approach means headaches rather than broad grins.
We're also keen to see if it's actually big enough inside to be useful as a four-seater and whether the modest boot will cope with a big shop. If you have any questions or want to let us know what you think of this particular MINI, let us know via Ask HJ.
Report 2: In the Club(man)
Is the MINI still an interesting car for quirky people? Or too commonplace for its own good?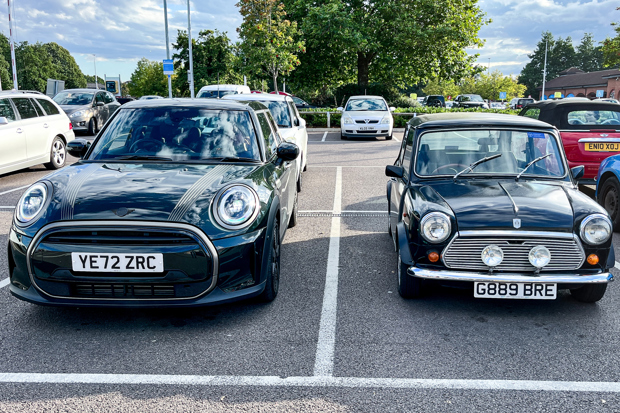 Date: 3 August 2023 | Current mileage: 3435 | Claimed economy: 47.9mpg | Actual economy: 36.9mpg
I've always been a fan of the MINI, but admittedly from something of a distance. Fun to drive without a doubt, but the aggressively retro design left me a bit cold.
When it was first launched, to me at least, it also seemed like a car for people who were trying to make up for a lack of personality. Optioning a chequered roof pattern and Union Jack mirror covers does not suddenly make you interesting.
But that was then, and these days - if you go to the right manufacturer - there are dozens of pretty weird and wacky designs to choose from, whether you want a small hatch or a big SUV (I'm looking at you, BMW). Does that mean the MINI has lost the appeal of being something different?
I firmly believed that was the case, until a woman in a current Cooper S flagged me down as I pulled in to let her pass.
"Is that a Revolution?"
"Err, yes it is."
"I thought so! I've not seen one in this colour, it looks great doesn't it?"
"Err, yes it does" I replied, not thinking that anyone that wasn't a car nerd would be sharp enough to spot a Revolution from 50 yards away.
Consider me wrong in that case, because if people are still willing to alarm other drivers in order to chat about their MINIs, then the passion is clearly still there.
A few weeks of it sat on my driveway hasn't dulled the appeal of the looks. The Rebel Green paint and black trim combination works a treat, and although the 5-door hatch isn't quite as attractive as the 3-door, it still has presence beyond its size.
It's not disappointed in terms of the driving experience either. The 136PS engine seems to strike a good balance between useful performance and fuel economy - it rarely feels not quick enough.
There's always enough punch to squirt out of a junction or catch up to the traffic in front, and even with a lot of urban running around, the fuel consumption refused to drop below 30mpg. A cruise-controlled 70mph motorway cruise delivers a constant mpg in the high 50s, which proves it can be thrifty in the right conditions.
It still steers with some sparkle too. It's been left in the Normal drive mode most of the time, because experiments with Sport mode added unwelcome weight to the steering, taking away most of the feel, although the sharper throttle response was a bonus. Better to leave it Normal mode and enjoy the quick response.
Despite the road-roller alloys, the ride quality is decent too. The suspension is relatively stiff, but bigger bumps are handled with relative calm. Smaller, sharper imperfections do make themselves known, but it's a perfectly acceptable compromise for something that's fun to drive on the right roads.
So far the MINI Cooper Resolute Edition has been a charming and fun companion, but the next few weeks of passengers, longer journeys and assorted family detritus will really put it to the test.
Report 3: MINI myth busting
It's been around so long, not everything you thought about the MINI is still true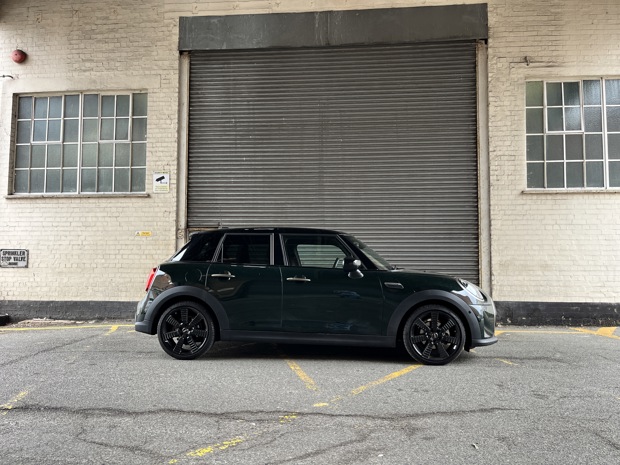 Date: 15 September 2023 | Current mileage: 3721 | Claimed economy: 47.9mpg | Actual economy: 37.5mpg
Ask a non-MINI owner their opinion of the current generation MINI, and you'll probably get one of a number of predictable pub-standard answers thrown back at you.
'It's not a small car anymore', 'it's too expensive', and the contradictory 'you can't fit people and/or luggage in it'.
Yes, when the new generation MINI arrived, and indeed the current F57 generation appeared, it utterly dwarfed the car it replaced. But you'd expect exactly that, given the original Mini was scribbled on the back of a napkin in a time when the most pressing matter of the day was the Suez Crisis and London smog.
Today, even small cars are big, so the MINI is no longer the outlier. Both the current generation Ford Fiesta and Volkswagen Polo are longer, wider and taller than the MINI. Admittedly they might make better use of their footprint in terms of interior space, but when you're behind the wheel it genuinely feels like a small car - in a good way.
It also makes a few knowing gestures towards the original car that might not be immediately obvious. Yes you have the giant central display screen where the speedometer originally sat, but the shape and position of the windscreen is much smaller and more upright than many of its rivals, making the cabin feel that bit more intimate.
Price wise, no one could argue that the MINI is cheap. You'll need £23,500 for the cheapest 5-door, where the most basic Polo checks in at just over £20,000. However, even the most humble of MINIs comes with the 136 PS 1.5-litre three cylinder engine. 
You can't buy a Polo with that much grunt - even the most powerful 110 PS 1.0-litre TSI is nudging £26,000 and is auto only. The Titanium-spec Ford Fiesta with 125 PS is at least £22,300 before you get into spec matching.
The pub bores may have a better chance of winning the argument over space, because the MINI does give away a few litres in pursuit of its cheeky looks. Where rivals are more boxes with the wheels pushed to the corners, the MINI 5-door has a long bonnet that eats into the interior.
Not that you'll notice if you're sat up front. Headroom isn't the best in class, especially if you have a panoramic roof like in our Resolute Edition, and I must admit to bumping my head on the door frame on occasion when getting out, but I blame myself for that and not adopting the correct entry procedure.
And you can actually fit people in the back. Installing two lanky teenagers who love to complain into the rear seats elicited not a single grumble, although getting three across the rear is something you'll only want to do if it's absolutely necessary. Of course, if you need a bigger MINI then they'll sell you one.
Boot space is a little less than the Polo and Fiesta too, but you do get the useful removable floor. In truth, there's also less space for bits and bobs in the cabin too, with door pockets that are more like watch pockets.
Even so, the fact that the MINI 5-door stacks up pretty well on paper makes it even easier to enjoy its more emotional attributes. Sometimes it's nice to drive a car that isn't just a winner on a spreadsheet.
Report 4: Solving the snags
It's often when living with a car day-to-day that faults start to reveal themselves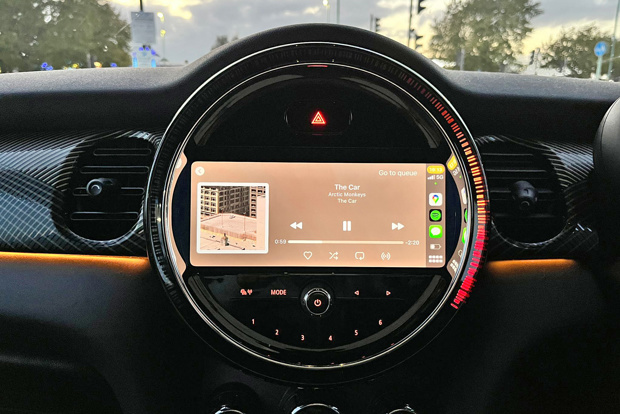 Date: 27 September 2023 | Current mileage: 4608 | Claimed economy: 47.9mpg | Actual economy: 37.9mpg
Usually when we review a new car it's based on an extended drive over a couple of days, or a week-long loan where you can cover plenty of miles.
The only issue with that is even with the best will in the world, it's hard to replicate the kind of usage, driving conditions and combinations of passengers and luggage that you would experience if you owned it. Which is where a long-term test comes in.
Quite often the little niggles, the bits that don't quite work as you hope they would, only reveal themselves once you've covered significant mileage and used a car every day for an extended period of time.
And so it has been with the MINI Cooper Resolute. It's worth pointing out that it has been absolutely faultless in how it has run over the past two months. Nothing has failed, no bits have fallen off and it still feels fresh as a daisy - as you'd expect for a car that only rolled out of Cowley a few months ago.
To be honest, I really don't have much to grumble about. It's more that there are a few quirks, minor quibbles that are trivial in reality, but nonetheless require you to change the way you drive or use some of its features.
For starters, there's the stop/start system. Arguably a car with a manual gearbox wouldn't experience the same niggle, but when trying to pull smoothly to a halt, the engine cuts out just as you are about to stop, and the lack of creep that the motor provides makes your braking input more effective, and it's easy to end up lurching to a stop that would make a driving examiner raise an eyebrow, or possibly their pen.
Yes you can turn it off, but that seems needlessly wasteful, and careful feathering of the brake can pretty much smooth it out, but having the engine stop sooner or later would cut it out completely.
Then there's the Apple CarPlay system and wireless charging facility. Apple CarPlay is great - once set up, within a few seconds of starting the car, it hooks up to my phone and brings up either Google Maps or Spotify, or whatever app I choose.
Except sometimes it doesn't, for no obvious reason. Probably 80% of the time it works fine, but other times you have to go into the menu and select it before it kicks in, and even more rarely it's just not interested in hitching up. I'm not ruling out operator error here, but I haven't yet figured out the circumstances that cause it to not do its thing.
The wireless charger in the armrest is also a boon, except that over an extended drive, typically an hour or more, it makes my phone overheat and shut down. I've tried removing the case and leaving the top of the armrest open (thereby rendering the armrest useless) but it still makes my 18-month old iPhone have an electrical meltdown.
It's also easy to forget your phone is in the armrest when leaving the car, so a handy on-screen reminder to take it with you (thank you, Skoda) wouldn't go amiss.
But that's it. After more than 4000 miles, that's all I have to grumble about. I don't know about you, but given that both of these niggles can be negotiated easily or simply forgotten about, I'd be pretty happy if I'd signed on the dotted line for this MINI.
Report 5: Improving with age
It was good from day one, but time and miles seem to have improved our Cooper
Date: 20 October 2023 | Current mileage: 5071 | Claimed economy: 47.9mpg | Actual economy: 38.3mpg
Once you've got a handle on your new car, whether it's new-new or secondhand, it's tempting to think that your relationship can only go downhill. If there's nothing more to learn about your daily driver then the next thing to happen are bills, or something going wrong, or both. But our MINI Cooper Resolute seems to be coming into its own.
Running a car in from new used to be an absolutely essential part of the ownership process, but with modern engines being built to much tighter tolerances and managed by increasingly sophisticated software, all you had to do was avoid thrashing the pants off it straight out of the showroom.
However, the MINI is now comfortably past 5000 miles (and most advisory running-in periods are less than 1000) and the engine definitely seems to be loosening up - in a good way. 
It was never short of urgency or responsiveness, but there has definitely been a notable improvement in the way it gets down the road. It's not the fuel either, because I've abandoned its initial diet of 98 octane in favour of something slightly less painful in the pocket.
But the MINI is helping me out on that front too. Yes, the fuel consumption I've been achieving is still short of the official combined figure - which is to be expected - but despite the same mix of short and long journeys in recent weeks, the average consumption has steadily improved. 
In fact, I think given enough time it will break through the 40mpg barrier, and that's pretty good given it spends a good chunk of time bumbling around town. As a compromise between affordability and fun, the 136PS 1.5-litre turbo unit seems to be right on the money.
The Cooper Resolute also proved its worth during an airport slog. Three hours each way with two adults and a teenager tall enough to be an adult, plus three big suitcases were all swallowed with ease. Okay, so you couldn't have inserted another passenger in the back and kept all the suitcases, but this is still a small car - I suspect none of its rivals could have done so either.
It was also a fine companion during the schlep home, starting at the unholy time of 3am on a Friday morning. With no assistance from my dozing passengers, the MINI was thankfully low effort and when I eventually caved and pulled in for a quick nap, the lever operation for the seat back recline meant I could adopt the snooze position in a fraction of a second. The only downside was a lot of drone from the tyres on the rubbish concrete sections of the M25, but that says more about the state of our motorways than it does about the MINI.
The only really bad news is that our time with the MINI is nearing its end. Thankfully there's still some time for some recreational motoring, because we've had unfortunately few opportunities to get it on an entertaining B-road just for the sake of it, but it deserves a good blast before our time is up.
Report 6: The Fun Police
Despite some initial reluctance, the MINI's personality is winning us over
Date: 9 November 2023 | Current mileage: 5604 | Claimed economy: 48.7mpg | Actual economy: 38.6mpg
Are cars too serious these days? Automotive fashion, just like every other kind, is cyclical, which is why we can never truly be rid of flared trousers. As far as the car world is concerned, we're in the middle of a serious phase. Look at pretty much any new car launched in the last three years and you'll see massive grilles, sharp lines and aggression seeping from every pore.
Not every car is like this of course. No one could accuse the ORA Funky Cat of taking itself too seriously, and by the same token the MINI is not what you would call intimidating. And maybe that's a good thing, because unless your commute regularly takes in the Sea of Tranquility, it can get pretty unpleasant on our roads. So maybe a car with a sense of humour can help all of us.
I was reminded of this the other day when I (belatedly) went to add the MINI app to my phone. Given the Cooper Resolute is petrol-engined rather than an EV or hybrid I hadn't got around to it, thinking it wouldn't add a great deal to the ownership experience.
Clearly I was wrong, because even though it has a petrol engine, once you've linked the app it will tell you how much fuel you have left in the tank, what range you can expect, as well as lock or unlock the car, flash the lights and even set the ventilation to come on in advance - handy with winter around the corner.
But what really caught my eye was the fact that you can add various skins to the app, and among the standard choices there was a Halloween-themed one. Silly? Absolutely. A good thing? Also a yes. It's a tiny detail, but the fact that this is even an option raised a smile. Somehow I can't see the same being offered to BMW 7 Series owners.
Being a bitter old cynic I had previously thought that the MINI's somewhat showy approach and exaggerating design theme (particularly on the inside) was a bit too much, but over time it's made me realise the crime of taking yourself too seriously. Pretty much any modern car can do all the boring stuff - stop, go, swallow luggage, sip fuel - but the effect it has on you as an owner and a driver is where the differences lie, and it's no less an important factor when it comes to signing on the dotted line.
I must be right because I've changed my mind about the MINI, and that's something I'm never keen to do. I've also had to admit to my better half that she was right about loving the Resolute from day one, which is something I'd willing walk over hot coals to avoid.
If you want a dull box that you'll lose in a car park easily you're spoiled for choice, whereas personality is a bit harder to come by these days. So we should rightly praise manufacturers when they offer us something a bit different, because when we're all scuttling around silently in EVs, how the car makes us feel will become even more important. I would still go easy on the Union Jacks though…
Report 7: The adventure is over
We were keen on the Cooper Resolute from the start, but we're really missing it now it's gone home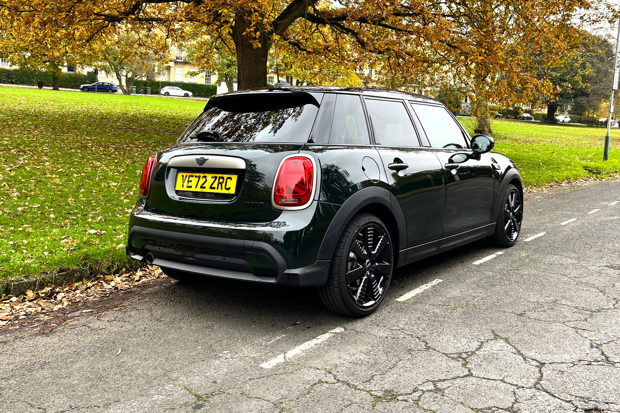 Date: 17 November 2023 | Current mileage: 5819 | Claimed economy: 48.7mpg | Actual economy: 38.6mpg
The ink is still drying on the collection receipt, but the sense of loss now our MINI Cooper has been collected is really hitting home.
Maybe the marketing is that good, but more likely is that the MINI's charms became ever more apparent as time went on, and while it's maybe not the perfect small hatchback, it has qualities that are less measurable than a giant boot and a pillow-soft ride.
There are plenty of dull cars out there that will do all the boring stuff without complaint, which is exactly what the MINI did too. But the MINI would also make you turn around and take a look at it when parking up, especially when it was clean and its glossy black alloys and deep green paint really shone.
Climbing behind the wheel was always a pleasure too. Yes, the space in the front wasn't exceptional - more than enough legroom for very tall folk, but headroom and elbow room were less generous. Never enough to be a problem though, and the size of the windscreen and the upright dash gave the interior a snug feeling, helped by the comfortable sports seats with their heating turned up to the maximum.
A routine schlep across the country kicking off in the early hours was never a pleasant start to the day, but with the cabin warmed in a few minutes, the excellent audio system delivering the right tunes and the three-cylinder engine always quick to respond, the Resolute certainly took the sting out of it for a car of this size.
Grumbles were rare too. We never quite got to the bottom of the occasional miscommunication between iPhone and Apple CarPlay, but after deleting the phone in question and reconnecting it to the system it seemed to go away.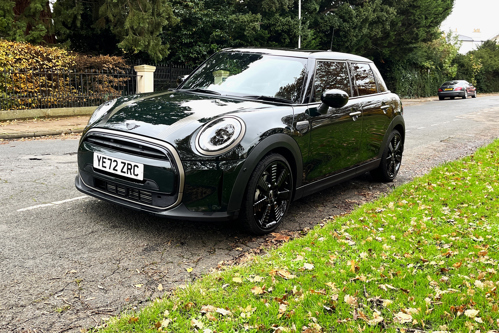 For the vast majority of the time the ride quality was good too. Firmly controlled, but not harsh, unless you slapped into a significant hole or hit a speed bump a little too speedily, although not many cars on 18-inch wheels and surprisingly high-spec Pirelli P Zeros would have dealt with such matters. Some blame needs to rest with the driver here.
The fizzy turbocharged petrol motor was always a great companion too, even if the occasional stop/start rumble reminded you of just how few cylinders were sat ahead of you. 
The automatic gearbox also suited it perfectly - at no point was the loss of a clutch or gearlever lost, and on the few occasions when manual shifting was preferable, using the central stick was easy and intuitive. Paddles really aren't necessary, and slipping the lever sideways into the Sport setting usually provided enough extra urgency when needed.
And of course it would dive into a twisty section of road with gusto, feeling enthusiastic but never hyperactive or edgy. It would even flick its rear end around if you were really determined, although probably not an activity for the school run.
Put simply, if the MINI Cooper has the right number of doors and enough boot for your needs, then you get the charming looks, cosy interior and general sense of character as a bonus. There's a new MINI on its way, and while it'll likely improve on this generation in several areas, it'll be hard pressed to retain the same sense of fun that this one did.