Volkswagen Golf GTE (2015 – 2020) Review
Looking for a Volkswagen Golf GTE (2015 - 2020)?
Register your interest for later or request to be contacted by a dealer to talk through your options now.
Volkswagen Golf GTE (2015 – 2020) At A Glance
If you also happen to live extremely close to your office, say within ten miles or so, then you're just the sort of motorist whom the GTE could suit. A nightly charge should get you to work and back on electric power alone, and at the weekends, you've still got a perfectly serviceable family car for longer trips, so you won't need a second car. It's also a very enjoyable, comfortable and civilised car to drive and to sit in. A very worthy alternative to other mid-size PHEVs like the Audi A3 e-tron and Hyundai Ioniq.
Looking for a Volkswagen Golf GTE (2015 - 2020)?
Register your interest for later or request to be contacted by a dealer to talk through your options now.
The Volkswagen Golf comes in many different forms. S, SE, SE Edition, Match, Match Edition, R-Line, R-Line Edition, GT, GT Edition, GTI, GTI TCR, GTI Performance, GTI Clubsport, GTD, GTE, E, R: these are just some of the many monikers associated with Volkswagen's all-conquering hatchback that signify various levels of equipment, power or sportiness.
However, within that vast bunch, you'll notice the letters GTE, and that signifies rather more. That signifies that this version of the Golf is packing much more tech than your average hatchback.
And the tech in question is plug-in hybrid tech,  designed to give short-distance drivers all the benefits of an electric vehicle (or EV for short), while also completely eliminating range anxiety by also having a petrol engine to take over the reigns when the battery power runs out. Best of both worlds? Well, for the right sort of driver with the right sort of driving habits, it could well be.
For now, though, let's park the fact that the GTE is a plug-in hybrid, and just consider its merits as a car. And even then, there's a vast amount to like. For starters, it's just as desirable as any other Golf.
It's posh inside, it's civilised and refined, and it's enjoyable and as comfortable to drive. Sure, although it's very quick, it's not quite nimble enough to be the GTI-alternative that Volkswagen claims, but it's still pretty darn good.
Like any other Golf, it's also an ergonomic masterclass, with logical, easy-to-use controls and a fuss-free layout. Visibility is fab and equipment levels are decent, and that's whether you're talking about luxury kit or safety kit.
Granted, depending on the grade and age of the car you're considering, you might not get sat-nav or Apple Carplay/Android Auto, and the boot isn't quite as big as in a regular Golf, but otherwise, there's very little to complain about with the GTE.
Not a cheap car by any means, but consider all the talent - not to mention technology - you're getting for your money, it still feels well worth the outlay.
What do owners think of the Volkswagen Golf GTE (2015 – 2020)? Check out our
Owners' Reviews
from people who live with the car day in, day out.
Reviews for Volkswagen Golf GTE (2015 – 2020)'s top 3 rivals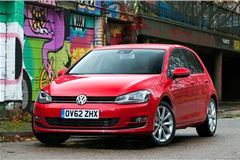 Volkswagen Golf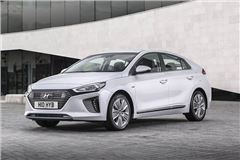 Hyundai Ioniq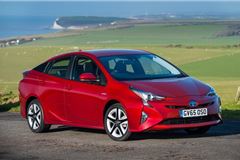 Toyota Prius
Ask Honest John
What's the best, used plug-in hybrid?
"What are the best, used plug-in hybrids on the UK market currently?"
The Mitsubishi Outlander PHEV is a popular choice. It's very reliable and practical. If you don't need an SUV, consider something smaller like a Volkswagen Golf GTE or Hyundai Ioniq. You could also consider premium alternatives like the Mercedes-Benz C350e or BMW 330e.
The installation of a black box ruined my son's car - what should we do?
"My son bought a new Volkswagen Golf GTE in September for his commute to work. He changed his insurance to an RAC policy with compulsory Black Box. The car had played up a bit in the last few weeks and we were concerned that installing the black box might cause problems. We were right, it did. The box was installed on Tuesday and when he drove it to work on the Wednesday it played up. As the RAC installed it, they were called and said there was no problems. We arranged to take it in to the dealership on the way home and they have kept the car for investigations and analysis and lent him an Up in the meantime. When the service manager came to check the car this morning he found that it was completely dead; the battery had been flattened and it threw up a multitude of errors. When they tried to find the DIN socket to investigate the car, they found the installer had removed the DIN socket to attach the computer and butchered the car and hidden it up under the dash board. The service manager was horrified. The car is only coming up to seven weeks old. I'm horrified by the standard of care and way my son's car has been treated by the RAC. What do you think we should do? The installation appears to have effected some safety critical features of the car and my son is refusing to accept it back and wants it replaced with another car. It's been purchased in my name (as guarantor) and is on a private leasing arrangement with Volkswagen Finance."
Your son has no rights against the Volkswagen dealer for this. All his rights are against RAC Insurance who wrecked the car by the manner in which they installed the Telematics black box. This is totally the responsibility of RAC Insurance and they are liable to replace the car with a brand new one. He does not have to accept it back after being repaired because of the potential problems this may lead to.
What alloy wheel cleaning products do you recommend?
"I've recently bought a Volkswagen Golf GTE, but the wheels seem to have a mark embedded into the metal itself. Are there any cleaning agents you recommend?"
An acid-free alloy wheel cleaner like Autoglym Custom Wheel Cleaner will do the job. It lifts brake dust and dirt away and can usually be pressure-washed off, though you may need to use a brush for stubborn spots.
Should I buy an Audi A3 diesel or hybrid?
"I'm looking at changing my 2013 petrol Renault Clio 0.9 TCe for a diesel as my commute to work is now 134 miles (67 miles each way). I make this commute up to four times per week, however, in a few months I will only be commuting three days per week. I was looking at the Audi A3 as the MPG is better than what my current car achieves on the motorway. However, with the recent press on diesel cars, I'm not sure if I should invest in the A3 e-tron or if it will still be more cost effective to get a diesel. I just don't want to be in a situation where I will face higher charges to park the car or be banned from driving round cities. I can charge the e-tron at home and at work."
The A3 e-tron, Golf GTE and Prius plug-in are all the wrong side of £30,000. They only run electric for a maximum of 30 miles after charging, so for the rest of a journey are actually less efficient than a plain hybrid, though, of course, when you extrapolate the 30 miles with no fuel consumed into the whole journey, your average fuel consumption is less. I think probably better to go for a non plug-in hybrid, and the most stylish one is the new Toyota C-HR: http://www.honestjohn.co.uk/road-tests/toyota/toyota-c-hr-2016-road-test/
What does a Volkswagen Golf GTE (2015 – 2020) cost?
See also