Toyota Prius Plug-In (2017 – 2022) Review
Toyota Prius Plug-In (2017 – 2022) At A Glance
The Toyota Prius is arguably the most famous hybrid vehicle on the planet. It has become the brand generic for what Toyota calls a 'self-charging' car. Launched in 2017, the Toyota Prius Plug-in is a little different. As the name suggests, it's a Prius that can be plugged into the mains to provide up to 30 miles of all-electric range, making it a rival to the Hyundai Ioniq Plug-in Hybrid. This, in theory, should make it more appealing than the regular hybrid. However, sales are dwarfed by the less expensive standard hybrid model.
The Toyota Prius Plug-in is the 'other' Prius. While the regular Toyota Prius has cemented a position as the default hybrid vehicle, the Prius Plug-in is the less well known and arguably less desirable sibling. It's a hard sell, with prices starting at around £7,000 more than the regular Prius, which puts in competition with some impressive all-electric rivals.
It looks similar to the regular Toyota Prius. That's to say that, at best, the styling is bold and dynamic, but some may view it as ugly. We'll settle on the word 'challenging' to describe the look of the Toyota Prius Plug-in. It's certainly… different.
Not that you'll buy a Prius Plug-in for its styling. This is a car you purchase for its fuel economy, all-electric range and low running costs. It scores well for all three, even if the low running costs are offset by steep depreciation, which won't be a problem if you're leasing the car or using it as a fleet vehicle.
It actually looks subtly different to the regular Prius. Note the even bolder styling at the front, which is matched by a more sober approach at the back. Toyota could have made the two cars look identical, which is Hyundai's approach with the Ioniq, arguably the Prius Plug-in's chief rival.
Inside, the cabin architecture is largely the same as the regular Prius. There's a genuine feeling of quality, albeit without the soft-touch materials you'll find in premium rivals. Don't confuse perceived quality with actual quality. The Prius Plug-in scores highly for the latter.
We can be less charitable about practicality. Although the rear bench offers excellent legroom for three adults, the aerodynamic roofline means headroom is severely restricted. A tall passenger will have to travel with their head pressed against the roof, which is far from ideal. There's also a tiny boot, which is around half the size of a family hatchback when measured up to the tonneau cover.
On the plus side, you get a long list of standard equipment for your money, even on the entry-level Business Edition.
It's so good, you have to question if it's worth upgrading to the Excel trim, especially given the excellent safety kit, decent infotainment system and premium features. It's just a shame that Apple CarPlay and Android Auto aren't offered.
The driving experience is almost irrelevant. What matters is the efficiency, with the Prius Plug-in offering a claimed 217.29mpg on a combined cycle. To achieve this, you'll have to charge the car overnight, taking advantage of the claimed 39 miles of all-electric range. If you don't plug it in, we'd recommend the cheaper Prius hybrid.
However, if you have a short commute, it's probably possible to complete your working week without using any petrol, which is something you can't do in the regular Prius. That said, given the new breed of electric cars, it might be time to consider going full EV.
What do owners think of the Toyota Prius Plug-In (2017 – 2022)? Check out our
Owners' Reviews
from people who live with the car day in, day out.
Reviews for Toyota Prius Plug-In (2017 – 2022)'s top 3 rivals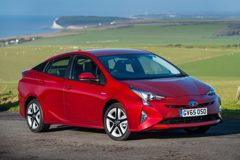 Toyota Prius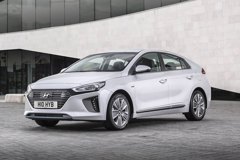 Hyundai Ioniq
Peugeot 308
Ask Honest John
Do I need beam deflectors for driving abroad?
"Does a 2022 Toyota Prius PHEV with Xenon Headlights need beam deflectors for driving on the European continent? Headlight lenses ae plain."
Yes, you will likely still need beam deflectors for your Toyota Prius. However, some cars have a mode to let you change the headlight direction for driving on the left or the right, so check your manual to see if this is an option on your car.
Answered by
Lawrence Allan
Is a PHEV a better choice than a hybrid?
"I have owned Toyota hybrids for a few years now and have been satisfied with the quality and performance. My wife and I cover about 12,000 miles a year. It's mixed driving (motorway, country roads and some city). Because my wife does quite a lot of shortish driving, on country roads in particular and sometimes into South London from Kent, I have wondered whether our next car should be a plug-in Toyota Prius. However, I have read about the "lugging a heavy car around" after the electric charge runs out. This has confused me because I was under the impression that when the charge runs out it would perform like our current Toyota Auris Hybrid and recharge during the journey? Was I mistaken and does it then perform like an ordinary petrol car?"
Yes, once the battery's flat it will operate like a normal hybrid using the engine to recharge the battery and recuperating energy normally lost under braking. It's not very efficient, though - the batteries are heavier than those used in a standard hybrid and it's recommended that to get the best from a plug-in hybrid, you charge regularly. If most of your wife's journeys are within the electric range of the Prius Plug-in and you have a home charger (or can get one), it makes a lot of sense.
Which winter tyres do you recommend?
"Which winter tyres are best for my 2018 Toyota Prius Plug-In? We average about a 1000 miles a month, mainly on country roads?"
I'd go for Michelin Cross Climate or Continental AllSeason Contact. Leave them on all year round. Try Motokiki.com (https://bit.ly/2EF0U04) and Blackcircles.com (https://bit.ly/2JM6bqG) for sizes and prices and read our Tyre Buying Guide (https://bit.ly/2wsFHBU).
Should I get a tethered or untethered charging socket for my new electric cars?
"I'm about to purchase both a Toyota Prius plug-in and a Nissan Leaf. I have the option of getting a Chargemaster home charging unit for free via an offer from Toyota. I can have either a tethered unit or a Type 2 socket unit, but I'm unsure which is the best to go for. I understand both cars have Type 2 sockets for the charging inputs. I'm looking to the future when all EV cars have a Type 2 socket. Or has a standard yet to be determined, which may well change from Type 2 and thus make my unit obsolete? What would your advice be? "
As you've probably gathered, there are pros and cons to both tethered and universal units. As both the Leaf and Prius Plug-in use Type 2 sockets, I'd be inclined to opt for the tethered charge point to save hassle messing around with charging leads every time you want to charge. Plus, if you change to another EV in the future that needs a different socket, you can buy adaptors or pay an electrician a small fee to change the socket.
More Questions
What does a Toyota Prius Plug-In (2017 – 2022) cost?