Vauxhall Zafira Tourer (2012 – 2018) Review
Vauxhall Zafira Tourer (2012 – 2018) At A Glance
The 2010 Vauxhall Zafira Tourer isn't the most practical, the most versatile or the best-to-drive car of its type. It's not the highest in quality or the most generously equipped, either. However, it's still a good all-rounder that does a very solid job in all these areas, and it's more stylish than your average seven-seat MPV, too, (if a bit less stylish than an SUV). It's also really good value for money thanks to affordable prices, and if you choose the right engine, it should be affordable to run, too.
Funny how tastes change, isn't it? Once upon a time, in the heyday of the Vauxhall Zafira Tourer, big seven-seat MPVs like these were loved by families for whom a regular saloon or estate was just not practical enough, and sales figures reflected that.
Then all of a sudden, somebody decides that SUVs (previously seen as evil gas-guzzlers, you'll remember) are more stylish, and as they become the thing to have, the humble MPV more or less disappears.
However, despite the incessant rise of the SUV, there's still plenty of merit in a good old MPV. For starters, the boxier shape means they're often a big roomier than an SUV, and with a seven seater, surely that's important, right?
And in the Zafira Tourer, Vauxhall offered one of the more compelling choices in the SUV market. It's curvier styling made it look swishier and swoopier than most of its boxy rivals, and with competitive prices and low running costs, it was good value (even better for used car buyers, obviously).
Granted it wasn't the roomiest car of its type, but it was competitive on that score and its seating system was as clever and as versatile and anything else in the class.
Sure, the car had some idiosyncrasies. Early cars had a bafflingly confusing dashboard design (sorted out on later examples by a new touchscreen system), interior quality was a bit hit-and-miss, while a complicated and inconsistent trim structure made it rather difficult to choose the version that was right for you.
However, it was one of the better cars of its type to drive. The ride was forgiving enough to keep the family comfortable, while the handling was sharp enough to let the driver have some fun once the kids had been safely delivered to school.
What do owners think of the Vauxhall Zafira Tourer (2012 – 2018)? Check out our
Owners' Reviews
from people who live with the car day in, day out.
Reviews for Vauxhall Zafira Tourer (2012 – 2018)'s top 3 rivals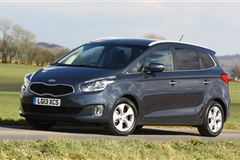 Kia Carens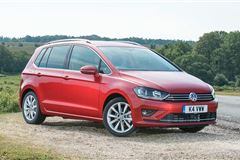 Volkswagen Golf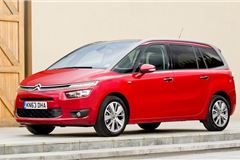 Citroen C4 Picasso
Ask Honest John
What's the best secondhand MPV?
"Which secondhand MPV would you recommend for about £12,000?"
A Vauxhall Zafira Tourer represents excellent value for money and there are plenty available on the used market. Also look at the Citroen Grand C4 Picasso or a SEAT Alhambra if you need more space.
Which is the most reliable SUV to fit three comfortably in the backseat?
"Which is the most reliable automatic SUV to fit three comfortably in the backseat? My budget is £10k - which are my best three options?"
You'll need something pretty big like a Volvo XC90 or Land Rover Discovery to fit three people comfortably in the back. These aren't options we'd recommend with a £10,000 budget and a desire for reliability, though. We'd suggest looking at a people carrier like a Vauxhall Zafira Tourer.
What's the best used seven seater on the market?
"I'm looking for a seven-seater about five years old. When all seven seats are up it would still need room for a double pushchair and shopping?"
A Vauxhall Zafira Tourer might be a good option. It's very versatile with a reasonable boot even when all seven seats are in use, although it might still be a bit tight for a double pushchair. If you need something bigger, you'll be in the realms of van-based people carriers like a Ford Grand Tourneo Connect.
What used seven-seater do you recommend?
"We are a family of five looking for a used seven-seater, so we can accommodate friends/grandparents. It will mostly be used for the school run and shopping so it will only be doing around 5000 miles a year, with very little motorway use. I would think a petrol is a better bet? We want an automatic. There seem to be very few petrol automatics around in Galaxy, Sharan, Alhambra. These models are no longer offered new in petrol automatic. We're willing to pay up to £14k. What would you recommend?"
Thanks for the question. You're right that a petrol would be the best bet for 5000 miles a year. A Vauxhall Zafira Tourer offers excellent value for money on the second-hand market - your budget will get you one of the last from 2017 with the 1.4 petrol engine and automatic gearbox. You could also look at a Toyota Verso. It ought to be a very reliable choice, although it's not as big or spacious as the Zafira.
What does a Vauxhall Zafira Tourer (2012 – 2018) cost?
See also