Toyota Avensis Touring Sports (2015 – 2019) Review
Looking for a Toyota Avensis Touring Sports (2015 - 2019)?
Register your interest for later or request to be contacted by a dealer to talk through your options now.
Toyota Avensis Touring Sports (2015 – 2019) At A Glance
The Toyota Avensis Touring Sports (or just plain Tourer) is a mild facelift of the previous Avensis, which was not the last word in good looks or thrills either. Designed to take on other big estates like the Skoda Superb, Volkswagen Passat and Ford Mondeo, the Avensis Touring Sports sticks rigidly to the Toyota formula of safe, sensible and not too exciting. The upside is that it is easy to live with, a breeze to drive and comfortable too, it just can't match the space, the quality or the driving experience that is available from the best in the class.
Looking for a Toyota Avensis Touring Sports (2015 - 2019)?
Register your interest for later or request to be contacted by a dealer to talk through your options now.
The anonymous Toyota Avensis has now been dressed in a sharp new suit, as Toyota aims to give it a more noticeable presence on the road. But the changes are more than skin deep. An updated cabin with plusher materials and new BMW-sourced diesel engines add some much-needed appeal, making the Avensis a solid, rational choice of family car.
There are two new D-4D diesels joining the existing 1.8-litre petrol – a 1.6-litre with 112PS D-4D and a 2.0-litre with 143PS, the latter of which can also be found under the bonnet of the BMW 318d.
Toyota hopes these new engines will put the Avensis on the radar of company car buyers, thanks to lower emissions from as little as 109g/km in the case of the 1.6 D-4D. 
Unfortunately the 1.6-litre engine lacks the oomph you might expect of a diesel, with a flat spot low down the rev range. You need to keep the engine revs in a fairly small sweet spot to get any useful performance, meaning hills and overtakes need some forethought and a gear change or two. Thankfully the gearbox is smooth and the clutch light.
The 2.0-litre D-4D is much better suited to the Avensis, with more power, more torque and less noise. That's not to say the 1.6 is loud – it is impressively quiet on the motorway – but the 2.0-litre doesn't need to be worked as hard, so simply whirs along effortlessly.
As a long distance motorway car it's very good indeed, plus it is almost as frugal as the 1.6-litre. Emissions for the 2.0 D-4D are from 120g/km and economy is 61.4mpg.
The revised Avensis doesn't really offer much in the way of driving pleasure. That said, there is plenty of grip through twists and turns plus the steering is accurate, but there's no real sense of involvement – the car just goes where it is told with quiet, assured confidence. In fact, that is an apt description of the Avensis full-stop; it's very easy to drive and should prove painless to live with.
The cabin has been heavily updated with a new dashboard layout and plush, soft-touch materials. It's neat, simple and user-friendly – but doesn't feel quite as classy as a Volkswagen Passat. Most models get a large, clear touchscreen infotainment system that is intuitive to use and all cars have an electronic parking brake, which makes for a neat centre console with useful storage space.
Toyota offers the Avensis with more or less everything a driver needs, providing you opt for a Business Edition model over the entry-level Active grade. Business Edition models come with the touchscreen infotainment system, DAB radio, USB connectivity, alloy wheels, automatic air conditioning and artificial suede seat inserts.
Business Edition Plus adds high-tech features including LED headlights, while the top-of-the-range Excel trim gets larger alloy wheels, an improved 10-speaker audio system, an electrically adjustable driver's seat and full leather upholstery. Though they are well equipped, Excel models are only offered with the 2.0 D-4D engine and they are quite expensive, with estate models priced at more than £28,000.
Competition from the impressive new Volkswagen Passat and Ford Mondeo is strong. The Avensis might not have the prestige of a Passat or the dynamism of a Mondeo, but it's still a very sensible choice of family car.
What do owners think of the Toyota Avensis Touring Sports (2015 – 2019)? Check out our
Owners' Reviews
from people who live with the car day in, day out.
Reviews for Toyota Avensis Touring Sports (2015 – 2019)'s top 3 rivals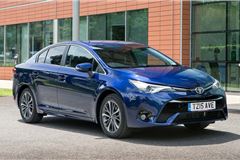 Toyota Avensis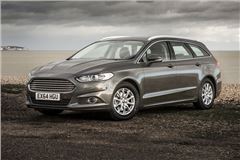 Ford Mondeo Estate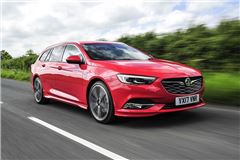 Vauxhall Insignia
Ask Honest John
I need to buy a car during lockdown, what do you recommmend?
"My car was written off prior to the lockdown. I need to buy a replacement and so would really welcome your advice, especially as I'll not be able to test drive cars so will need to buy online and arrange for it to be delivered. I do approximately 8000 miles a year, mostly journeys in city traffic and occasional long journeys with my wife and young child. I'm looking at a used petrol or hybrid vehicle that is reliable, safe, comfortable and has generous boot space. Automatic or manual. I'm looking at spending about £8000 but would be willing to go up to £15,000 or higher as might be necessary. My very limited research suggests that an old Toyota Avensis Estate, Volvo V70 or Mercedes-Benz C-Class Estate could be suitable. However, something newer or even an SUV might be a better buy. Your recommendation would be enormously welcomed. "
I would recommend the Hyundai Ioniq hybrid. It is comfortable, easy to use and will return 60+mpg on the road: https://www.honestjohn.co.uk/carbycar/hyundai/ioniq-2016/ A budget of £15,000 will get you a 2018 model that will still have a considerable chunk of its five-year unlimited mileage manufacturer warranty left on its books: https://www.honestjohn.co.uk/cars-for-sale/search/Hyundai/Ioniq/?l=0&p2=15000&s=PriceDesc
What does a Toyota Avensis Touring Sports (2015 – 2019) cost?
See also