Mercedes-Benz S-Class Coupe (2014 – 2020) Review
Mercedes-Benz S-Class Coupe (2014 – 2020) At A Glance
The Mercedes-Benz S-Class Coupe is a flagship of the German company's model range, with an exquisite attention to detail and huge standard specification. Although other Mercedes coupe models also do the luxury experience well, none can match the sense of occasion created by the S-Class. Capable of cruising across entire continents with ease, all of the engine options offer impressive performance. The AMG models verge on ludicrous in terms of acceleration, and blend agility with ride comfort. High running costs are worth paying to spend time inside the sumptuous interior of the S-Class.
Although based upon the more familiar S-Class saloon, this is far more than simply a limousine with two fewer doors. 
Starting with a luxurious machine capable of covering hundreds of miles with ease, Mercedes-Benz has then added an extra layer of driving appeal. It might not be a sports car, but the S-Class Coupe has the speed and agility to rival cars like the Aston Martin DB11 and Bentley Continental GT.
The levels of performance on offer are incredible whichever model of S-Class Coupe is chosen. Even the least powerful engine comes with 455PS, and can hit a (limited) top speed of 155mph. With a 6.0-litre twin-turbocharged V12, the 630PS AMG S 65 is as ridiculous as you might imagine in terms of acceleration. 
Despite weighing in excess of two tonnes, and measuring over five metres in length, the S-Class Coupe is still capable on the open road. Mercedes has fitted plenty of technology to contend with the laws of physics, with air suspension offering both agile handling and ride comfort. AMG versions have a system that uses cameras to scan the road ahead, allowing the car to lean into bends – and thus turn more quickly. 
However, it is the ride quality that will impress most, and which helps the S-Class travel long distances without its driver or passengers feeling tired on arrival.
Those sitting in the front of the Coupe get a great deal, with comfortable leather seats that can even offer a massage. The two rear-seat passengers are slightly less well accommodated, and taller adults may find the roofline eats into headroom. At least the 400-litre boot will be able to swallow their luggage.
An 80-litre fuel tank is also generous, and will need frequent refills should you use the performance on offer from the AMG models. Later twin-turbocharged V8 models can deliver fuel economy that borders on mildly respectable, but this will still be an expensive car to run. You will also need to ensure you have space to park this big beast, although standard parking sensors and cameras make the task easier. 
Technology levels are generous, with Mercedes-Benz wanting to show off what it is capable of. Advanced satellite navigation, OLED rear lights and a widescreen digital dashboard are just some of the highlights on offer. Buyers of the range-topping AMG S65 also get headlights with Swarovski crystal detailing. 
Given the level of performance and luxury on offer, there is very little similar to the S-Class Coupe on the market. It sits far above other premium German coupes in terms of ability, but is not quite as expensive as British GT rivals.
This comparison is almost irrelevant, as the S-Class Coupe exists to appeal to the buyer who wants the ultimate Mercedes-Benz experience alone. They are unlikely to be disappointed, with the only the open-top S-Class Cabriolet as a real alternative.
What do owners think of the Mercedes-Benz S-Class Coupe (2014 – 2020)? Check out our
Owners' Reviews
from people who live with the car day in, day out.
Reviews for Mercedes-Benz S-Class Coupe (2014 – 2020)'s top 3 rivals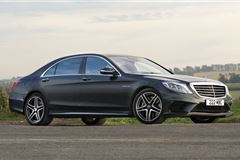 Mercedes-Benz S-Class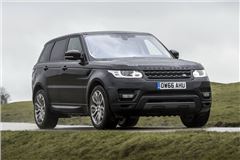 Land Rover Range Rover Sport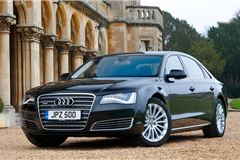 Audi A8
What does a Mercedes-Benz S-Class Coupe (2014 – 2020) cost?
See also