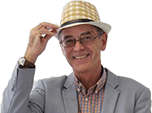 Mazda MX-5 RF (2017–)
Last updated 9 November 2018
Coupe style and folding hard top. Just as good to drive as the soft-top. Available with an auto.
Very limited headroom for taller occupants with the roof up. Terrible over the shoulder rear 3/4 vision. Lots of wind noise with the roof down at motorway speeds.
Updated 6 November 2018
Mazda MX-5 RF 2.0 184 6-speed automatic introduced at £29,995. 6-speed torque converter auto with paddleshifts. Very high gearing in 6th at 35mph per 1,000rpm.
Introduction
If you want an MX-5 but you're worried about the lack of security or refinement provided by a fabric top, then the RF – or Retractable Fastback – fits the bill perfectly. It's just as good to drive as the soft-top yet still provides wind-in-the-hair thrills - but make sure you fit in it because headroom is tight.
The roof mechanism isn't hugely complex, so the two-part metal top fits neatly into the same space as the fabric roof of the regular MX-5. The trade-off is a pair of coupe-like pillars that give the RF a targa-like profile, rather than traditional convertible looks. It takes 13 seconds to fold up or down and works at speeds up to 6mph – effectively so slow you're going to have to stop to use it.
Despite the way it looks, the RF feels like a proper convertible on the road, despite not being quite so open to the elements. It's also more refined and quiet when the roof is in place, thanks to the thicker metal top. The downside is the reduced head room versus the soft-top – which was already tight for tall drivers.
Aside from the roof, the MX-5 RF is largely the same as the soft-top car. The dashboard has an identical layout, the boot is the same size and the engine range is mirrored with a 131PS 1.5-litre petrol and a 2.0-litre petrol with 160PS. The only difference there is the option of an automatic gearbox.
The handling is as good as the soft-top too – if not a tiny bit better. That's thanks to some extra stiffening in the chassis and bespoke suspension settings, making the steering more sharp and immediate. It's an absolute joy to drive, with beautifully weighted controls and superb precision through bends.
It costs a little more and there is no basic SE trim level, but the RF feels worth the extra. It looks good, drives well and has the added benefit of better security and improved refinement over the convertible. It might not have the same pure roadster feel, but it's a better all-rounder. If you can fit that is.