Mazda CX-5 (2012–2016)
What's good
5 Star NCAP safety rating: 94% adult occupation protection; 87% child occupant protection, 64% pedestrian protection; 86% safety assist.
CX-5 voted 2012-2013 Car of the Year Japan. The award was announced by the Japan Car of the Year committee on November 29, 2012.
Mazda CX-5 compact SUV selected by Total 4x4 magazine as winner of the publication's '4x4 of the 2013 Year Green Award' based on a continuous testing programme throughout 2012.  In the January issue a panel of respected motoring writers praised the Mazda CX-5 for delivering excellent efficiency without compromising driving pleasure or practicality, thanks to its unique fuel-stretching SKYACTIV technology.
Mazda CX-5 claimed 5th place in the top 100 cars Auto Express 2013 Driver Power Survey and top SUV.
CAP boosts residual vales for Mazda CX-5. Unusually, the vehicle valuation experts at CAP have raised the expected residual values of Mazda CX-5s by up to £1,575 over 3 years and 60,000 miles. The highest percentage residual value increase is on the entry-level 2.0-litre 165ps 2WD SE-L model, meaning that at three years/60,000 miles the car has a residual value of £8,650, equivalent to 40 percent of its £21,415 P11D value.
8-9-2019: Owner's Report of 100,000km with a Mazda CX-5 2.2 Shkyactiv D 2WD: "Some years ago I purchased a Mazda CX-5 2.2D Skyactive, 2 wheel drive.Now over 100,000Km and very pleased, a good choice. It drives and tows well and too date has returned an average of about 34mpg. At tyre change I switched to Michelin Cross Climate and though I do not yet know how they will last they are a quieter and smoother ride than delivery fit. So far there has been one factory recall. One warranty claim: a new Throttle Body was fitted to solve vehicle hunting. Oil changes come round surprisingly quickly, less than 10,000Km per event. There are minor niggles with the entertainment system but I, for the moment, can live with these.  One fairly major downside, if one of the front LED Driving/sidelights fails you are faced with a bill for €890 for a complete new Headlight - ouch.  I pushed my case with Mazda and received a 90% rebate but it is still a very expensive sidelight and I do not think they will respond the same in the future."
What to watch out for
20-11-2012: Report from Australia of rising oil levels in 2.2 Skyactive diesel. See: http://forums.whirlpool.net.au/forum-replies.cfm?t=1979291 and http://news.drive.com.au/drive/motor-news/backlash-over-mazda-cx5-diesel-oil-issues-20120821-24k6w.html The cause was eventually found to be nothing more serious than incorrectly calibrated dipsticks.
19-12-2012: Mazda in Australia ordered a recall and issued the cars with new dipsticks on which the X mark is 11mm higher. This is combined with a PCM upgrade to reduce the overfuelling.
22-7-2013: Shortage of replacement front windscreens for UK CX-5s in June and July of 2013. Mazda responded: "We have a number of windscreens coming by both air and boat, with a delivery due next week of around 50 pieces. A further delivery is due 2 weeks after this and then a further delivery is due the week after that."
14-8-2013: Some gripes about being unable to activate TomTom Live.
29-4-2014: Problem reported with fuel filler of Mazda CX-5 2.0 SE-L petrol model. Seems that the return air filter system that keeps CFCs out of the atmosphere is blocked.
30-4-2014: Another report of a cracked screen on a Mazda CX-5 (see 22-7-2013) and continuing shortage of replacements.
27-5-2014: Reader bought 3,300 mile ex-demo 2013 Mazda Mazda CX5 2.2 4-Wheel Drive in September 2013. on 27-4-2014 red engine oil pressure light came on translating to "Engine Oil Pressure Inspection Required". Engine had to be stripped down and many components replaced plus a double oil flush, total dealer bill £4,635 + VAT, paid by Mazda.
18-6-2014: Stress cracks across the windscreens are becoming increasingly common because the edges of the glass are exposed at the screen pillars where they are vulnerable to stone chips. These then turn into cracks right across the screen, same as on a Mazda 5.
3-9-2014: June 2014 Mazda CX-5 plagued with persistent electrical gremlins that the dealer has been unable to rectify.
22-1-2015: Battery of 8,000 mile 13 month old Mazda CX-5 drained overnight. This was after a 600 miles run. Side doors open but hatch stayed locked. Suspect salt laden moisture getting into the hatch lock solenoid and causing the drain.
6-2-2015: Handful of complaints of 2013/63 CX-5 Skyactiv diesel: i-eloop required new capacitor at 25k miles and subsequently does not shut off the engine as often as before. TPMS is over-active, (possibly due to tyre wear). Engine is over-fuelling leading to a repeated rising oil level.
23-8-2015: Like a Mazda 5, the windscreen of a CX-5 is bonded to its frame and the outer edge of the glass is exposed. If a stone strikes that part of the screen it will probably start a stress crack that slowly crosses the screen, requiring a replacement screen. Job best done locally because in my experience the big national chain was hopeless.
21-12-2015: Report of clutch judder on February 2014 Mazda CX-5 2.2 Skyactiv diesel at 15,000 miles especially changing 1st to 2nd and 2nd to 3rd. Possibly DMF, but then seemed to self-cure. Reader then received TSB recall notice heded "unusual brake pedal feeling" that was really about replacing the sump oil strainer or the oil filter.
8-1-2016: Report of heater problems on early CX-5 diesels and Mazda TSB issued about this.
12-2-2016: Complaint of terrible unreliability from 2012 Mazda CX-5 Sport Nav 175 AWD over 2 years requiring 7 garage visits in 20k miles. ("over 2 years" implies bought used.) "Problems included all manner of warning lights on 'engine oil pressure inspection required' 'vehicle system inspection required' being the most recent. Been in twice to have different sensors replaced. Reversing camera has been replaced. Rear electric window switch has been replaced. Sticking brake calliper has been replaced. Some pump or other has been replaced. Climate control stopped working on one side. It's been losing power when accelerating up a hill. 2 different Mazda dealers have failed to solve all the problems. They say they are fixed then 2 months later more lights back on. Looks like I just got a bad one."
29-7-2016: Complaint of alarm of used 2014 CX-5 going off spasmodically. Thought to be a fault with a door sensor.
20-10-2016: Report of leather seat stitching coming apart on 2013 Mazda CX-5. Bought used 9 month previously.
19-3-2017: Report of heater in 32k mile 2013 Mazda CX-5 2.2d stopping working. Mazda dealer said the cooling system needed a citric-acid flush. While waiting for this, within a couple of weeks, the dash went from occasionally showing an overheating warning to severe overheating and the EMC unit putting the vehicle into "limp mode", requiring immediate return to the dealer. The dealer finally carried out the citric-acid flush and all appeared back to normal.
21-7-2017: Report of severe corrosion on rear brake discs of September 2016 (10 month old) 9,300 mile Mazda CX-5.
28-11-2017: Report of Mazda 45k mile 2012 CX-5 2.2 diesel AWD having a TSB recall a few weeks ago for a vacuum pump. Now, the turbo has failed. Mazda had told the dealer to strip out the camshafts as part of the rebuild. Owner read about problems with Vac/Turbo/Cams which seem to be linked and probably batch-related. As yet, not been quoted any costs, although it's likely there will be some 'goodwill'.
20-12-2017: Michelin Cross Climates not available so far in 255/65 R17. Can get Nokian Weatherproofs that size but one reader reports that they suffer from ridging/saw toothing on the rear and become unbearably noisy after only a few thousand miles.
21-12-2017: Complaint echoed in Owner's Reviews that "the driver's seat (of a 2015 Mazda CX-5) feels a bit out of alignment to the steering wheel and peddles". Owner writes, "as result of this misalignment I feel back pain every time I drive the car. I raised the issue with both the dealer and the manufacturer but feel that I'm being bounced between the two, with near-zero likelihood of the problem being fixed before the warranty expires. My only hope now is to be able to prove beyond any doubt to both the dealer and the manufacturer that the seat is misaligned (slightly to the left of the middle of the steering wheel) and the size of this misalignment."
23-1-2018: Engine problem with used Mazda CX-5 reported. On 15 December the car suddenly lost power and wouldn't restart. After local garage spent a week trying to solve the problem, it was towed to another independent gartage on Thursday 11 January. Diagnostics couldn't find the problem, but once they spoke to Mazda on Tuesday 16 January an issue with the camshaft and Turbo was identified. Fixing it would cost £2,762.09 to which owner agreed. VIN is JMZKEN91600163092 and affected cars known for camshaft problems are up to number 163230 starting with JMZKE. The car was collected on Saturday 20 January, driven home, but then failed to start on a slight incline later that morning. Once it was freewheeled to the flat it started but obviously the issue is not resolved and the garage will need to look at the car again.
1-2-2018: Report of failure of heater of 2014 Mazda CX-5. See: 19-3-2017 and 8-1-2016.
9-2-2018: Report of clouds of white smoke from used 2014 Mazda CX-5, purchased used at 108k miles from an independent dealer.
27-4-2018: Report that at 52,000 miles a Mazda CX-5 2.2 Skyactiv diesel needed the camshaft replacing together with a new turbo and an angine flush. Mazda paid 50% of the cost of £1,760, so owner paid £880. Apparently this is a known manufacturing fault in a specific batch of 2013 cars. (See 23-1-2018.) The engine now needs to be replaced entirely because shards of metal from the faulty camshaft have circulated though it in the oil and damaged the crankshaft. Owner told he will have to cover the cost. We think this is grounds for a Small Claim against the original supplier of the car because it was supplied with a fault that has now become widely known.
27-4-2018: Report of 2013 Mazda CX-5 2.2 Skyactiv diesel losing power from the turbo when accelerating. It is rather slow in each gear until you hit 3000revs and the turbo kicks in again. Might be the turbo actuator or might be worn turbo bearings due to oil starvation from switching the engine off when the turbo is too hot and blocking the turbo oil feed pipe with carbon. Might be the camshaft issue above.
15-6-2018: Faulty exhaust pressure sensor on 22k mile 2014 Mazda CX-5 2.2 Skyactiv diesel cost owner £138. Dealer told him that Mazda would not consider 'goodwill' on wearing parts costing less than £150.
3-8-2018: Report of turbo failure on 2015 Mazda CX-5 Skyactiv D. " Last week I experienced a slight loss off power and a sudden lag in the power kicking in in low gears and zero acceleration in fourth and fifth. Mazda Horsham tell me that something that was an integral part of the turbo sheared off. They are telling me its a 12.1 hr (book) job at £117 an hour, plus the cost of a new turbo." (See 27-4-2018) Owner told an arm became separated and a rivet that is part of the top of the turbo sheared off. "They reckon the missing bit is in the intercooler." Mazda agreed to pay 100% of the cost of replacing the turbo, parts and labour.
29-8-2018: Report of engine failure of unspecified age Mazda CX-2 2.2 Skyactiv diesel at 63,000 miles. Car has full Mazda service histpory but was taken to an independent specialist for an oil pressure problem. Specialist "shocked" at the level of damage (possibly caused by a blocked sump strainer). Unfortunately, because the car was dismantled by an independent, Mazda will not help.
10-10-2018: Report of loss of power and engine management light illuminating in a used 2013/63 Mazda CX-5 2.2d AWD bought from a Mazda dealer in 2015. Turbo and cams are damaged and need replacing, with a bill of nearly £3,000 all in. The car has only done 53k miles. Owner says "This is because of a known issue with these engines, I have found the Mazda service documents online and the VIN matches the affected models." Mazda UK has offered 50% of the repair cost, which is more like 40% taking account of the cost of the investigation. Has full Mazda service history.
19-11-2018: Engine problem with 2012 Mazda CX-5 Skyactiv 2.2 diesel purchased new from Mazda dealer in 2012 and maintained by that dealer ever since. Anything that was advised to be done, I ensured was done; and I have taken it back for the many Mazda manufacturer re-calls on this model. The car had its scheduled service on 26th July 2017 which was straightforward. The Mazda garage put oil in the car and a new oil filter. The following week I took the car for its MOT on 3rd August 2017, where they found the oil was low again, but everything was deemed to be good. However, a few weeks later on 21st and 22nd August 2017, four emergency lights came on. (Vehicle System Inspection required; TPMS Inspection Required; SCBS Inspection required and Engine Inspection Required). Owner phoned Mazda garage and arranged to bring it in the very next day 23rd August. They again advised that the oil had become low since the MOT and topped it up. They said to bring it in for them to investigate and the first available slot was on 4th September 2017. This ended up taking an entire day to complete as everything that needed to be inspected was within a sealed unit. Owner then advised the turbo engine had gone and that carbonised components would need cleaning. A further inspection revealed that all 4 injector seals were blocked and so no oil was getting to the engine. Owner was not able to drive or take the car due to the danger and risk of the engine blowing. Owner had to arrange her own rental car and this was not possible to get until the next working day as it was past work office hours and so had to walk to the nearest train station to get myself home that night. I had to notify my employers and re-arrange my work. The garage informed owner later that week that the turbo and the engine had excess carbon in all departments including the Camshaft and the vacuum pump was damaged. They would need to keep my car to fit around other jobs they had in to complete the work on my car. This ended up taking 3 weeks. The total cost was £3235.69 plus £467.86 for car rental for 3 weeks. The Dealer put in a claim to Mazda on owner's behalf as they felt this was an issue out of her control / a manufacture model problem. However, Mazda came back and said as the car was now 5 years old and that out of 7 services, one service was a few thousand miles out and so they would not contribute anything. Motor Ombusdman told her, "Under the New Car Code, accredited manufacturers must ensure that they keep to the terms of the warranty provided with the vehicle - however, as soon as the warranty period is over, the manufacturer has no obligation towards your vehicle and doesn't have to pay towards repairs, even if you think the problem is a manufacturing defect or you experienced the same issue during the warranty period." However, since then, she received a letter from Mazda dated 8 th October 2018 advising that my car was being recalled for a government sanctioned Safety Recall due to a manufacturers fault. (See Recalls 17-9-2018: R/2018/288 and 289 on next page): The details of the Safety Recall were for the exact problems the owner's car had to be repaired for in September 2017. Had Mazda found these problems during the recall appointment, then it would have financed any changes to be made, including a complete engine. Therefore, owner assumed it would also pay for work that had been carried out on my car that was directly related to the Safety Recall. Owner phoned Mazda Customer Services and was told at first they weren't sure what they were doing for customers such as myself and then was informed that the Directors had decided they were not going to refund in retrospect. I wrote to them to complain and they responded "Any manufacturer's obligations towards its customer is only effective from the launch date of the safety recall and I'm afraid this cannot be retrospectively applied to work previously completed, so we will therefore be unable to assist financially in this instance." The Motor Ombudsman was useless again. Our advice was as follows: " In the UK your legal rights are against the original supplier of the car, not the car manufacturer. So even though the manufacturer is telling you it will not pay for your repair because the repair preceded its recall, you have Sale of Goods rights against the original supplying dealer for 6 years from purchase. The relevant case law is Clegg v Olle Andersson (trading as Nordic Marine), House of Lords, 2003. Basically a supplier is automatically liable for any major fault that could have been present or developing in a car on date of sale for 6 months from date of sale. You don't have to prove the fault pre-existed. Past 6 months and up to 6 years (your repair was within 6 years) you do have to prove that the fault pre-existed your purchase. And your proof of that is the Mazda recall. See: /faq/consumer-rights/ Link to Small Claims: https://www.gov.uk/make-court-claim-for-money "
7-12-2018: Cylinder head gasket failure reported on 2013 Mazda CX-5 at 86k miles. Apparently very difficult to repair because both block and head are aluminium. Mazda dealer quoted £2,600.
10-12-2018: Front brake calliper pins of 2016 Mazda CX-5 found to be failing at 30,000 miles. Mazda agreed to replace the callipers under warranty, but not the front brake discs or pads because the pads had previously been replaced by Halfords and are regasrded as a wear and terar item not covered by warranty.
19-1-2019: Report of Mazda CX-5 Skyactiv diesel in for injector recall. Owner got car back, then 3 days later white smoke out of exhaust and car shuddering. Called AS who ran tests and showed us that it appeared one of the fuel injectors was firing too much fuel into engine. Car got taken back to dealer to fix. They have now run a compression test at a cost of £228. Been advised now that the 3rd cylinder has no power and they will need to strip down engine (£114 per hour for a 12 hour job) to see the cause. Could be piston or rings? They are expecting owner to foot the bill even though he believes it is linked to the reason for the injector recall.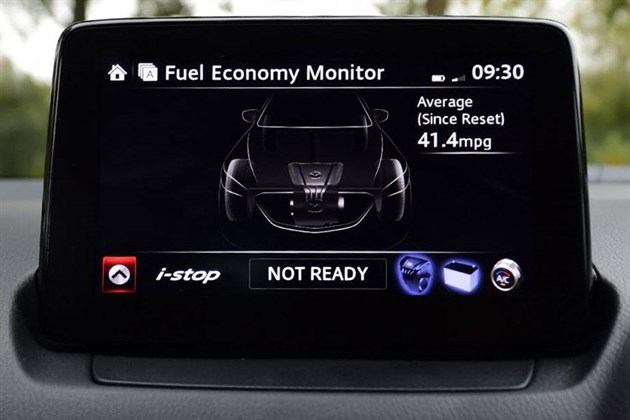 23-2-2019:
Helpful reader report: "For Mazda diesel drivers, there is actually a way to see when the DPF is actively regenerating. In Mazda infotainment system, there is a page for "Fuel Economy Monitor" and "i-stop" system. It essentially tells you that there are three criteria that need to be fulfilled before the "i-stop" can be functional: engine, battery, and aircon. During most of journeys, all three criteria would be almost always be shown in a "ready" stated (with their respective icon being highlighted), but when active regen is on, the engine would be shown as not ready (for stop & start), the other scenario when engine may not be "ready" is when you just start the journey, and the engine is still cold. So if drivers check this page at the end of their journey (I used to always leave the infotainment system on this page), they would be able to know for sure if the active regen is still on-going."
21-3-2019:
Report of new engine being fitted to a 2013 Mazda CX-7 Skyactiv D under goodwill after a TSB recall.
14-4-2019:
Report of misfire from engine of 2013 Mazda CX-5 diesel in July 2018. Local garage identified a problem with the fuel injectors. They tried to fix it (cost £800). Then in October owner received recall R/2018/288 stating there was a potential problem with the injectors causing misfiring and stalling that reqired a software update. Owner contacted Mazda and they checked that the work on the injectors been carried out properly with Mazda parts, but because the work was done in July when the recall was not until September and because an independent local garage did the work, the actual recall software update could not have been carried out by the independent. When owner asked about recompense Mazda said that as the problem arose before the safety recall letter he was not entitled to reimbursement. Owner contacted the ombudsman who agreed with Mazda.
16-6-2019:
Report of clutch is judder on April 2017 Mazda CX-5 2.2 Skyactiv D at 6,800 miles. Mazda quoted £2,00o for a new clutch and DMF. Accused owner of slipping the clutch. This happened after a software update for a fuelling problem. Owner thinks that SkyActive system where the engine revs to 1800rpm, is a factor in the burning of the clutch causing high spots on the flywheel.
17-7-2019:
Report of engine failure of 2016 Mazda MX-5 Skyactiv D automatic at 82,000 miles whle towing a caravan in Greece. Caused by failure of the chain drive to the engine oil pump. After repatriation, it was discovered that some oil changes were either late or had been missed, so Mazda refused any goodwill.
20-7-2019:
2015 Mazda CX-5 2.2 Skyactiv D reported as needing a decoke under warranty in March 2018, then again in July 2019. Work to be carried out free of charge. Dealer needs car for whole day.
3-10-2019:
Report oil pump chan failure on 2016 Mazda CX5 Sport diesel purchased used for £10,500 in June 2019. After 6 weeks the Fan belt failed and resulted in buyer having to claim on the 3 month warranty provided with the car. Then on 25 Sept 2019 the engine light came on again and upon closer inspection it appears the oil pump has failed and oil chain has snapped. The car has 93,000 miles and Mazda will not assist because the first 12,500 mile service was not carried out until 23,000 miles. This was a cheap car, but supplying dealer could be held liable.
11-10-2019:
Report of sump oil strainer issue with 2012 Mazda CX5 2.2 Skyactiv diesel purchased in Australia in 2012 and subsequently shipped to the UK in 2016. A few weeks following an annual service at the dealership the car broke down and displayed a red oil warning light. The dealer advised removing the oil sump to investigate. It transpired that the oil strainer was blocked by accumulated carbon that was cleaned and given the all clear with a bill for £500. The dealer suggested this was common for CX-5 diesels of this age and owner was aware that it isn't unusual for sludge to accumulate in the oil strainer if the car is shut down mid DPF regen. Now Mazda is recalling 35,000 in Australia for this reason.
24-10-2019:
Confused report of Mazda CX5 being recalled under AJ024/D AJ024B/Cin July 2019. Now indicating low oil pressure. Owner thinks it should be recalled under AJ024E and get a new engine. Mazda Europe says in this case (DTC P0524) only a repair procedure should be followed. Recall Launch Date: 17/09/2018Recall No: R/2018/289
30-10-2019:
Significant Court Action Filed Against Mazda in Australia. AUSTRALIAN COMPETITION AND CONSUMER COMMISSION v MAZDA AUSTRALIA PTY LIMITED. "This proceeding concerns unconscionable conduct and false or misleading representations by the Respondent (Mazda) to the individual consumers identified at Annexure A (the Consumers) who purchased faulty Mazda motor vehicles (the Vehicles) and attempted to exercise their rights under the consumer guarantee provisions of the Australian Consumer Law (the ACL) to obtain a refund or replacement vehicle, but were repeatedly refused refunds or replacement vehicles and pressured to accept lesser offers made by Mazda only after multiple failures of the Vehicles and repeated attempted repairs." Specifically: repeated engine warning light on 2014 Mazda Neo (Mazda 2); repeated adaptive headlight failure on 2016 Mazda CX-5 4WD; repeated power loss in 2013 Mazda CX-5 diesel; repeated low oil pressure warning in 2013 Mazda 6 2.2 diesel SW; engine problems with 2017 Mazda BT50 pickup; jerking and loss of power from 2015 Mazda CX-3 4WD; repeated rough iding and multiple warning lights in 2014 Mazda 2 Neo. Full Concise Statement here:
https://www.accc.gov.au/system/files/ACCC%20v%20Mazda%20Australia%20Pty%20Ltd_Concise%20Statement.pdf
22-11-2019:
Report of cylinder head warping and cylinder head gasket failing on 2014 Mazda CX-5 2.2 Skyactiv D at 67k miles. The cost of replacing the head gasket and cylinder head has been quoted as £5,000.
27-11-2019:
Report of slight whine from turbo of 2013 Mazda CX-5 2.2 Skyactiv D at 86k miles. Went in for a service, which included a 'carbon clean'. The following day, the turbo failed after 80 miles on the motorway. Dealer charged £2,000 to replace the turbo. We think t he reason for the whining turbo could have been that the turbo bearing oil feed and oil return pipes were partially blocked with carbon, reducing the oil supply to the turbo bearing. It's highly likely that the carbon clean loosened some of this, leading either to a complete blockage of the oil feed pipe or to carbon from the oil feed pipe damaging the turbo bearing. So I think the dealer needs to accommodate the owner over the cost of the new turbo, and he also need to make sure that new turbo bearing oil feed and oil return pipes are fitted or the new turbo will fail.
21-12-2019:
Report of cylinder head and head gasket failure on 2014 Mazda CX-5 at five and a half years old. Cost of repair was £5,000. Mazda contributed £340. (Might be the same car as 22-11-2019.) 43 Complaints since 20-11-2012
Recalls
21-12-2015: TSB issued and known owners contacted due to oil filter issue, strangely headed "Special Service Programme - Unusual brake pedal feeling"
"During routine quality checks it has been found that a number of CX-5 vehicles fitted with the 2.2 diesel engine may experience an engine problem that will be highliqhted on the dashboard with the enqine management light indicating an oil filtration problem.
your CX-5 is in the affected vehicle range so it is important that you contact your local Mazda dealer as soon as possible to make arrangements for a modified oil filter to be fitted and your engine oil changed free of charge. This work should take approximately 2 hours and while with the dealership they will ensure your car has the latest software updates installed.
Should your car already be booked in for this work or for a service with a Mazda dealer, no further action is required. This work witi oe completed and you can save the cost of the oil and filter if servicing your car at the same time.
lf you need help finding a convenient Mazda dealer, details can be found on our locator at www.mazda.co.uk by clicking on the blue "Dealers" icon in the top right hand corner or feel free to call our Mazda helpline on: 03457 484848."
31-5-2017: R/2017/163: Mazda3 (BL), Mazda5 (CW), Mazda6 (GH) Mazda6 Est (GH & GJ), Mazda CX-3 (DK) and Mazda CX-5 (KE): TAILGATE MAY DROP DOWN WITHOUT WARNING. Water may penetrate the tailgate strut cylinder. This may cause corrosion which may affect the strut's attachment. Fix: Replace both tailgate struts on affected vehicles. Mazda statement: "During routine quality checks it has been found that the rustproof coating on the tailgate support struts, one found on each side of the tailgate, on a number of Mazda vehicles may be insufficient. The resultant corrosion could ultimately cause the struts to break during operation of the tailgate causing it to drop suddenly, leading to potential injury". Repairs are supposed to take around an hour, it's free of charge, and the usual take care until the repair has been completed. VINs: JMZCW******100041 to JMZCW******159564; JMZGH******102007 to JMZGH******509238; JMZBL******100118 to JMZBL******575554; JMZGH******116434 to JMZGJ******345447; JMZDK******100043 to JMZDK******143515; JMZKE******100107 to JMZKE******482452. Build dates: 16-6-2010 to 1-4-2015.
17-9-2018: R/2018/235: Mazda CX-5, Mazda 6, Mazda 3 diesels: The brake vacuum pump may wear prematurely. The brake vacuum pump may wear prematurely, meaning that in some applications where the brake pedal is pressed quickly whilst at low engine speed – the servo assistance provided by the vacuum system in decreased. This could cause a momentary decrease in braking performance. Braking assistance available to the driver can be reduced. FIX: Vehicles affected will be fitted with a modified Vacuum pump. VINS: JMZBM******100061 to JMZBM******325865; JMZKE******109955 to JMZKE******485502;
JMZGJ******105981 to JMZGJ******347652. Build dates: 26-1-2012 to 21-1-2016.
17-9-2018: R/2018/289: Mazda CX-5, Mazda 6, Mazda 3 diesels: INJECTOR MOUNTING NUTS TIGHTENING FORCE MAY BE INSUFFICIENT. The tightening force of the injector mounting nuts may be insufficient. This could cause combustion gas to leak from the injector and contaminate the engine oil within the cylinder head. This in turn could cause the engine oil strainer to become blocked. This could cause the engine to stall. Engine Pressure Oil Light appears along with the engine malfunction indicator Possible Engine Stall without Warning/ FIX: Vehicles affected will have the engine / oil checked for contamination and replaced if necessary. The Fuel injectors will also be re-tightened to the appropriate torque. VINS: JMZKE******109955 to JMZKE******485502; JMZGJ******105981 to JMZGJ******347652;
JMZBM******100061 to JMZBM******325865. Build dates: 26-1-2012 to 21-1-2016.
17-9-2018: R/2018/288: Mazda CX-5, Mazda 6, Mazda 3 diesels: FUEL INJECTOR SOFTWARE DOES NOT CONTROL THE ELECTRIC CURRENT CORRECTLY. The Software controlling the fuel injectors does not control the electric current correctly. This may cause the injector control circuit to short circuit and cause the engine to stall. Results in possible Engine Stall without Warning. FIX: Vehicles affected will have the injector control software re-programmed. VINS: JMZKE******109955 to JMZKE******485502; JMZGJ******105981 to JMZGJ******347652; JMZBM******100061 to JMZBM******325865. Build dates: Build dates: 26-1-2012 to 21-1-2016.
17-9-2018: R/2018/289: Mazda CX-5, Mazda 6, Mazda 3 diesels: Build Start 26/01/2012. Build End 21/01/2016. Manufacturer Ref AJ024E. VIN Start JMZKE******109955. VIN End JMZKE******485502. Vehicle Numbers 11021
25-07-2019: R/2019/187: Soot may accumulate around the intake shutter valve on the inlet side of the engine. Fix: check, clean or replace the intake shutter valve and update software. VINs: JMZKE******109955 to JMZKE******565020 . Build dates: 26-01-2012 to 30-06-2018.
10-10-2019: Recall reported in Australia by http://www.news.com.au concerned with carbon deposits blocking the oil strainer in the sump of Skyactiv 2.2 litre diesel engines sold between 2012 and 2018. Affects 35,000 vehicles in Australia. " The problems stem from a build-up of carbon deposits and premature wear of certain engine components. There are wide-ranging symptoms that can affect the vehicle's performance which can increase the risk of an accident and injury to the driver and other road users. Some of the issues include a gradual drop in power, multiple dashboard warning lights, increased braking distance, a stalled engine that fails to restart and smoke coming from the engine bay. Mazda said the issue was detected during routine testing." "We're always testing cars and it came out of internal testing," a spokesman told News Corp. He said there have been no accidents linked to the issue. "The recall is related to more of a gradual loss of power rather than anything that would cause an accident." Mazda Australia will contact all affected owners to book in repairs. The fix will be applied at a Mazda dealer at no cost to the consumer. Mazda's customer support line in Australia is 1800 034 411.
We need your help with our latest Satisfaction Index, so that we can help others make a smarter car buying decision. What's it like to live with your car? Love it? Loath it? We want to know. Let us know about your car - it will only take a few minutes and you could be helping thousands of others.
Help us with the Honest John Satisfaction Index now