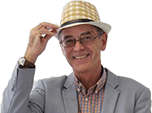 Jaguar XF (2008–2015)
What's good
Wonderful and bespoke feeling interior.
Amazingly quiet and refined.
More economical 2.2 diesel from 2011.
Sat nav as standard on most models.
XF 2.2D Luxury won £31k - £41k category in 2014 Caravan Club Towcar of the Year Awards.
Jaguar XF was top car for customer satisfaction in Executive/Luxury Sector in 2010 JD Power Survey.
4 Star Euro NCAP Rating: 78% Adult Protection; 65% Child Protection; 43% Pedestrian Protection; 71% Safety Assist.
A misfuel prevention device is standard in the filler neck of diesel models.
Most searched large executive car on honestjohn.co.uk 2011/2012.
Jaguar XF 2.2D Premium Luxury judged 'Towcar of the Year 2012' in Towcar Awards run by Practical Caravan, in association with The Camping and Caravanning Club and What Car?.  The XF is available on the road from £29,950 with a tow bar fitted as an option from £910. Kerb weight 1,745kg, 85% match 1,483kg, maximum towing weight 1,850kg, towball limit 75kg.
What to watch out for
On XF Luxury models there is no lumbar support in the front seats. Where the lumbar curve should be it is concave not convex. The base of the seat where the metal crossbar is, therefore presses painfully on the lower spine which can make long journeys extremely uncomfortable. Premium and Portfolio versions have a lumbar support facility.
Smallest wheel size with deepest profile tyres is 17-inch with 235/55 R17s. Next up is 18-inch with 245/45 R18.
20-inch wheels necessary on XFR, but not on any diesels. Oddly the 20" tyres are 245/40 and the 19" tyres are also 245/40 on the front, but the car rides vastly better on the 19s.
'Black Pack' comes with 20" wheels.
Essential to avoid hitting stray dogs, deer, etc: "I have recently purchased a Jaguar XF, which I am very pleased with. A few days ago my wife hit a stray dog (a young staffordshire), whilst travelling at 15mph. The dog was unhurt and there was no damage to the car. However, the Pedestrian safety bonnet system deployed, which raises the hood to ensure a pedestrian avoids injury from contact with solid engine components under the bonnet. The instructions are not to drive the vehicle. The car was towed to my local dealer who stated they had not seen this before and quoted £2,300 to replace the two bonnet airbags and damaged hinges, a frightful amount. On phoning around I found another franchised repairer who quoted £1,150 - still costly though, the parts alone are £800. Please remind your readers to avoid hitting any stray turkeys over Christmas, could be expensive."
Complaint of smell drawn into cabin from engine preheater of 18 month old 2.7 diesel.
Complaints about satnav directing drivers off the motorway when the fastest route option is taken. (Instead, it directs them to the shortest route.)
Very early cars, especially pre-production models used for dealer launches, could suffer a variety of electrical gremlins.
On 3.0-litre diesel models , the sensor in the particulate filter can fail, forcing the car into limp home mode. All that needs replacing is the sensor, not the particulate filter itself.
Rear brake pads and discs can also have a very short life of 20,000 miles or so because the pads are deliberately soft in order to make the electric parking brakes more effective.

One user has been suffering engine induced resonance on a 3.0-litre diesel purchased in October 2009. Depending on the load, the engine rattles at approximately 1,200rpm. The same user had an ignition off failure that left him without power, lights, indicators, power assisted brakes and steering.
Report of tyre pressure monitoring system valve sensors corroding and failing.
By May 2010, 70 cars built up to March 2010 had suffered a transmission fault, locking the transmission in Drive. Modified parts fitted on complaint. A service engineer suggested that the transmission failure is caused by over use of the parking brake at traffic lights. This applies pressure on the pads, hence wear. So this relates to the short life of rear brake pads (above).
08-05-2011: Rear cabin extractor vents fail (situated behind the sides of the rear bumpers) and as a result the boot well can fill with water, affecting the battery, radio speakers, rear parking sensors and possibly more. Replacewment vents in short supply.
31-05-2011: Do not use an XF diesel for repeated short runs from cold. There has been a report of a 2.7 V6 diesel engine suddenly accelerating and running uncontrollably. This can only be because the DPF has not been regenerating correctly and the extra fuel fed to the engine to recycle the DPF has sunk to the sump, raising its level to a point that the engine has started running on it. The relevant High Court writ is Honeycombe v Cambria Automobiles, April 2011. Barry Honeycombe claims, "the vehicle sped out of control" as he drove onto the M25. He said he had to turn off the engine and brake with both feet. The car then blew up with a "loud bang and black smoke" while stationary.
16-08-2011: On 3.0 V6 petrol, a rumble from the front may mean that the bottom crank pulley damper assembly 4659709 is starting to separate around the rubber insert in the middle of the flat dinner plate sized wheel. Costs £83.23 + vat. Pulley Assy £25.47 +vat and the V-Belt £17.86+vat Total Labour £82.00. Separation is usuallly more marked on the inside than the side one can observe. If it fails completely then engine is written off.
19-12-2011: Total of 3 further reports of 3.0 diesels "losing power", either due to EGRs clogging, DPFs clogging or turbo actuators failing. Mostly from using the car for short runs from cold in traffic, but can also happen out on the open road.
23-12-2011: Report of engine oil pump casing that the timing belt tensioner is bolted to shearing off and timing belt coming off and trashing the engine of 2007 2.7 D with 60,000 miles. (Ths was a Range Rover Sport, but same basic engine in XF 2.7 V6 diesel.)
12-03-2012: Futher report of DPF of 3.0 diesel repeatedly clogging because the car is used solely within London.
12-04-2012: Complaint of tyre wall of 20-inch Dunlop SP SPORT MAXX splitting around circumference.
22-07-2012: 2.7 diesel suffers same problem of failure of exhaust flexi hoses to driver's side catalytic converters failing. These coast £650 + VAT + 2 hours labour to replace because the oxidising cat converters have to be replaced as well. Cannot simply replace the flexi hoses.
16-08-2012: Brake shudder seems to be a common issue. Reported by David on 31-7-2012, and confirmed by Jaguar forums: www.jaguarforum.co.uk and www.xfforum.co.uk
11-10-2012: Flywheel problem resulted in total engine failure on an 18 month old diesel 'S'. Engine replaced under warranty.
14-11-2012: Reports of bonnet airbags being triggered by speed humps and costing £3k to fix.
1-12-2012: With the 2.7 and 3.0 diesels, starting and other problems are likely to occur if using diesel with more than 7% bio content. Jaguar standard advice is to avoid 20% biodiesel.
22-2-2013: Drivers doorlocks seem to freeze open in cold weather.
23-2-2013: Proximity sensors for maplights fail and lights com on and off randomly. Time consuming and expensive to fix.
29-3-2013: Reader quoted a ridiculous £3,000 by Jag dealer to fix a leak on the differential of a 23k mile 2008 XF.
7-9-2013: Windscreens have been prone to delamination around their edges after about 4 years. Jaguar has been picking up 75% of the tab and good dealars like H.A. Fox of Norwich the balance.
7-11-2013: Major engine failure of 49k mile XF 3.0D 275PS. Extended warranty covered £14,500 cost of new engine and turbos. Jaguar paid for new exhaust system incuding DPFs and cat conveters out of goodwill. 12 month warranty given on new engine.
22-11-2013: Plastic headlight brackets integral to the light units are fragile and prone to snapping if owner carries out any headlight adjustments. The light units are £900 a side.
21-12-2013: ECU failed on 38K mile 2009 XF. Quoted over £1100 to replace it.
1-1-2014: Since Ford's patent of 'Quickclear' windscreens ran out, Jaguar has been obtaining equivalent screens from a different source and the wiring in them can scramble the signals between satellites and any aftermarket GPS devices used in the car.
1-4-2014: Cost of a service and MoT of a 58k mile 2010 Jaguar XF 3.0 diesel came to just under £3,000. Included cleaning DPF at £300, replacing transmission oil at £450, replacing diff oil at £260, replacing all four discs and pads at £1,165.
5-4-2014: Space saver spare option no longer available on Jaguar XF. All you can have is a 'tyre repair kit' that in most cases will prove to be worse than useless by completely ruining the tyre it is used on.
10-4-2014: Repeated blocking of DPF reported of two year old Jaguar XF 3.0D bought 6 months previously but predominantly driven in a city. New DPF and new turbo failed to resolve the problem.
30-4-2014: The driver's handbook of Jaguar XF contains a warning that the car has seven transmitters and these may interfere with surgically implanted devices in people, such as heart pacemakers.
24-7-2014: 2008-2014 Jaguar XF least reliable new luxury car in 2014 Which? Car Survey with reliability rating of 90.2% (still not terrible).
25-9-2014: 2010/60 reg Jaguar XF 3.0d went in to Jaguar dealer for routine service and started making a strange tapetty noise on its return. Dealer replaced injectors then told the owner that the big ends had gone. (On 29-9-2014 JLR agreed to replace the engine free of charge.)
25-10-2014: Through correspondence with Jaguar the reader above (30-4-2014) discovered the nature of the antennae and transmitters in a Jaguar XF. There are several transmitter antennas in the vehicle: Low frequency antenna – front; Low frequency antenna – center; Low frequency antenna – rear; Radio frequency receiver; RH front door antenna – integral to the handle; RH rear door antenna – integral to the handle; luggage compartment antenna; LH rear door antenna – integral to the handle; LH front door antenna – integral to the handle. The keyless entry and passive ignition run of the same antenna. Once the key is found inside the vehicle, it will not search for it again. The information provided in the handbook is purely a precaution and have reiterated "The radio frequencies and field strengths used by our keyless entry systems operate well within the required medical standards for radiated emissions, and will not interfere with pacemaker equipment. The field strength of our RF transmitter is very low, well underneath the regulated safe operating limits and it only operates for a few milliseconds whenever the car looks for the key (on a door open/close or a lock/unlock request)"
31-3-2015: Battery of 22k mile 2011 Jaguar XF 3.0 diesel drained over 2 days following a 120 mile run that should ahve left it completely charged. Battery itself healthy, so had to be a draindown: maybe interior light switch, maybe car not properly locked and Bluetooth searching for its paired phone, maybe the proximity sensors for the interior map lights.
6-4-2015: Another instance of pedestrian protection bonnet of a Jaguar XF being triggered by a minor impact. In this case, while travelling at a max of 30 mph a Labrador puppy ran out of woods and hit the car just behind front wheel resulting in airbags under bonnet deploying. The driver had only had the car for 24 hours, with less than 200 miles registered. The repair bill was £4,000 and the car was off the road for 3 weeks.
5-5-2015: Battery drains on XF can be caused by the electric parking brake not being properly applied as well as the interior light delay and the Blueooth searching for a paired phone if the car has not been double locked.
29-5-2015: Another case of the battery draining overnight on an XF 3.0 diesel, eventually requiring a new battery at £260. Reader quoted Autodata that states: Jaguar XF AJ-V6D/306DTD/3(250): Battery discharge after standing overnight. Affected vehicles: All models XF: VIN R00019-S04549. Cause: Entertainment control module software fault. Remedy: Carry out electrical, mechanical and component test to eliminate any other possible cause. If no fault found, re-program entertainment control module with upgraded software.
28-12-2015: 2012 Jaguar XF 2.2 diesel, 2 months out of warranty, suffered "restricted performance". Diagnosed by Jaguar dealer as needing new EGR, priced at £780. Gas leak followed requiring another part, then ECU diagnosed as faulty, escalating total bill to £2,177.24.
14-2-2016: Report of repeated cracking of 20" Senta alloy wheels on used XF. Between August 2013 and February 2016, over 20,000 miles, they cracked 7 times, on: 24/08/2015; 27/08/2015; 17/10/2015; 10/12/2015; 18/12/2015; 24/12/2015 and 01/2/2016.
26-3-2016: Report of DPF of 2009/59 (2010MY) Jaguar XF 3.0d Luxury being replaced in December 2015, then in February 2016 the DPF full and management light came on. Dealer said it wasn't regenerating and repositioned a turbo pipe. In March 2016, 3,500 miles after DPF replacement, DPF light came on again straight to Red with no Amber warning. Car does short runs, but also plenty of motorway journeys. Suspect not actively regenerationg.
4-4-2016: Delayed report of failure of a/c of XFS after 4 years and 26k miles. A replacement part was on a 3 month wait and I had a expensive repair done together with the replacement badly spilt hose by a independent Jaguar Specialist engineer.
24-4-2016: Report of wind noise from driver's side dashtop vent ; also tapping noise between 1,200 and 1,800rpm under load (possibly from using inferior diesel).
9-5-2016: Penetrated rust reported around and behind chrome strip on trunk lid of 2010/59 Jaguar XF. Quote from Guy Salmon bodyshop: "This is a well-known manufacturing defect, where they fix the chrome strip before the paint finish has had time to go off properly." Unfortunately first reported to Jaguar outside 6 year body warranty and also outside 6 year SOGA limit. Jaguar offered 25% discount as goodwill. Anyone with an XF approaching 6 years old should check this area carefully and if necessary make a claim within the warranty and SOGA limit. (On 30-6-2016 the owner wrote that Jaguar had agreed to replace and paint the trunk lid free of charge as a goodwill gesture.)
13-6-2016: Report that 2009 Jaguar XF 3.0 diesel still regularly delivers 42mpg at 84k miles and was problem free for first 3 years, but in last 4 years neeeded: new wiper-motor £230, turbo part replaced £596, new boot wiring harness £210, boot leak £94, oil pipe to the gearbox failed and replaced £895, total costs £2025.
14-6-2016: Report of Jaguar XF 2.2 litre diesel not responding to accelerator at 20,000 miles, just before 20k service. Suspect DPF has not been regenerating properly and as a result extra diesel introduced to the engine to fire off active regenerations has sunk into the sump, raising the sump level to the point where a compression ignition engine starts to run uncontrollably on its sump oil.
19-6-2016: Complaint of perceived high wear rate of brakes of 2014 Jaguar XF 2.2 diesel automatic. After 23k miles needed new rear brake pads, then, after 44k miles needed new rear discs, new rear pads again and new front pads. This is a failrly normal wear rate for an XF auto with electromechanical parking brakes. Car also needed a new turbo, fitted under wartranty at 12 months old.
20-6-2016: Complaint that Jaguar dealer found an oil leak from the sump gasket of a 2011 XF 2.2 diesel, despite owner not seeing any oil patches on his garage floor. Dealer quoted £1,000 for a new sump.
19-7-2016: Noise reported from engine of 2011 Jaguar XFS 3.0 V6 diesel 275 at 55,000 miles that had been fully serviced by the Jaguar dealer. Deemed terminal. Negotiations ongoing. Maybe similar to case reported on 25-9-2014 (above)
6-8-2016: Report of Jaguar XF 2.2 200PS diesel Sportbrake intermittently stalling. When it happens the engine stops and everything shuts down including the air vents. Owner can then restart and all is well except that the Eco stop sign comes up on the dashboard as not on. It stalls only from a cold start and within a couple of miles. It happens from being stationary and accelerating to move off. It's the pressing of the accelerator that makes the stall happen. It stalled pulling on to a roundabout which was dangerous. Likely caused by moisture ingress to one of the multipin connection blocks between ther ECU and the fuel system. Dry out with a hairdryer then reconnect a fews times to ensure a good contact.
21-9-2016: Report of 2010 Jaguar XF 3.0d Portfolio needing a new turbocharger in August 2014 after 34,167 miles. Probably engine shut off too many times when very hot, leading to carbonisation of oil in turbo bearing oil feed and oil return pipes and consequent failure of turbo bearing. Also needed a new DPF in September 2016 after 43,970 miles because DPF full of ash. Cost was £1,938, but DPF could have been dsent to Ceramex to clean it out which costs about £350 + carriage + removal and re-fitting.
1-10-2016: Report of air intake manifold of 63,000 mile XF replaced at cost of £1,400. 3 weeks later engine knocking. Metal shards and swarf found in oil. Could have been due to something dropped into the engine in the course of the job.
11-10-2016: Report of injector failing at 30,000 on 2011 Jaguar XFR bought from Jaguar franchise 5 months previously. Quoted at least £1,014 and maybe £1,800 if more injectors are needed. May have been caused by bad fuel. Advice: take it back to the dealer it was bought from.
6-11-2016: Report of pothole impact breaking a second bolt holding the rear suspension subframe of a 102k mile 2008 Jaguar XF in place. When put on a hoist it was found that a first mounting bolt had also sheared.
15-12-2016: Report of cracks in paint of roof of 2013 Jaguar XF. Jaguar agreed to pay half of the cost of repainting but would not admit any fault.
7-1-2017: Report of timing belt failure of 2010/59 reg Jaguar XF 3.0D leading to valves hittng pistons at 100,000 miles. Warning to replace timing belt, tensioner, waterpump and aux belt at 60k miles and definitely before 80,000 miles.
9-1-2017: Another report of timing belt failure on a 59 reg Jaguar XF-S st 106k miles, well before the 112k or 10 year life that Jaguar gives the belt. Other problems have included brake servo failure, turbo actuator replacements, premature rust and grab handles that come off in your hand.
23-1-2017: Report to Ask of problems with 2008 Jaguar XF 2.7d. Owner replaced the engine (Jaguar supplied) after the oil pump failed, overhauled the gearbox, replaced the N/S rear driveshaft and CV joint, replaced the Diff, replaced various electrical circuits (All known to Jaguar as production faults), replaced the four corners wishbones and track control arms, replaced rear discs and pads (front bearing assembly - both sides had already been replaced), MAF Sensors x 2 replaced and a few other minor but nuisance replacements.
26-1-2017: Report of noisy diff on 2008 Jaguar XF 2.7 diesel at 30,000 miles. Quoted £5,000 to replace (including new prop shafts at £1500, due to a design change). Jaguar paid 90% of the total cost.
16-2-2017: Further reports of XF 2.2 diesel suffering 'unintentional acceleration' three times due to rising oil level from contamination of the sump oil with diesel for DPF regeneration. See: 14-6-2016: Report of Jaguar XF 2.2 litre diesel nor responding to accelerator at 20,000 miles, just before 20k service. Suspect DPF has not been regenerating properly and as a result extra diesel introduced to the engine to fire off active regenerations has sunk into the sump, raising the sump level to the point where a compression ignition engine starts to run uncontrollably on its sump oil.
2-3-2017: Problem reported with electromechanical parking brake of 2010 Jaguar XF 2010 3.0 litre. Error message "Cannot Apply Park Brake". Intermittent. Owner took it to the garage where he brought the car and they said it was the brake pads . He replaced them but problem still occurs. still no joy. Error message when parking brake applies in "N" or "P". Also in "D" when stationary at Traffic lights.
11-3-2017: Feedback that clunk from rear of 2008 - 2015 XFs and XF Sportbrakes caused by fuel slap in the fuel tank and cured by fitting a baffle in the tank. The problem was only heard when the tank was nearly full under sharp braking and coming to rest. Owners suspects the tank was actually moving slightly causing the clunk, but in any case the baffle dissipated the inertia of the fuel resolving it. How many vehicles had been built before realising this?? At its 1 st MoT (at 18k miles) it was failed on cracked sidewalls of the Dunlop tyres, replaced foc by Jaguar.
23-3-2017: Noisy rear differential reported on 2008 Jaguar XF at 120,000 miles.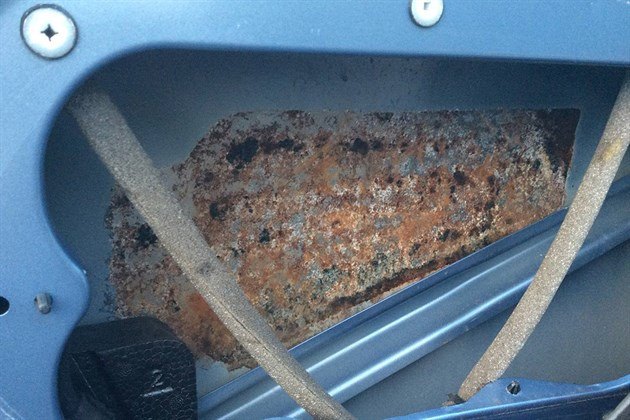 23-3-2017: Serious problem reported of rust perforation caused by sodden sound deadening inside the doors of a 2009 Jaguar XF. This has not only caused rust that has perforated the door skins from the inside out, but has also rusted the Bowden cables of the electric window mechanism. Unfortunately, the Jaguar paint warranty only lasts 3 years and the penetrated rust warranty 6 years so the car was out of warranty when this was discovered and to date Jaguar has refused any help.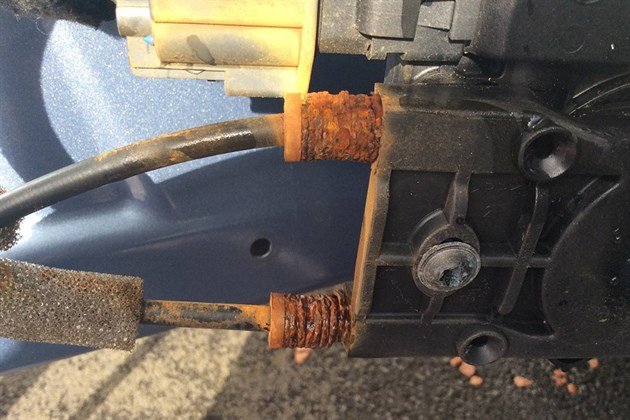 29-3-2017: Report of "restricted performance" of 2010 Jaguar XF 3.0V6 diesel on several occasions. Stratstone Jaguar Stourbridge found a fault code of P1247-00??? Owner found there was a Jaguar technical bulletin for this very same issue. The bulletin number JTB00287v3 refers to the secondary turbocharger compressor shut off valve vacuum actuator (CSOV valve)..... on this occasion with your vehicle we found the valve was sticking and therefore not allowing the correct airflow, in turn this was causing restricted performance on your vehicle. After we replaced the valve we re-tested the vehicle and the fault code reading was clear and the restricted performance has been eradicated from your vehicle."
14-4-2017: Report of faled intercooler on 2010 Jaguar XF 3.0 litre diesel at 73,000 miles. The tube attached to the intercooler had a massive split.
24-5-2017: Report of failure of nearside rear LED light cluster on 2012/62 Jaguar XF. £254 inc VAT for a replacement cluster. LEDs not available separately.
19-6-2017: Cylinder head gasket failure diagnosed on 2012 XF 5.0 V8 after system lost coolant due to a failed coolant pipe. Yellow engine block light had come up a few times in preceding years but dealer failed to find any weakness in the system. Quoted £5k best case scenario; £12k worst case.
3-7-2017: Radiator fan and cowling of 2014 Jaguar XF self-destructed after 19,000 miles. Post warranty goodwill turned down but eventual cost was reduced by JLR and the dealer to £300.
13-7-2017: Reader wrote to tell us that 'Auto Express' had taken up his complaint of rusted doors (23-3-2017) and that Jaguar had agreed to replace all of his doors FoC.
22-8-2017: Report of ECO system gone awray on 23k mile 2012 Jaguar XF 2.2 diesel: After sitting in traffic the ECO mode engages. When driver pulls off the car stalls and the transmission locks up. Driver has to wait 2 or 3 minutes for the transmission to re-engage and turn its self-off before he can restart the engine. At this point the ECO warning light on the dash comes on showing it is dis-engaged and when he tries to re-engage it indicates there is a fault with the ECO system. The next time he drives the car the warning light has disappeared. He took the car to his local JAG dealer and they ran a diagnostic check and could find no fault codes. They suggested monitoring the situation and to call if the problem persists. After that visit he drove the car with the ECO system turned off from the beginning of his journey and there was not a problem. He then drove the car with the ECO system on and the fault reoccurred. He advised his dealer who is due to run some more tests and has said it might need a new transmission [cira £10k] Since August the dealership ran some more tests [keeping my car overnight]. They have now diagnosed that there is a fault with the Control Module [part of the gearbox] and have advised that it need a new transmission stating this problem will get progressively worse until the unit fails completely. Jaguar Customer Services were contacted and after review they decided to offer to pay for 50% of the cost as a gesture of goodwill. Owner's share of the bill is £4,650 including VAT.
9-9-2017: Report received of February 2014 Jaguar XF with 51,000 miles losing power and grinding to a halt within no more than 200 yards. Ignition switched off and then back on again whereupon the cabin filled with smoke which also poured from the front bonnet. Within 60 seconds the car was ablaze and by the time the fire service arrived it was a shell. Owner contacted Jaguar, received an intitial response, but no more than that, simply leaving it in the hands of the insurers. But there have been four separate DVSA recalls on the Jaguar XF due to RISK OF FIRE. These are detailed in our recalls section (next page).
27-9-2017: Two minor intermittent electrical issues reported on 2012 Jaguar XF: Brake pad warning light, on 90% of the time despite all pads replaced; Reversing camera works when it chooses; sometimes perfect for several weeks, sometimes not for several weeks, and sometimes it fluctuates by the day.
3-12-2017: Brake pads low message on 2011 Jaguar XF 3.0d keeps showing. If driver switches off and restarts it clears for a few days. Pads are all less than 20% worn and were replaced 3000 miles ago with all the discs.
12-12-2017: Owner quoted £2,500 to replace front and rear upper and lower wishbone assemblies and front lower wishbone bushes on 101k mile 2011 Jaguar XF.
18-1-2018: Reader bought January 2014 Jaguar XF 2.2d Sportbrake auto with 26k miles on 18th December. Broke down on a steep incline with small akin to a slipping clutch.
24-4-2018: Report of repeated problems of loss of power in Jaguar XF 3.0 V6 diesel (of unspecified age) run in France, Spain and Portugal. Suspected turbo problems. Dealers in all of those countries and also in UK unable to completelyr resolve the problem. Owner writes, "My repair costs are approaching in excess of £10,000."
2-5-2018: Report that crankshaft failures of Ford of Dagenham built AJD-V6 diesel engines would not be covered by a JLR extended warranty because under Clause 11: "Design Faults and Recalls: Any damage to parts, which are being recalled by the vehicle's manufacturer or which have inherent design faults are not covered by this Warranty."
6-5-2018: Owner of 70k mile Jaguar XF 2.2d Sportbrake with 8-speed ZF transmission quoted £820 for a transmission fluid change by an independent garage because the fluid is £40 a litre, it needs 9 litres, it needs a ZF kit to do the job, and requires 2 hours labour. Could be that the Liqui Moly Dialysis Machine can do the job:
11-6-2018: Report of severe lag from engine of 2013 Jaguar XF 2.2 Premium Luxury diesel bought used in January 2017. Owner took it back 3 times in first 3 months. Then dealer fixed it. Now fault has returned to the extent the car is dangerous to drive. Reads like a sticking turbo either due to an actuator fault or lack of oil to the turbo bearing because the oil feed and oil return pipes are blocked with carbon. Eventually (by 27-6-2018) the supplying dealer replaced the engine.
1-7-2018: Reader quoted by Jaguar dealer 10 hours work to remove and replace cracked plastic intake manifold on a 2010 Jaguar XF 3.0 V6.
21-7-2018: Report that replacing the electromechnical parking brake module of a Jaguar XF required lowering of the rear suspension, so the job eventually cost £800.
30-7-2018: Report of numerous niggles with 2009 Jaguar XF 3.0 V6 275 S diesel bought used in 2015: First delectronic irritations was "water in the fuel" sensor that came on but no water was found; the sensor was faulty. It went into "limp home" mode after 25 miles rural driving causing owner to return to home garage due to failure or sooting up of an exhaust lambda sensor. C ourtesy light switch is faulty and needs repair or replacement. Owner advised that a repair kit for the switchgear is required. Currently the parking sensors do not work. The system reported the LH front sensor faulty. This was replaced but the fault is still reported even though the replacement sensor has been tested and found working. It has proved impossible for local garage to reset the system.
22-8-2018: Report of failure of inside shoulders of Dunlop tyres on a Jaguar XF, first time at 9,200 miles; second time at 16,000 miles. Replaced FoC the first time by Dunlop who accepted the first pair of tyres were faulty. Not caused by straddling speed humps.
3-9-2018: Extraordinary situation of owner selling 35k mile 2015 Jaguar XF Portfolio 3.0C6 diesel privately and engine failing 90 miles into the opurchaser's drive home. The car had been fully maintained by Jaguar, with not a single fault up to that point. Jaguar finally offered 80% of the cost of the £20k repair, leaving vendor and purchaser to fund the other £4,000.
83 dated reports of faults since January 2011.
7-9-2018: Owner of 20,000 mile 2013 Jaguar XF 3.0 V6 diesel saw dashboard warning " 1200 miles to a service" and ignorned it. The next week it said "service now"!. As it was due an MoT owner booked it in for a service and test. Three days before service was due large puddle of black thin oil appeared on garage floor. Checking level by electronic dipstick owner found the oil level was over full. That was the reason foer the service message. Engine full of post injected diesel from switching off mid active DPF regeneration.
17-9-2018: Report of both rear door lock motors failing in a 2009 Jaguar XF. See 23-3-217 for the likely reason.
15-3-2019: Another report of penetrative rus in the centres of the doors of a 2012 Jaguar XF at 18,000 miles. (see 24-3-2017 for photos). First signs which looked like paint blister defects were noticed around the time it went in for its 7 year service in May 2016 (just outside the 6 year warranty), but owner didn't appreciate the seriousness of the situation and neither did the dealership. A year later and it was a bit worse, and now it's further showing on the other door and only a matter of time before all four doors are 'gone' through. Owner got in touch with Jaguar back in August who initially seemed responsive but having complied with all their requests are still not taking ownership of the problem which clearly began during the warranty period. Dealer Rybrook in Warrington quoted for £3,200 for two doors (later £7,400 for four). The problem is caused by moisture inside the doors being retained by a sound deadening panel but it doesnot affect all XFs.
18-4-2019: Report of 'DPF Full' amber warning appearing on dash of (unspecified age) Jaguar XF 3.0D six times over a 3 year period. Clears if driven at a constant speed over 2,000rpm. But after a 700 mile European trip, the light appeared after only a few days driving over slow mountain roads in Switzerland. DPFs might be getting full of ash.
19-5-2019: Report that April 2015 Jaguar XF R at 64,000 miles suddenly lost all power after driving 100 miles on the M6 and came up with an error message stating 'battery not charging'. Car had to be recovered to dealer who had it for 5 days and charged the battery but cannot guarantee it won't happen again. They test drove it for 140 miles and were not able able to replicate the problem. Recovery driver said he had picked up 4 XFs that had done done this. He thought it might be to do with the on/off eco system which hasn't been working for a while.
6-6-2019: Report of fault developing with 2010 Jaguar XK X150 5.0 V8 at 101,000 miles that had been subject to extended dealer service intervals. This could become a general problerm with Jaguars and RangeRovers fitted with this engine. Yellow engine warning light on dash and restricted performance. OBD revealed code P0016: crank-cam position correlation fault. Jaguar dealer diagnosed that the engine was running rough on cold with timing fully advancing on driver's side bank to counter a timing problem. Suspected that timing chain has become slack due to premature wear on tensioners and guides. Replacement of timing chain involves dismantling front end of car: a 13 hour job (at Jaguar dealer prices - best part of £2k). Parts (timing chain kit and crank/cam sprockets) come to £2,600 which will be the same regardless of where it's being repaired as they must be Jaguar sourced. Full quote from Jaguar dealer £4,300. Recommended to change spark plugs, water pump and coolant at same time at a slight additional cost. Several independent Jag specialists consulted. Most won't attempt the job. Some had already had to do this a couple of times using specialist tools. Those that have had agreed that this is likely due to low viscosity 5W20 oil not providing sufficient lifetime protection. All suspect that this is going to become an emergent problem with the 5.0 V8 unit as cars approach higher mileages.
12-7-2019: Report of differential propshaft seal leak on 2014 Jaguar XF 2.2d 200 auto at 22k miles.
29-8-2019: Report of spurious 'water in fuel' warning and 'low fuel' warning appearing on dash of 2010 Jaguar XF 3.0V6 diesel. Likely to be a can bus wiring or earthing issue.
Recalls
August 2010: JAGUAR Australia issued a recall notice on 81 XF and XK normally-aspirated 5.0-litre V8 cars over a potentially faulty in-tank electric fuel pump.

Last November, Jaguar also recalled 69 XJs when it was discovered that the wiper arm was insufficiently secured on some vehicles. 31-3-2011: JAGUAR Australia has issued a safety recall on 211 of its XF and XK petrol cars over a potential power steering fluid leak. The recall notice published by the Australian Competition and Consumer Commission (ACCC) yesterday said: "After an extended period of time, corrosion of the Power Assisted Steering (PAS) pipes will occur. "This may lead to pin-holing of the pipe and could allow pressurised PAS fluid to leak into the engine bay area. "Loss of PAS fluid will cause PAS system noise and loss of power assisted steering, steering control is fully maintained in an unassisted state. It is also possible that the PAS fluid may ignite if it comes into contact with an ignition source or a surface at sufficiently high enough temperature." The notice says that the zinc-nickel plating on the pipes does not meet the corrosion protection requirements of Jaguar's engineering specification. The recall affects 2010 XK models within the Vehicle Identification Number (VIN) range of B34722 to B38302 and 2010 XF models in the VIN range of R57917 to R78765.
14-8-2013: just-auto.com reports: "Tata Motors' Jaguar Land Rover is recalling 11,852 vehicles in China over possible engine and oil leakage problems, the country's quality watchdog said. The company said the recall would spread to other markets and relates to Ford-PSA sourced 2.2-litre diesel engines manufactured between January 2012 and June 2013. The engines are used in Jaguar XF and XJ models, Land Rover Freelander 2 and the Range Rover Evoque. JLR said it was aware of a limited number of incidents involving fuel leaks from the affected engine. "Following a thorough and detailed engineering investigation, Jaguar Land Rover has taken the decision to voluntarily recall all potentially affected vehicles."
27-8-2013: R/2013/092. Jaguar XF 2.2 litre diesel. FIRE MAY OCCUR. It is possible that a leak can occur between the injector spill rail connection and the plastic fuel return pipe. This can cause leakage of fuel, which can either pool on the engine cylinder head and then become deposited onto the road surface where it could cause a skid risk to other motorist or if the fuel comes into contact with extremely hot engine components, an exhaust manifold for instance, it is possible that an under bonnet fire could ensue. Fix: Recall all affected vehicles, inspect the fuel spill rail/return pipe and if required replace the spill rail with a new modified rail. VINs: SAJAA0669CDS24119 to SAJAC05K1EDU09955. Build dates: 1-8-2011 to 31-10-2013.
28-4-2014: just-auto.com reports: JLR in the USA is recalling 1,589 2013 and 2014 Jaguar XF two-litre GTDi models also made between May and October 2013 to check for a loose charge air cooler (intercooler) hose that may be out of position and loose, allowing it to detach. Dealers will check the hose and clamp.
The automaker is also recalling 297 2013-2014 XJ, XF and XK because the toe links, used to control the alignment of the rear wheels, can separate from the rear subframe. Dealers will replace a nut and washer assembly.
27-10-2014: R/2014/145. Jaguar F-Type Convertible and Coupe 3.0 L, XF - Saloon and Sportbrake 2.0L, 2.2L, 3.0L & 5L , XJ - Saloon 3.0L & 5.0L: RISK OF FIRE. The positive cable fixing to the alternator may come loose and lead to an elevated risk of fire. Additionally, there are concerns raised regarding the fixings for the engine mounted belt driven ancillaries. If the fixings fail, power assistance to the steering can be lost and more input from the driver will be required to steer the vehicle. Fix: Recall the vehicles that are likely to be affected to inspect and torque the front ancillary fixings to the correct specification. VINs: SAJXA6BU8F8K17144 to SAJWA6AT0F8K18826; SAJAC05T9FDU48674 to SAJAA05M8FPU54804;
SAJAJ22H5F8V76484 to SAJAA2687F8V78814. Build dates: 18-8-2014 to 2-10-2014.
15-12-2014: Just-Auto.com warns of a USA recall of 2015MY LHD Jaguar XFs built 3-9-2014 and 12-9-2014 because the front end accessory drive (FEAD) belt, power steering (PAS) pump pulley and/or battery positive cable at the alternator may detach. If the battery positive cable loosens, an electrical short may result, increasing the risk of a fire. If the FEAD belt looses or detaches, the vehicle may lose power assisted steering, increasing the risk of a crash. Dealers will inspect the affected engine mounted components for the proper threading and torque, correcting them as necessary, free of charge. This recall has already begun.
12-7-2016: R/2016/119: Jaguar XF TDV6 RHD 2016 and 2017 Model Year vehicles. DIESEL FUEL MAY LEAK AND IN EXTREME CIRCUMSTANCES CREATE RISK OF FIRE. Due to a misrouted fuel pipe a metal hose clip my chafe against a nylon fuel pipe and may cause a fuel leak. Fix: On affected vehicles reroute piping and replace any damaged pipes. VINS: SAJBB4AK1GCY00021 to SAJBB4AK2HCY30291. Build dates: 20-4-2015 to 23-5-2016.
30-11-2016: R/2016/250: Jaguar XF (2013 to 2015 Model Year Vehicles). FUEL MAY LEAK / RISK OF FIRE. It has been identified that the fuel delivery line/pipe may not have been installed to the correct specification. This could result in the incorrect tolerance between the fuel line/pipe and the vehicle under shield and the body. This can result in a chaffing condition and fuel leak. This will be highlighted to the driver by either a smell of fuel or pooling of fuel under the vehicle. Fix: Recall the affected vehicles to inspect the clearance between the under shield and the body and carry out remedial work as required, which may only be the fitment of additional retaining clips or the replacement of any damaged fuel line/pipe. VINS: SAJAA05M7DPS92080 to SAJWA0FS7FPU88784. Build dates: 1-5-2013 to 15-6-2015.
31-07-2017: R/2017/197: SIDE CURTAIN AIRBAG MAY NOT DEPLOY. The electrical harness from the Restraints Control Module (RCM) to side crash sensors has been incorrectly orientated. The RCM signal wire for the right hand C Pillar impact sensor is wired to the left hand C Pillar impact sensor and vice versa. In the event of a collision requiring the Supplementary Restraint System (SRS) to deploy the curtain airbags, they may not deploy or deploy later than design intent, which can lead to increased injuries to the rear outboard seat occupant. Fix: Recall the vehicles that are likely to be affected and repair the harness to change the wiring at the RCM connector. VIN: SAJAA0163DDS90965 to SAJAA02M7FPU88155. Build dates: 08-04-2013 to 26-08-2015.
31-07-2017: R/2017/195: SRS DID NOT DEPLOY AIRBAGS AS INTENDED. When connected to Jaguar Land Rover's Symptom Driven Diagnostics (SDD) device and an update is unsuccessfully undertaken, the calibration may default to a pre-set condition. In the event of a frontal impact of a sufficient severity to require the Supplementary Restraint System (SRS) to deploy the front airbags, the airbags will deploy but at impact thresholds that exceed those which provide the required occupant protection. Failure of the airbags to deploy as required can lead to increased injuries to the occupants. Fix: Recall the vehicles that are likely to be affected and update the RCM with the latest software. VIN: SAJAC12P5ALV00006 to SAJYA16E5BMV12021. Build dates: 30-06-2009 to 22-09-2010.
We need your help with our latest Satisfaction Index, so that we can help others make a smarter car buying decision. What's it like to live with your car? Love it? Loath it? We want to know. Let us know about your car - it will only take a few minutes and you could be helping thousands of others.
Help us with the Honest John Satisfaction Index now