BMW 2 Series Gran Tourer (2015) Review
BMW 2 Series Gran Tourer (2015) At A Glance
Part of BMW's strategy to offer a car in every conceivable segment, the 2 Series Gran Tourer is a seven-seat people carrier, the firm's first. Although this class of car isn't as popular as it once was, the BMW still has a notable edge over its most obvious direct rival, the Mercedes-Benz B-Class – because that car only seats five. 
Based on the company's latest front-wheel-drive platform, the 2 Series Gran Tourer doesn't look very exciting, but it's roomy inside and surprisingly enjoyable to drive. Handling is sharp and the range of engines is comprehensive. Other stock BMW draws, such as class-leading infotainment, add to the appeal. However, like most buyers, we can't help but be drawn to the better-looking (but less practical) X1 SUV.
The 2 Series Gran Tourer is the seven-seat, three-row alternative to the five-seat BMW 2 Series Active Tourer. That was the company's first MPV: this stretched, elongated version was its second. And we actually think it makes the most sense – because of that seven-person capacity.  
It's no classic to look at. People carriers tend not to be, as they're designed to maximise space inside, not the number of heads turned outside. At least the BMW kidney grille is present and correct, and it can be finished off with some surprisingly sporty-looking trim grades, as we'll see.
It feels good to sit in, with a comfortable driving position and firm seats giving a surprisingly sporty sense (we particularly like the more bolstered seats you get in Sport and M Sport versions). The steering wheel is chunky and all the controls are well-placed.
In the middle row, passengers again have ample legroom and headroom, helped by the sliding rear bench seat. The backrests can be independently angled too, for a comfier and more laid-back ride for passengers – or maximum boot space if they're less fussy.
Typical of the breed, it's a bit tricky to get into the third row of seats. If you have children, you might prefer to lift them in and out yourself. The seats aren't particularly adult-friendly in terms of space either, but they're fine for kids and fold flat into the floor when not needed.
BMW offers a familiar array of petrol and diesel engines; diesels are most popular, thanks to their combination of economy and fully-laden pulling power. The 218d is a good all-rounder, the 216d is very economical and the 220d xDrive offers all-wheel-drive grip. The 218i and 220i petrols are fine, but much rarer.
We're pleased to say the 2 Series Gran Tourer still drives like a proper BMW, too. Despite its family pretensions, it's still clearly set up to please eager drivers, with good steering feel and stable, roll-free handling. It's a great choice for enthusiasts who have become reluctant MPV buyers – and the ride quality isn't bad, either.
Add further draws such as good build quality, excellent fuel economy and some of the best infotainment systems around, and you can see why the 2 Series Gran Tourer might win a few fans – even if its styling ultimately dooms it to playing second fiddle to the BMW X1.
What do owners think of the BMW 2 Series Gran Tourer (2015)? Check out our
Owners' Reviews
from people who live with the car day in, day out.
Reviews for BMW 2 Series Gran Tourer (2015)'s top 3 rivals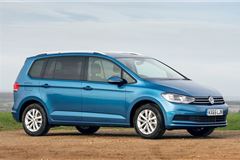 Volkswagen Touran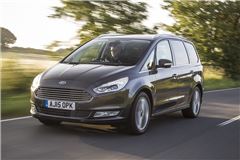 Ford Galaxy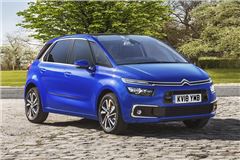 Citroen C4 SpaceTourer
Ask Honest John
What's the best automatic MPV for transporting dogs/bikes?
"What's the best current or nearly-new small, automatic, petrol MPV with a flat load bed that would be easy to load bikes or a dog?"
We'd recommend a Volkswagen Touran or a BMW 2 Series Gran Tourer (or the smaller Active Tourer if you don't need quite so much space). Both are very versatile people carriers offered with strong petrol engines and automatic gearboxes.
Can you recommend an efficient seven seater?
"Can you recommend a reasonably efficient, petrol, seven seater? I have about £12,000 - £13,000 to spend. Thanks."
Have you considered a hybrid? The Toyota Prius+ will be very efficient (officially returning a combined 68.9mpg in the old NEDC fuel economy tests) and ought to be very reliable, too. Alternatively, if you'd prefer a conventional petrol, we'd recommend a BMW 218i Gran Tourer. It uses a very characterful (and efficient) 1.5-litre petrol engine. This officially returns 51.4mpg. Check out Real MPG for an idea of real-world economy: https://www.honestjohn.co.uk/real-mpg/
I have four children. Can you suggest a large, good value family car?
"I have four children, three of which are teenagers. We currently have a BMW 2 Series Grand Tourer - which has been excellent. However, we are now at the stage of needing a bigger car/van. Having looked around there is so much choice: Ford Tourneo Custom, Peugeot Traveller and its variants, and of course the Volkswagen Transporter. I'm looking for the best value for money and economy. Which vehicle is best for such things, plus road tax, monthly payments and resale value? Should I buy new or secondhand? Thanks."
Cars registered after 1 April 2017 are taxed against a flat VED rate of £150 per year. This means you can get a decent sized seven-seater with low running costs, as long as you avoid models that were priced above £40,000 when new (which attracts an additional £325): https://www.honestjohn.co.uk/cheap-road-tax/ My recommendations would be the Kia Sorento or the Skoda Kodiaq. Both get three rows of seats that will accommodate your four children. They are also good to drive and finished to a high standard inside.
EGR valve failure seems common on my BMW engine - do BMW offer assistance with this issue?
"I bought new a BMW Tourer 520d in July 2016, it now has covered 11,000 miles. However, drivetrain fault indication recently appeared and the car fell into limp home mode. On contacting my local BMW dealer, they couldn't see the car for a week and advised me to contact BMW Assist. A BMW Assist technician came to my home and replaced the EGR valve. On inspection, I found that the valve was seized through a build up of soot. I also noted that the technician had a small pile of these valves in his vehicle. I asked why he carries these valves, he replied that he is always replacing this valve. It's clear that this valve is not fit for purpose and with a little engineering, it could be designed not to fail due to soot build up. Do you know of any action that BMW is planning to assist owners of this problem? I could not get an answer to this issue from BMW."
First I've heard of this on the B47 2.0 litre diesel engine. The engine probably needs to be run on Superdiesel such as Shell V-Power and the engine oil and filter needs to be changed at least every year or every 10,000 miles whichever comes first. Private hire cab firm Addison Lee found that the optimum mileage to change the oil and filter and avoid problems on a diesel engine with EGR and DPF was 7000 miles. For reasons such as this, N47 timing chain failures and failures of the centre bearings on its new 1.5 litre 3 cylinder engines, BMW is switching from Longlife oil services to 10,000 mile/12 month oil services.
What does a BMW 2 Series Gran Tourer (2015) cost?
See also