Aston Martin Vanquish (2012) Review
Looking for a Aston Martin Vanquish (2012 on)?
Register your interest for later or request to be contacted by a dealer to talk through your options now.
Aston Martin Vanquish (2012) At A Glance
Insurance Group 50

The Aston Martin Vanquish was the firm's range-topping GT car for almost a decade. It's also one of its most beautiful designs – and as this is Aston Martin we're talking about, that's high praise indeed. A 2+2 GT with a great big 6.0-litre V12 up front, the layout was classical; unlike rival Bentley's Continental GT, Aston Martin didn't bother with all-wheel drive.
Some would argue the interior was a little too 'classical', mind, bearing a bit too much resemblance to lesser Aston Martins. The infotainment was particularly fiddly. The driving experience more than compensated though, particularly in the tuned-up Vanquish S, which saw the already ample power rise from 573PS to 595PS. Handling was even more focused, and it made a fine car even more enjoyable and satisfying. 
Looking for a Aston Martin Vanquish (2012 on)?
Register your interest for later or request to be contacted by a dealer to talk through your options now.
The Aston Martin Vanquish was the car that put chief designer Marek Reichman on the map. Long, cultured and curvaceous, it still looks the epitome of classic Aston Martin style even today. Whereas the earlier V8 Vantage and DB9 were a bit too similar for comfort, there were no such complaints here.
You couldn't knock the output, either. Even at launch, this was one of the most powerful Aston Martins in history, thanks to that enormous 6.0-litre V12 engine up front. The 573PS version served up 0-62mph in just 4.1 seconds and a 183mph top speed.
And it would get faster still. Boosting power to almost 600PS meant the later Vanquish S could do the benchmark sprint in just 3.5 seconds. It was, and remains, colossally fast.
It's worth highlighting a model-year change: the replacement of the earlier Touchtronic 2 gearbox with an improved Touchtronic 3 in summer 2014. This saw an aged six-speed 'box replaced by a much smoother, faster-shifting eight-speed auto. Aston gave it a nominal 3PS power boost too, but it was the gearbox that contributed to a 0.3-second cut in the 0-62mph time.
We won't pretend the Vanquish is a genuine four-seater. Not even the Bentley can really claim to be a four-up GT, and the Aston is appreciably more cramped still in the back. It's easy to see why the rear seats were optional, rather than standard. At least the boot is a decent size, as if by way of compensation.
Up front, the familiar Aston Martin look that was first introduced with the DB9 is present and correct. This includes watch-like dials with spidery markings, a too-small and dated infotainment system, plus a button-packed centre console.
Aston Martin tried to modernise it with 'haptic' buttons, but it didn't work. Oh, and the handbrake is mounted to the right of the driver on the floor. It works like that on a 1970s Jaguar.
Hand-crafted luxury makes up for it. Aston Martin builds its interiors beautifully, with impossibly soft and rich leather, mirror-like veneers and hand-stitched character. The seats are supportive, the driving position very laid back and raffish. It feels every inch the classic GT car.
The drive is special, too. The all-aluminium construction was designed with precision and balance in mind, with near-perfect weight distribution and little filtering of the road from the driver's hands or backside. It's not uncomfortable, far from it – but the feeling of connection and confidence is extremely satisfying.
This is a big car that seems to shrink around you. OK, you're always aware of its size, but the accuracy with which you can place it on winding roads is very rewarding, while the comfort it serves up when cruising also feels good.
The Vanquish is a very special car indeed – one that, because it's an Aston Martin, you can forgive for not being perfect. It has character, and in the areas it does well, it excels. All this, and an achingly pretty shape that just gets better with age. It's not hard to see the appeal, is it?
What do owners think of the Aston Martin Vanquish (2012)? Check out our
Owners' Reviews
from people who live with the car day in, day out.
Reviews for Aston Martin Vanquish (2012)'s top 3 rivals
Aston Martin DB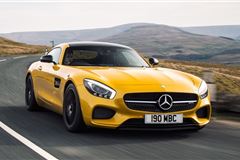 Mercedes-Benz AMG GT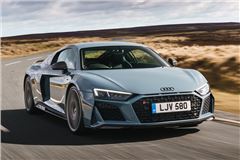 Audi R8
What does a Aston Martin Vanquish (2012) cost?
See also