BMW 4 Series Convertible (2014 – 2020) Review
BMW 4 Series Convertible (2014 – 2020) At A Glance
The first-generation BMW 4 Series Convertible lasted from 2013 until 2020, offering handsome looks and a folding hard-top roof. This makes it unusual in the cabriolet marketplace, with most rivals using folding fabric hoods. Extra security and improved noise refinement are the main benefits of the metal roof. A hard-top does mean more weight, however, and also eats into the boot space of the 4 Series. Thankfully, the smooth ride and powerful engines help you overlook these issues. A quality leather-lined interior, packed with lots of impressive technology, also helps seal the deal.
Premium convertibles are often at the forefront of motoring fashion, but the BMW 4 Series Convertible seems a little behind the times. Car manufacturers went through a phase of making cabriolets with folding metal roofs, but trends have since moved on. That leaves the 4 Series out by itself, flying the flag for hard-top convertibles. 
Using a metal roof does come with obvious benefits. Security is vastly improved over a fabric soft-top, for starters, while it also does a better job of keeping external noises from entering the cabin. Chilly winter mornings will also be a touch warmer with a metal roof in place, too. 
Although styling may be subjective, to our eyes, the metal roof of the 4 Series Convertible looks better than a fabric roof in a contrasting colour.
It makes the topless BMW appear virtually identical to the regular 4 Series Coupe when the roof is raised. Drop the top and it looks primed for cruising a seafront boulevard with style. 
There are downsides to a complicated folding roof, though. Metal and glass weigh far more than fabric, and then comes to the issue of where to store all the pieces. BMW has effectively had to steal boot space in the 4 Series to hide the roof when lowered, so luggage capacity suffers. Keep the roof up and the boot volume is 370 litres, but lowering it sees this drop to a meagre 225 litres. You will learn to pack light.
The compromises continue into the cabin, with the two rear seats being cramped for adult-sized passengers.
Fitting the optional wind deflector renders the back seats completely useless. It does at least do an excellent job at keeping the cabin free from draughts when driving with the roof down. Those in the front will feel comfortable, with plenty of space and comfort from the electrically adjustable seats.
The level of standard equipment is generous across the range, regardless of the trim level chosen. Leather upholstery is used on all models, while LED headlights, climate control and satellite navigation are all included. The interior itself is fitted with high-quality materials, although isn't exciting in terms of design. 
Taking on the weight penalty of the roof are a range of engines. The 4 Series comes with a choice of three petrols or three diesels, each capable of making this convertible feel relatively quick. A six-speed manual gearbox is standard on the entry-level 420i, with an eight-speed automatic offered across the range. Given the choice, we go for the smooth-shifting auto.
Although not quite as sporty as the related 4 Series Coupe, the open-top model has the benefit of a smoother ride quality. The steering is light and precise, meaning the 4 Series Convertible feels just as settled on the motorway or city streets. It can also offer some entertainment on your favourite country roads, but the weight penalty of the metal roof sways the 4 Series towards being a cruiser, not a bruiser. 
What do owners think of the BMW 4 Series Convertible (2014 – 2020)? Check out our
Owners' Reviews
from people who live with the car day in, day out.
Reviews for BMW 4 Series Convertible (2014 – 2020)'s top 3 rivals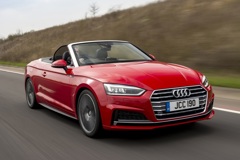 Audi A5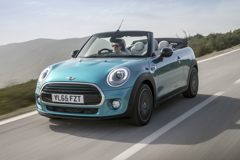 MINI Convertible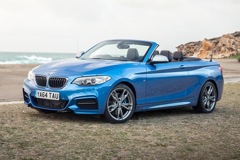 BMW 2 Series
Ask Honest John
What's the best convertible?
"What 4 seat, hard-top convertible should I buy?"
The BMW 4 Series Convertible is a good choice. It was our 2019 Convertible of the Year: https://www.honestjohn.co.uk/news/honest-john-awards/2019/honest-john-awards-2019-bmw-4-series-convertible-scoops-drop-top-category/
PCP ends soon but I can't get an accurate valuation - are used car prices fluctuating a lot?
"I have a high spec, low mileage (20,000) 2016 BMW 4 Series Convertible and wish to maximise my car's value at the end of its PCP agreement (£15,5000, early June 2020) but at the moment it's impossible to get an accurate valuation on my car. I'll use the money to put towards two vehicles that I need to get. Worst case scenario, I walk away with no money owing. The issue is, if prices of used cars increase then maybe I should wait to maximise the offers for my car, but end up paying more for the two replacement cars. Should I strike now and reserve the cars and gamble that I can get the best of both worlds? I hope that makes sense."
The coronavirus outbreak is going to cause a few temporary fluctuations in the used car market. I imagine your PCP provider will wait until the very last moment before giving you an accurate valuation. Keep pestering them. And be mindful that the latest FCA guidelines will protect you if the value of your car experiences a temporary decline due to the COVID-19 outbreak: https://www.honestjohn.co.uk/news/coronavirus/2020-04/coronavirus-financial-conduct-authority-confirms-three-month-car-finance-repayment-freeze
Are there any hard top convertibles on the market?
"I currently have a Renault Megane CC. I was planning to buy a newer version of the same car with a budget of around £13,000 but it seems that hard top convertibles are rare. I thought a Vauxhall Cascada would do the job, but it seems that they are all soft top convertibles. I want a saloon type rather than a sports car so Mazda MX 5 is not for me, nor is a MINI. Any suggestions what I should look at?"
As you're finding, many manufacturers stopped offering hard-top convertibles of this size a long time ago. Try looking at something bigger like a BMW 3 Series.
Airbag warnings stickers- can I remove them?
"My new BMW 4 Series Convertible has airbag warning stickers on both sides of the passenger visor, which I find to be a distraction. Can I remove them? Or can I order and fit a left hand drive drivers visor, without the stickers? Babies would not travel in the car in our ownership and the original could be fitted when sold. "
Sorry, my answer to this is to leave it as it is. You could be held liable is you ever resell the car without the warnings.
More Questions
What does a BMW 4 Series Convertible (2014 – 2020) cost?