Mercedes-Benz C-Class Cabriolet Review 2023
Mercedes-Benz C-Class Cabriolet At A Glance
First launched in 2016, the Mercedes-Benz C-Class Cabriolet entered the competitive world of four-seat convertibles with a premium badge and handsome styling on its side. In a market where image matters, both help the C-Class stand apart from the rival BMW 4 Series and Audi A5. Furthering the desirability of the C-Class Cabriolet is a high-quality interior, equipped with a considerable amount of standard technology. A vast range of engines, including potent AMG models, is also a major plus-point. Only a stiff ride and limited space in the rear seats detract from an impressive package.
As the smallest four-seat Mercedes convertible, the C-Class also adds a dose of relative affordability into the mix, helping broaden its appeal. 
A premium interior helps justify the still-steep price tag, while the folding fabric roof retracts quickly to allow maximum time in the sun.
The 'four-seat' label does need to be taken with a degree of cynicism, however. Although there are four seats inside, only the front two offer impressive levels of comfort for adults. Those in the back will lack legroom and headroom – unless they are small children.
Alternatively, the back seats can be used to supplement the boot space of the C-Class Cabriolet. Although competitive against key rivals, lowering the roof sees luggage capacity diminish to less than that offered by a supermini. 
Mercedes fits the C-Class Cabriolet with a number of clever features to make roofless adventures more palatable. The Aircap system sees a special spoiler pop up from the top of the windscreen, helping direct air over the top of the cabin. Combined with a smaller deflector behind the rear seats, it helps keep things calm and composed inside. 
In fact, the only air blowing around your hairdo should come from the handy Airscarf. Using vents built into the front seats, warm air is blown across your neck to recreate the feeling of wearing a scarf. It opens up the option of driving the C-Class with the roof down well into autumn and winter.
It all comes as part of a generous standard specification from the factory. Satellite navigation, LED headlights and a wealth of safety equipment can be found on every model. This includes front and rear parking sensors, plus a reversing camera, helping overcome the limited rear visibility when parking. 
Whether in town, or out on the open road, driving the C-Class Cabriolet should be an effortless affair. The steering is light enough to make manoeuvring around urban streets easy, but will allow a degree of fun when the road becomes twisty. 
The engine range is comprehensive, with the choice of multiple petrols and diesels to pick from. Go for one of the efficient diesels if you cover lots of motorway miles, but the petrol units will suffice for the suburbs. True performance hedonists will want the full-fat AMG models, which bring an extra helping of speed and drama. The V8-powered AMG C 63 S is fast enough to frighten dedicated sports cars. 
All-weather ability is aided by four-wheel drive on certain models, and a nine-speed automatic gearbox is fitted with most engines. It helps further the relaxed cruising experience much more than the standard six-speed manual.
Only a stiff ride, thanks to the extra chassis strengthening, counts against the C-Class. Bigger alloy wheels make things worse, but the optional air suspension brings a degree of comfort. 
It all makes for a premium convertible with very few drawbacks, beyond the limited practicality and firm ride. For most, these will not be issues, as the handsome styling, premium badge and luxurious interior will be enough to make the C-Class a winner. 
What do owners think of the Mercedes-Benz C-Class Cabriolet? Check out our
Owners' Reviews
from people who live with the car day in, day out.
Reviews for Mercedes-Benz C-Class Cabriolet's top 3 rivals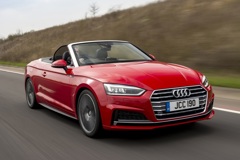 Audi A5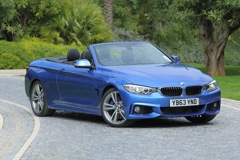 BMW 4 Series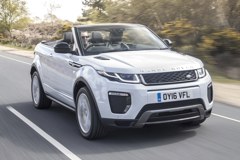 Land Rover Range Rover Evoque
Ask Honest John
What car cover should I use for my convertible Mercedes?
"I have recently bought a 2021 Mercedes C Class Cabriolet. We live in an area that's regularly visited by seagulls and suffer with frequent deposits! Hence I am keen to preserve the condition of the cabriolet and looking for suggestions as a to a good quality half cover or a full cover for the car. A cover that will last for many years and not just one or two seasons. I have looked online and am just not certain of the quality being offered, some look to be made of nothing more than garden furniture cover material, which from experience just does not last. "
A cover is a great way to preserve the condition of your car, especially a convertible that is more susceptible to damage from the elements. You can read our guide to the Top Ten Car Covers on Honest John Kit. Given the cost of your car we'd suggest going for something top quality. The best we've used (personally for our own cars) are from Classic Additions. The Premium Outdoor Half Car Cover is £105 but a very worthwhile investment given the quality and service.
Why does the door of my car rattle?
"I've taken my 19-plate Mercedes-Benz C-Class Convertible to be looked at because the passenger door rattles a lot. I was told it was just the sound that convertibles make. What is your opinion, I think that's rubbish and intend to go back in but would like your thoughts. "
Is the rattle coming from within the door? If so, I imagine one of the internal clips has broken or come loose. In this case, the whole door card will need to be removed and refitted with new clips.
Can you recommend a nearly new four-seat convertible?
"Can you please recommend a nearly new four-seat convertible (fabric or folding steel roof) that is good in terms of reliability and value for money?"
You can't go wrong with an Audi A5 or Mercedes-Benz C-Class Cabriolet. Both have premium interiors and shouldn't have any major reliability issues. They're not cheap, though.
What's the best convertible for comfort and reliability?
"I'm 75 years old and would like to buy a comfortable convertible as my last car. I'm not interested in speed but more comfort and reliability. I would also like room in the back for my three grandchildren. If possible I'd want an automatic petrol. "
A Mercedes-Benz C-Class Cabriolet would be a lovely choice, but it's not cheap - a C180 automatic starts at around £41,000. If you'd prefer something smaller, consider an Audi A3 Cabriolet. Or, as something a bit different, how about a Ford Mustang? The 2.3-litre EcoBoost will be fine for your needs.
More Questions