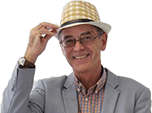 How do I recode my Ford Focus' ignition key?
I have a 2002 Ford Focus 1.6i. I lost the original coded key, and have another ignition with one code key and another normal key, but the car doesn't start. Do I need to reprogram the key? How do I do this?
Asked on by fluke43

Answered by
Honest John
You're going to have to visit a Ford dealer and shell out quite a lot of money.
Similar questions

I have lost one of my sets of keys for my Ford Focus Estate and need to have them replaced. What's the best way to do this?

I'm a learner driver with my own car. My dad attached a magnet to my spare key so he put it on the fridge. My car now won't start with the spare key. Is this just coincidence or is it the magnet on the...

I'm looking for a replacement key for my Mercedes-Benz CLK 240 Coupe W209, registered March 2004. Please advise where to purchase for best price.
Related models

Good to drive. Roomy cabin well thought through. Massive choice of used Focus at sensible prices. Better car than a similar aged Volkswagen Golf.