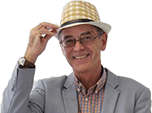 Why doesn't my Volkswagen Touareg's cruise control work on downhill slopes?
I purchased a Volkswagen Touareg 3.0TDI new six months ago and am delighted with it, but on a steep hill in Argyll the vehicle runs away with me over the pre-set speed on 55mph. It was in the dealer's last week under warranty, the outcome being that I was told that I would need Adaptive Cruise Control to solve this problem.

I Googled 'adaptive cruise control' to find that that would not solve the problem as it was intended to maintain a pre-set distance between me and the car in front via some form of radar. I then checked the owners manual (which I should have done to start with) to discover that cruise control was not to be used in descents down steep hills. I have previously owned three Mercedes-Benz MLs as well as a BMW 635D and cannot recall having this problem. Is the Volkswagen system inferior to that of Mercedes-Benz and BMW?
Asked on by JN, Newton Mearns

Answered by
Honest John
A lot of standard cruise control systems do not always work downhill at lower speeds. I was experimenting yesterday with mine, trying to use it to maintain 30mph, but it would not brake the car sufficiently on downward inclines. It's because they attempt to use engine braking rather than the brakes to slow the car and, of course, that doesn't always work with an automatic transmission unless it's 'locked up' in top gear.
Related models

Refined and sophisticated cabin. Strong but economical 3.0 TDI engine. Feels well built and robust. Handles impressively well for a large 4x4.