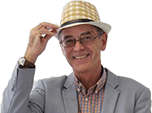 Why are motorcycles so loud?
Why is that motorcycle engines are permitted to be so loud? If my car made anywhere near the noise levels of most motor bikes it would fail the MoT or I would get pulled by police. I have nothing against bikes. I just wondered if they are manufactured like that or do the owners adjust the exhausts?
Asked on by PB, Newcastle upon Tyne

Answered by
Honest John
If motorcycles did not make so much noise there would be a lot more dead bikers as a result of dumb car drivers not realising they were being overtaken in traffic.
Similar questions

I liked the BBC traffic website and found it easy to use. Now it has been shut down and I haven't found an alternative that seems as good. Have you any suggestions?

We recently picked up a brand new Ford B-Max 1.6 powershift and I would like to know if it's okay to sit in traffic with my foot on the brake pedal and the car left in drive. We sometimes leave it in drive...

I currently drive a 2011 Renault Megane but, due to a promotion, now drive into central London daily. The running costs of the Megane and the low mpg make it unrealistic to keep, only 70 mile round trip...