Top 10: More celebrity car endorsements
Published 3 January 2019
The pickings are rich when it comes to celebrity car endorsements. Nobody blames a celebrity for agreeing to stand next to a shiny new model and smile in exchange for a free car for 12 months. We'd all do it but there are those for whom the 'how has my career come to this' look is palpable. See which of these you think fit that category. And still no Antony Costa.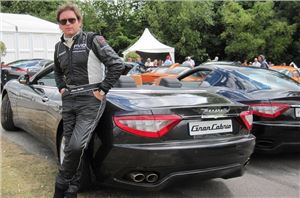 1
James Martin & Maserati
In fairness to James Martin he seems like a fairly normal, salt-of-the-earth-type northern bloke. Just one who happens to be able to knock out a sensational French onion soup. He's also "int' cars and that," a fact that Maserati can't seem to get over. Every time he steps out of his Yorkshire end-of-terrace, Maserati is there, desperate to document the event. The mysterious/annoyingly smug look is just a bonus.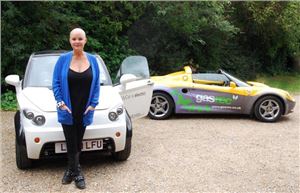 2
Gail Porter & Some weird cars from the Camden Green Motor Expo
The lovely Gail Porter, off the 90s with her arse on the Houses of Parliament and latterly hosting some show about ghosts in America, helped launch Camden Council's Green Motor Expo a few years back. Nothing wrong with that, except that in the info that announced the event, Gail said that she had 'made her own green promise to swap her thirsty 4x4 for more eco-friendly transport.' However, the look on Gail's face in the picture above says, "no way am I swapping my Range Rover for whatever this is."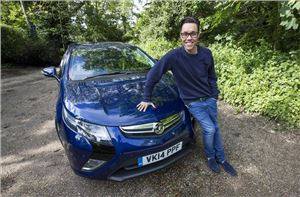 3
Gok Wan & Vauxhall Ampera
This particular partnership was tailored after fashionmonger Gok Wan told the Twitter that he fancied an electric car. Vauxhall pounced, and viola! A beautiful endorsement was born. Therein, Gok described his new £35,000 Ampera as "a bargain," as well as explaining that "the guys have told me it is called an extended range electric vehicle."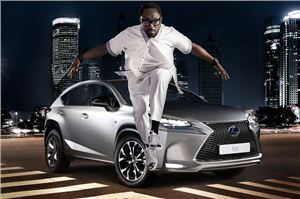 4
Will.I.Am & Lexus NX
To give the new Lexus NX a smattering of Black Eyed Peas-style coolness, the brand asked will.i.am to help create a television advert for it and also design a one-off version for the 2014 Paris Motor Show. William (we're not bothering with all those full stops now) you may know, fancies himself as a car designer. To promote this, Lexus had Bill (as his friends know him) do Gangnam Style in front of the car.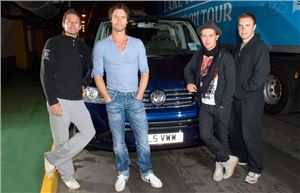 5
Take That & Volkswagen Caravelle
A Robbie-less Take That were pounced upon by Volkswagen to have their picture taken with a Caravelle in 2009. The once boy-now-man-band-meets-van tie-up makes sense. However, while Jason, Mark and the other one all look like they've come prepared for a picture, Gary Barlow appears to be hungover and ready to do his big shop at Lidl.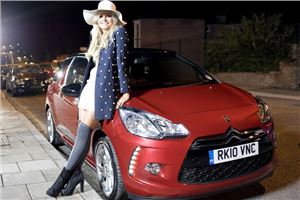 6
Pixie Lott & Citroen DS3
Pixie drives a Citroen DS3 in the video for her latest release, Break Up Song. Given the title and the tie-up, it's lovely to imagine that the song is about Pixie's sadness at having to sell off her knackered old C4 Picasso for parts. It's more likely to be about some dreadful transitory romance though. There's no way of ever being sure. Still, nice hat.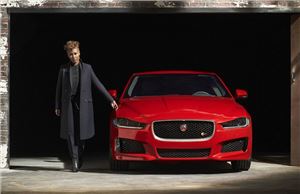 7
Emeli Sandé & Jaguar XE
Jaguar and Land Rover are pretty good at getting proper celebrities to tout their stuff. Representation has included such A-listers as one-time Spice Girl Victoria Beckham for the Evoque plus suited football park-the-bus-away-from-home manager José Mourinho for the F-Type. Most recently it trotted out the Official Artist of the London 2012 Olympic Games, Emeli Sandé, for the forthcoming Jag XE. Another coup. That or Emeli forgot to wash her hands after doing some supergluing.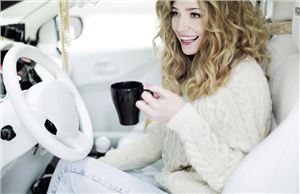 8
Nicola Roberts & Renault Twingo
The ginger one from Girls Aloud, or Nicola Roberts as she's occasionally known, was enlisted by Renault to be one of four artists tasked with tarting up a Twingo in 2011. The result was a mind-boggling ivory boudoir, with a fabric steering wheel plus make-up and jewellery stuck to every available surface. A bit like a GCSE fashion project. Only not as good.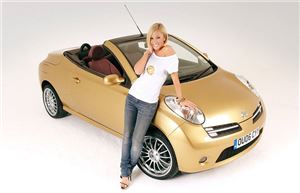 9
Jenny Frost & Nissan
Never fear Atomic Kitten fans because here is Jenny Frost who clearly can't get enough of standing near cars and smiling. Despite doing so for Toyota, SEAT and MG with Atomic Kitten, she had another pop by herself with Nissan in 2006 – about the same time that band-mate Kerry Katona's legendary Iceland stint began. I'm just off for a double layer prawn ring.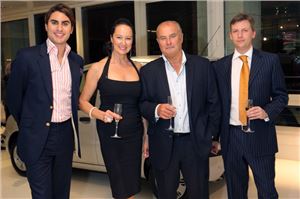 10
Raef from The Apprentice with Chris Ellison & Fiat
Soak in this image for a while, then come back to us when it makes any sense whatsoever. No? Us neither. When Fiat brought together Raef from The Apprentice and Chris Ellison, aka DCI Burnside (and Captain Hook from Peter Pan at the Harlow Playhouse), we can only assume that the idea was to concoct a combo more bamboozling than Sam Fox and Mick Fleetwood, so that we'd all remember to buy a Fiat. Any Fiat whatsoever. If only to stop this.