Top 10: Cars of TV and film detectives
Published 4 January 2019
Shoestring, Taggart, Spender, Bergerac, Morse. What does that say to you about regional detective series?
Too many? Another way of looking at it is, 'people like them, let's make some more of them'. We concur, because with any detective series worth its salt comes a trademark car, from Magnum's Ferrari to Columbo's rickety old Peugeot. So here are our ten favourites.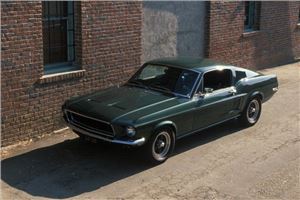 1
Frank Bullitt
Ford Mustang GT Fastback
Arguably the most iconic on-screen meeting of actor and car ever, Lieutenant Frank Bullitt's Ford Mustang is the star of one of the greatest car chase sequences ever filmed. Ford has used this fact for various marketing campaigns and special edition cars ever since.
The near 11-minute car chase that catapulted the Mustang into movie history used two 1968 Mustang GT fastbacks, both borrowed from Ford, in pursuit of a black Dodge Charger. It fuelled the fire of a muscle car rivalry that still goes on today.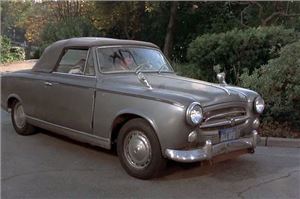 2
Lieutenant Columbo
Peugeot 403 Cabriolet
Lt. Columbo's 403 Cabriolet was chosen specifically by actor Peter Falk, who played the character, to evoke the veneer of confusion and lack of care that would become his trademark. The same 1959 model was used throughout all ten seasons, though the production company leased a further two backup cars. 
The story goes that Falk selected the car from the Universal Studios car park based purely on its looks – by American standards it was small, underpowered and unglamorous. It was a rare car he picked: despite Peugeot producing over one million 403 models in total between 1955 and 1966, only 500 403 Convertibles were made in 1959.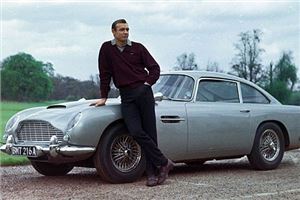 3
James Bond
Aston Martin DB5
Less a fictional detective a more a global institution, James Bond nonetheless fits the profile. Just. In 1964, Goldfinger marked the first appearance of Agent 007 with an Aston Martin DB5, which would go on to become the most famous Bond car of all time - while also cementing a Bond-Aston, erm, bond that has stayed with the brand ever since.
The DB5 is by far the coolest (and, today, most expensive) car ever used by a crime-fighting agent. As usual, though, it was a happy series of circumstances that brought car and character together: Ian Flaming had in fact written Bond into an Aston DB Mark III, but because the DB5 was current during filming, that's what he got. The only marginally less beautiful Mark III is today, to most people, just another classic Aston, whereas the DB5 is an icon that transcends car culture.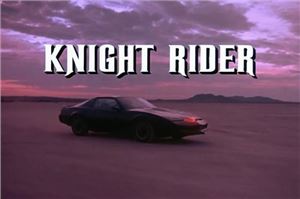 4
Michael Knight
Pontiac Firebird Trans Am (KITT)
Catapulting a young David Hasselhoff into popular culture, Knight Rider was nonetheless all about the car: KITT, a sentient Pontiac Firebird Trans Am that could drive itself and had a 1000-megabit computer brain. At the time, 1000Mb was the stuff of Mars-landing witchcraft, but today it's about 59p's worth of USB stick.
Still, with an outrageously LCD-laden dashboard, a jet-style steering wheel and, probably, a fax machine hidden somewhere, KITT was the car every boy and girl dreamed of owning. It worked for the Hoff, who would later be found watching Pamela Anderson running along a beach, then later still singing pop songs in Germany. Then lying on the floor with no top on, mumbling and eating a cheeseburger. #winning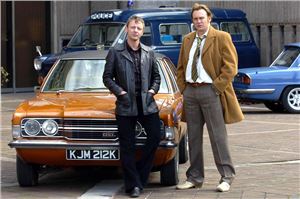 5
Gene Hunt
Ford Cortina
Detective Inspector Gene Hunt, star of Life On Mars, was a no-nonsense copper from the '70s, so what better car for him than a beige Ford Cortina? Despite famously trading up to an Audi Quattro in the Ashes To Ashes spinoff, set in the 1980s, the Hunt made his mark in a 1974 Mk III Cortina GXL.
That said, the car used for filming was actually made up of various Cortina parts, rendering it unfaithful to the model year it was supposed to be from: some viewers spotted that its spoiler, for example, wasn't introduced until the 1975 Cortina, while the dashboard was from a later, facelifted car. Quite.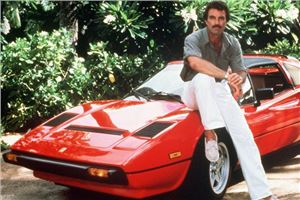 6
Thomas Magnum
Ferrari 308
It's classic, isn't it? The palm trees, the Hawaiian shirt, the moustache, the Ferrari. Yes, Tom Selleck's magnum opus remains his turn as Thomas Magnum in Magnum, P.I, even though many years later he managed to blag a part as Courtney Cox's really old boyfriend in Friends.
Thomas Magnum taught us all what glamour looked like: it looked like a luxuriant chest carpet and a Ferrari 308. Three different 308 models appeared across eight seasons of Magnum, starting with a 1978 GTS, then a 1980 GTSi (featuring such early '80s decadence as a passenger side wing mirror), and finally a 1984 GTSi Quattrovalvole, distinguished by its black spoiler.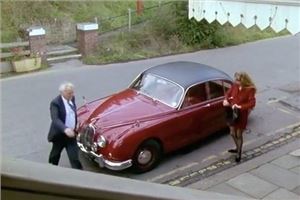 7
Endeavour Morse
Jaguar Mk2
Endeavour Morse – that's Inspector Morse to you and I – ran a Jaguar Mk2 that was absolutely synonymous with the character, played by the late John Thaw between 1987 and 2000. Glamourous it may have been, but Thaw didn't especially enjoy driving the Jag during filming, it's said.  
The opera-living, real ale-drinking Inspector Morse drove the Regency Red 1960 Mk2 Jaguar during every series, though it could have been quite different - he originally owned a Lancia in the early novels on which the TV series was based. The Jag used on TV was sold at auction for more than £100,000 in November 2005.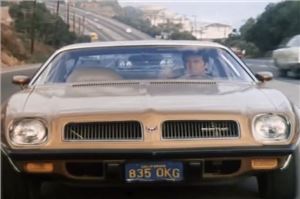 8
Jim Rockford
Pontiac Firebird Esprit
Another car as famous as the detective who drove it, P.I. Jim Rockford's gold Pontiac Firebird Esprit was the originator of the J-Turn – that's 'J' as in 'Jim Rockford Turnaround'. Yep, the J-Turn came about because Jim would use the swift 180-degree about-turn as a trademark move to help evade bad guys. It almost certainly existed before then, but still.
The series producers changed the Firebird for a newer model every year of production bar the last, with the series running from 1974 to 1980.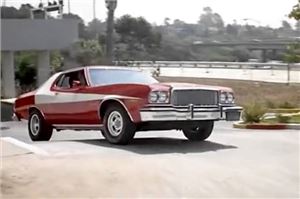 9
Dave Starsky
Ford Gran Torino
It only ran for four years, but Starsky & Hutch is a pop culture classic, thanks in large part to the Starsky's red and white Ford Gran Torino. The 'Striped Tomato' was a 1975 351 Windsor with a 5.8-litre V8 – basically the same engine that powered late '60s Mustangs.
As with Bullitt, the Torino was more a result of Ford placing its products than of a specific desire by producers to have a Ford. It's said that originally, Starsky & Hutch creator William Blinn wanted the pair to drive a drop-top Chevrolet Camaro, but the production company for the pilot episode had an existing deal with Ford.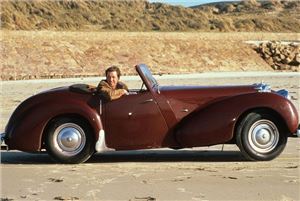 10
Jim Bergerac
Triumph Roadster 2000
The red 1949 Triumph Roadster used by detective Jim Bergerac in the eponymous TV series, which ran for a decade through the 1980s, was the perfect car for the Jersey ladies man played by John Nettles.
While perhaps not as striking or ingrained in TV detective iconography as most of the cars on this list, it's still has a very recognisable place in British TV history. So much so, in fact, that when the original show car came up for sale at Bonhams in 2013, it fetched £23,000.