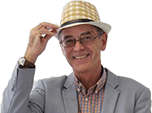 Volkswagen Tiguan 2008 Road Test
Thu, 31 Jan 2008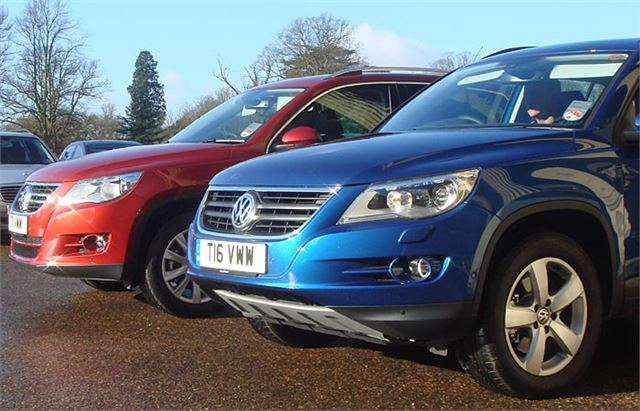 S 2.0-litre TDI 140 PS 6-speed manual £20,500
S 2.0-litre TDI 140 PS 6-speed auto Tiptronic £21,750
SE 1.4-litre TSI 150 PS 6-speed manual £20,670
SE 2.0-litre TSI 170 PS 6-speed manual £22,270*
SE 2.0-litre TSI 170 PS 6-speed auto Tiptronic £22,615*
SE 2.0-litre TDI 140 PS 6-speed manual £21,800
SE 2.0-litre TDI 140 PS 5-speed auto Tiptronic £23,050
SE 2.0-litre TDI 170 PS 6-speed manual £23,700*
Sport 2.0-litre TSI 170 PS 6-speed manual £22,870*
Sport 2.0-litre TSI 170 PS 6-speed auto Tiptronic £24,215*
Sport 2.0-litre TDI 140 PS 6-speed manual £22,500
Sport 2.0-litre TDI 140 PS 5-speed auto Tiptronic £23,750
Sport 2.0-litre TDI 170 PS 6-speed manual £23,400*
Escape 2.0-litre TDI 140 PS 6-speed manual £22,050
Escape 2.0-litre TDI 140 PS 5-speed auto Tiptronic £23,300
Available from 1st February 2008
* 2.0 TSI 170 and TDI 170 From Summer 2008
Sample discounts at 10-7-2009 via
www.drivethedeal.com
VW Tiguan 2.0 TDi SE 5dr £18596 Saving £3370
VW Tiguan 2.0 TDi SE 170 5dr £19384 Saving £3468
EQUIPMENT AND TRIM
S 1.4-litre TSI 150 PS
S 2.0-litre TDI 140 PS
Both the above models have the following standard features:
ABS anti-lock brakes with EBD (Electronic Brake pressure Distribution) and Brake Assist System
ESP (Electronic Stabilisation Programme), including EDL (Electronic Differential Lock) and ASR (traction control)
driver and front passenger front airbags with passenger airbag deactivation switch
front seat side impact airbags
curtain airbag system
three-point seat belts and head restraints for three rear passengers
Isofix child seat preparation for two outer rear seats
automatic hazard light activation under emergency braking
transponder-based electronic engine immobiliser
remote control central locking, plus alarm with interior protection
electronic parking brake with auto-hold function
multi-function computer
front and rear electric windows; electrically adjustable and heated door mirrors
factory-fit stereo with CD player and four speakers, MP3 compatible
'Climatic' semi-automatic air conditioning
height and reach adjustable steering column; driver's seat height adjustment
sliding and reclining 60:40 split/fold rear seats
steel space saver spare wheel
black roof rails
body-coloured front bumpers, door handles and door mirrors with integrated indicators; black side and rear protection pack
6J x 16 'Cairo' alloy wheels with 205/55 R16 tyres and anti-theft wheel bolts
SE 1.4-litre TSI 150 PS
SE 2.0-litre TDI 140 PS
Among a number of additional items, SE models gain the following features over the S model:
leather trimmed three-spoke steering wheel and gear knob
driver's and front passenger's under seat drawer
folding tables on the back of front seats
front comfort seats with height and lumbar adjustment
RCD 510 touchscreen radio/dash-mounted MP3 compatible 6 CD autochanger with eight speakers
chrome side window surrounds
chrome-plated roof rails
chrome-trimmed radiator grille louvres
heat insulating tinted glass from B-pillar backwards
7J x 17 'Sahara' alloy wheels with 235/55 R17 tyres and anti-theft wheel bolts
Sport 2.0-litre TDI 140 PS
Over and above SE, Sport models gain:
automatic welcome/leaving home lighting function
dusk sensor, automatic driving lights
front sports seats with height and lumbar adjustment
rain sensor and automatic dimming rear view mirror
sports suspension (not lowered)
7J x 18 'Sierra' alloy wheels with 235/50 R18 tyres and anti-theft wheel bolts
Escape 2.0-litre TDI 140 PS
Escape variants have a number of items of standard equipment that make them more suited to off-road applications. These include:
28 degree approach front module with shorter front overhang
protective side bump strips
protective element over front radiator grille
sump guard
underbody protection
off-road setting including hill descent assistant, optimised engine speed control when climbing, more precise monitoring of accelerator pedal and gear preselect for automatic transmission
compass
flat tyre indicator
7J x 17 'Tunis' alloy wheels with 235/45 R17 tyres and anti-theft wheel bolts
FACTORY-FIT OPTIONS
A number of factory- and retailer-fit options are available on the Tiguan, allowing buyers further to customise their vehicles. These include an electric panoramic sunroof, bi-Xenon headlights, a Park Assist function, a towbar, a wide variety of alloy wheels, an air conditioning upgrade, a new satellite navigation system, a so-called 'convenience' pack and leather upholstery.
Panoramic sunroof
Optional on all Tiguan models is a panoramic sunroof which is made of high-strength compound glass and offers 300 per cent more roof cut-out area than a conventional sunroof to give a light, airy atmosphere inside the cabin. It measures approximately 1,360 x 870 mm and the glass area covers around 1.1 sq m.
The aerodynamically and acoustically optimised sunroof consists of a front glass section that can be opened and a fixed glass rear section. It can be opened to varying degrees and adjusted in a wide variety of ways via the controls in the roof lining. The roof has a pinch protection, or rollback, function for added safety and a continuous, electrically-operated sunshade to prevent the interior becoming very hot in direct sunlight.
Convenience pack
Standard on the Sport model and optional on all others is a convenience pack. This comprises an automatic self-dimming rear-view mirror and rain sensor, plus a welcome/leaving home lighting function.
The self-dimming rear-view mirror uses LCD technology to sense when the lights of a vehicle behind are likely to distract the driver. The mirror reacts by dimming automatically, in a similar way to light-sensitive sunglasses. Sensors in the front and rear of the mirror monitor changes and readjust when appropriate.
The rain sensor positioned behind the interior rear-view mirror on the windscreen activates the windscreen wiper system as required. An infrared beam is reflected in different ways according to the pattern of moisture landing on a windscreen sensor. Signals from the sensor are used to control the wipers. When the wiper control is set to the normal 'Intermittent' position the wipers are automatically controlled from 'off' when the screen is dry through different delay intervals of intermittent wipe and on to two speeds of continuous operation.
Gas-discharge headlights
Ultra-efficient gas discharge (bi-Xenon) headlights are offered as an option on all Tiguans. These provide a well focused, blue-white light approximately two and a half times more powerful than standard lights. This option includes a self-levelling mechanism and high-pressure headlight wash. It also incorporates dynamic curve lighting that turns with the steering to a maximum swivelling angle of 15 degrees to provide better visibility around bends. When the vehicle is static, these are able to turn to 35 degrees in relation to the car's axis, useful, for example, when manoeuvring into tight parking spaces.
Park Assist and parking sensors
Also useful for tight manoeuvres is the option of Volkswagen's Park Assist system, first seen on the new Touran in 2007.
This option also adds parking sensors, and using a series of these located at the front, rear and side of the Tiguan, plots the ideal manoeuvring path into a parallel space either to the right or left of the vehicle.
When driving at speeds of under around 18 mph, an ultrasonic sensor system detects all parallel parking spaces in the right or left with a total space of 1.5 metres more than the vehicle. A control unit then notifies the driver that an appropriate space has been found and calculates the ideal parking path. Once in the recommended 'start' position, the driver engages reverse gear.
During the parking process the driver has no steering input – he or she is simply told when to accelerate or brake and the Tiguan does the rest.
Even if Park Assist is not being used, when reverse gear is engaged, the Tiguan driver benefits from the parking sensors that allow objects and vehicles behind the car to be pinpointed. The system produces an audible warning signal to guide the driver up to a safe distance to any objects behind. Not only does this help to avoid car park knocks, it could also prevent accidents, for example, if a child runs out who may not have been seen.
RNS 510: touchscreen navigation/radio system with optional Dynaudio soundpack and rear-view camera
A new touch-screen DVD navigation and entertainment system is offered with the Tiguan. Designated the RNS 510 the installation features a large touchscreen for fast, intuitive operation of the entertainment and navigation menus and displaying of information.
As well as playing CDs in the usual manner, favourite tracks can also be stored onto the internal, 30 GB hard-drive via an SD card slot in the front of the unit. The hard-drive can also be used to store navigation mapping. In addition routes can be recorded while driving and then re-traced by following guidance provided by the stored waypoints. This can be particularly useful in off-road situations and regions for which digital mapping does not exist.
For the navigation to function, rear ABS wheel sensors are used to determine the distance the car has covered and to provide information when the car is turning. Further system components include a solid-state magnetic compass concealed under the roof and a three-way roof aerial for radio and GPS (Global Positioning System). The aerial receives signals from the satellites in orbit from which the system is able to calculate the position of the car on the surface of the earth.
It is also possible to specify a high-end Dynaudio sound system, a 600 watt premium entertainment system from Danish hi-fi specialist, which provides exceptional sound quality, especially compared with other systems in the sector. The ten-channel system delivers up to a true 600 watts RMS without generating unwanted vibrations in the vehicle's structure.
Finally, this option also includes, for the first time on a Volkswagen, a rear-view camera. This is located just above the rear numberplate and transmits a real-time, distortion-free image of what is behind the car to the RNS 510 central display. This allows the driver to see and recognise obstacles behind the car, and manoeuvre into the tightest parking spaces. While moving, the screen marks out the car's steering movements with coloured orientation lines.
SAFETY
The high levels of body rigidity brought about by the advanced construction techniques employed in the Tiguan make it safe, thanks to the strength inherent in the body. Key to this is the employment of laser seam welding. Details of the Tiguan's rigidity statistics can be found in the Design section of this press pack. High levels of passive safety are achieved through a stable occupant cell, energy-absorbing deformation zones all around the vehicle and protection systems including six standard airbags.
In the event of a frontal or side impact, the Tiguan's occupants are protected by the high-strength body structure. In a side-on collision, the B-pillar acts as the central distributor of loads, transferring impact forces to the sill and roof frame. The combination of body and restraint systems results in very low occupant loads. The Tiguan's rear end structure is also reinforced by the use of high-strength longitudinal beams.
The need for pedestrian protection was also given high priority when the Tiguan was designed, and all relevant components at the front of the vehicle were engineered with this in mind. The interior sheet metal structure of the bonnet was optimised for pedestrian protection. In S, SE and Sport models (with an 18 degree angle of approach) a specially designed soft foam body is installed beneath the bumper cover, and together with an additional transverse beam, this is primarily intended to reduce the severity of pedestrian leg injuries.
All Tiguans have twin front and side airbags as well as a curtain airbag system that covers the entire side window area. Rear side airbags are also available as an option on all models. The front passenger airbag can be deactivated using the ignition key, enabling a rear-facing child seat to be transported safely. The outer two rear seats are also equipped with Isofix preparation, allowing the safe fitment of appropriate child seats in the rear.
Integrated in the front and outer rear seats are seat belt force limiters that reduce chest loads in the event of an accident. Belt tensioners in the front seats, which are electrically triggered by a central control module according to specific accident severity, ensure early adaptation of occupant restraint to car deceleration, allowing the restraint effect to be applied with lower load values. Standard front belt height adjustment also allows the seat belt to be positioned in the correct place, maximising comfort and minimising belt injury during a collision.
The Tiguan's airbag triggering system consists of a control module in the front area of the frame tunnel with three internal accelerometers (two sensors are aligned with the car's longitudinal direction and one with the transverse direction) as well as four satellite sensors for side crash detection. Two of these satellite sensors are designed as pressure sensors and are located in the two front doors. In a side-on collision, these sensors measure the air pressure rise caused by deformation of the front doors; this method of triggering the airbags is significantly faster and more robust than the conventional measurement of vehicle transverse acceleration.
Two accelerometers are also located in the lower area of the C-pillar to detect side collisions in which the front doors are not deformed. Side collisions affecting just the front of the Tiguan are detected by measurement of the car's transverse acceleration in the airbag control module.
A rear-end impact is detected by accelerometers in the airbag control module aligned with the car's longitudinal direction. The airbag triggering system also communicates with other control modules and ensures that in the event of a crash the hazard lights are illuminated, all doors are unlocked and the fuel pump is switched off. The Tiguan's hazard lights are also activated under very heavy braking. Details of the Tiguan's braking system and active safety measures can be found in the Braking section of this press pack.
Euro NCAP test results
The Tiguan scored a maximum five stars for occupant protection, four stars for child safety and two stars for the protection of pedestrians in the Euro NCAP (European New Car Assessment Programme) tests. These scores make it one of the safest cars on the road.
SECURITY
The security systems on the Tiguan were developed to be class-leading. Highlights include:
an in-cut key which is more difficult to copy
free-wheeling mechanism for the door-locks which means if an attempt is made to turn the lock cylinder with a screwdriver, for example, the connection is broken to the door opening mechanism
enhanced steering lock clutch to resist forcing
protection boxes surrounding door lock mechanisms
alternating code, transponder-based engine immobiliser
alternating code for remote control central locking
an advanced alarm that includes interior protection. The system is easily armed via the remote control key
factory-fit stereo system which is Volkswagen-branded and security coded
electronic 'CAN-bus' system linking central locking, theft protection system, electric windows and mirrors, and internal lighting
WARRANTY
3 years or 60,000 miles (2 year unlimited mileage manufacturer warranty followed by 1 year UK dealer warranty to 60,000 miles).
3 years paintwork warranty.
12 year body warranty against perforation
12 months Volkswagen Assistance in UK and Europe, extendable "at minimal cost".
More at
www.Volkswagen.co.uk