Volkswagen Tiguan 2.0 TDI SE 2011 Road Test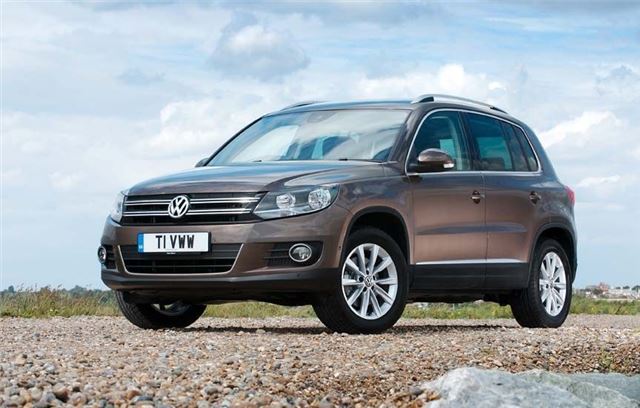 Volkswagen has been e­­nhancing many of the models in its range lately, not only to give the line up more of a recognisable Volkswagen identity but to improve technology, lower emissions and improve fuel economy.
The latest model to benefit from a redesign is the Tiguan compact SUV, and from a purely cosmetic standpoint the differences between this model and the outgoing version are plain to see. The headlights are bolder and more angular, and the prominent horizontal grille bars seen on the likes of the Golf and new Passat are present, as are the angular lines in the two-part rear light clusters.
The Tiguan is Volkswagens fourth best seller, after the Golf, Polo and Passat. 90% of the new Tiguans sold are expected to be diesels, and of those the majority will be the 2.0-litre 140PS TDI 4MOTION tested here in SE trim.
Emissions are 150g/km and fuel economy is a reasonable 48.7mpg on the combined cycle, helped by BlueMotion technology features like stop/start and battery regeneration. That means road tax is down from £165 for the outgoing model to £130, and you'll get about five miles further on a gallon of fuel.  
It's a willing engine, providing a decent 320Nm of torque from 1,750rpm through to 2,500rpm. In gear acceleration is good, and even on country roads it's quite easy to settle down and relax without having to stir the gearbox constantly for the best ratio. It's also quite refined, with very little noise or vibration transmitted to the cabin.
The ride quality is impressive. Over extremely rough surfaces it can be a little jittery, but through bends it feels safe and stable, with little in the way of body roll for such a tall vehicle. Despite that fact, potholes, lumps and speed bumps are absorbed easily and comfortably. It's at ease over grass and along unsurfaced tracks, too, although there was no opportunity to test it in particularly extreme circumstances.
There are two-wheel drive variants, but most get 4MOTION four-wheel drive, this model included. It's not designed for the Paris-Dakar, but should the going get slippery there's an automatic electronic differential lock to provide extra traction and keep the Tiguan on the move. Should you need a car for more than occasional off-road use, there is an Escape model which has greater ground clearance and more off-road technology.
The cabin is very typically Volkswagen, with high quality, sturdy materials that are pleasant on the eye and on the hand – switches, buttons and knobs are satisfying to operate, and the dials and display screens are all well presented and easy to read.
The seats and the steering wheel are easy to adjust into a comfortable position and are supportive, and there's ample space in the rear seats, which are adjustable. The boot is a decent size, too, so both passengers and luggage can be carried with ease.
The SE trim level tested benefits from a healthy standard specification, including fatigue detection, dual zone climate control, multi-function steering wheel, high-quality audio with six-CD changer and USB/ AUX-in, park-assist, and Highline multi-function computer, which includes tyre pressure monitor and rain-sensing wipers.
The test car also had a touch-screen navigation system, metallic paint, high beam assist and lane assist fitted, all of which are optional. That pushes the price up from £25,645 to £26,969. The range starts at £21,085 for the basic 1.4-litre petrol in S trim, rising to £27,335 for the 2.0-litre diesel with DSG gearbox in Escape trim.
The SE grade model tested represents the most sensible buy in the range, with enough standard equipment to satisfy most drivers without the need to tick many options boxes.
For those in the market for a small SUV the Tiguan offers a sensible package, particularly in SE trim. It's refined and comfortable on the road, offers reasonable fuel economy and emissions, and it shouldn't leave you stranded in the winter. It's also fairly well priced when compared to rivals like the Ford Kuga and the BMW X1.