Skoda Fabia 2015 Road Test

The 2015 Skoda Fabia is bigger and stronger, yet weighs 65kg less than the previous Fabia. And shares VAG's attractive swage line styling with cars like the SEAT Leon and VW Golf SV.
Engines are a 3-cylinder 1.0 litre petrol with 60PS or 75PS, a 4-cylinder 1.2 litre petrol with 90PS or 110PS and a new 3-cylinder 1.4 litre diesel with 90PS or 105PS. All have their exhaust manifolds incorporated into the cylinder heads for faster warm up, which brings greater efficiency and lower CO2, down to 88g/km for the diesel.
Factory fitted satnav was only ever specified for 1% of Fabias, so Skoda has adopted Mirror Link, like PSA and Toyota did for the C1, 108 and Aygo and Renault did for the Twingo. This allows a driver to link a smartphone to the car, bringing up many of the smartphone apps, including satnav, to a bigger touch screen on the dash. Another system called 'Smartgate' will eventually bring vehicle diagnostics to the screen, analysing journeys (like FIAT's Blue&Me and Ford's Sync) so you can see where you were driving most economically.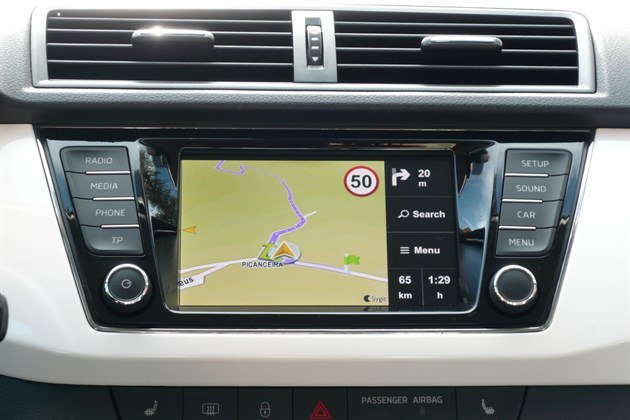 The cars we drove were pre-production and so far Mirror Link was only working with android phones, while Smartgate only worked with iPhones. At the time of writing the bugs weren't quite out of either system, but should be by the time UK deliveries begin in late January 2015 so both systems will work with both types of smartphone.
Thoughtful touches include an ice scraper fitted to the inside of the fuel flap, a trunk tidy to stop shopping rolling about and a dangler so that those of shorter stature can reach the hatchback to close it.
We drove two engines: the 105PS 1.4 diesel and the 75PS 1.0 petrol, each with 5-speed manual transmissions.
The 3-cylinder diesel felt remarkably smooth from inside the car and stumping up 230Nm torque was able to pull a high top gear giving 34.5mph per 1,000rpm.
That made it relaxed on the motorway and reasonably eager on the hills. A better drive than VAG's previous 3-cylinder diesels and a better proposition altogether than the 4-cylinder 1.6TDI for distance drivers. We got 64mpg, and a 25% taxpayer will pay from £493.14 a year for the privilege of running one on the firm.
He or she will pay even less BIK for running the cheaper 1.0MPI, as little as £371, but what they gain from the taxman they lose at the pumps. The 1.0MPI is geared at just 18.75mph per 1,000rpm in 5th, which makes it a bit of a screamer on the motorway and pulled our mpg down to just 41.5.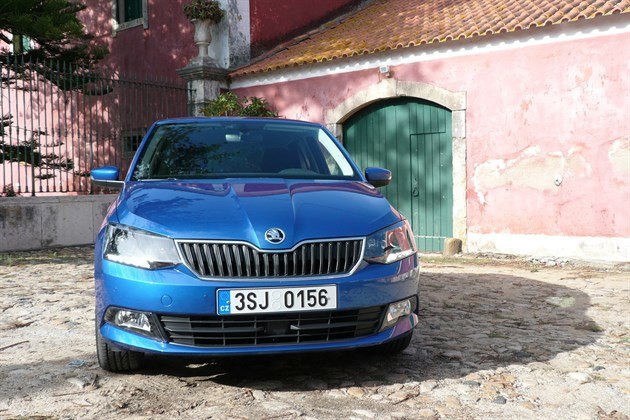 It's thrummy and quite good fun to drive, essentially the same engine as the VW Up and Skoda Citigo, but pulling a bit more weight and you feel that on the hills. Colleagues who drove the 60PS version reported having to use first gear sometimes, so this is not a car for hauling five large adults over the Pennines.
The pick of the bunch as a driver's car seems to be the 4-cylinder 1.2TSI 110 with 6-speed manual gearbox, but we did not get a chance to drive that, so a full road test will have to wait until RHD Fabias arrive in the UK.
Ride and handling seemed better in the 1.4 diesel with a bit more weight over the front wheels. The new Fabia isn't remotely 'sporty' to drive. It does the job reasonably quietly, efficiently and inoffensively, which we have to presume is exactly what Fabia buyers want. No drama. No excitement. Nothing to complain about.
But it's no longer the impecunious alternative to a Polo, an A1 or an Ibiza. It has the very latest VAG technology underneath, which makes it a better car than any of them.
And with its new swage-line styling it's arguably the best looking of the lot.
More at Skoda