SEAT Leon X-PERIENCE 2014 Road Test

The SEAT Leon X-PERIENCE is a Haldex clutched four-wheel drive version of the SEAT Leon ST, tested by Dan Powell here. It's SEAT's equivalent of the slightly larger Skoda Octavia Scout and comes with VAG's 2.0TDI with 150PS or 183PS, but a disappointing mere 280Nm torque.
You can change the six gears yourself or have it with the relatively robust twin wet clutch VAG DSG.
SEAT has plenty of experience of building AWD cars. There was an AWD diesel version of the original Leon Cupra and, of course, SEAT builds the Q3 AWD for Audi.
Beauty is in the eye of the beholder, but when I behold the Leon ST's carefully crafted swage lines I feast my eyes on them. I rate it as VAG's best looking car of all.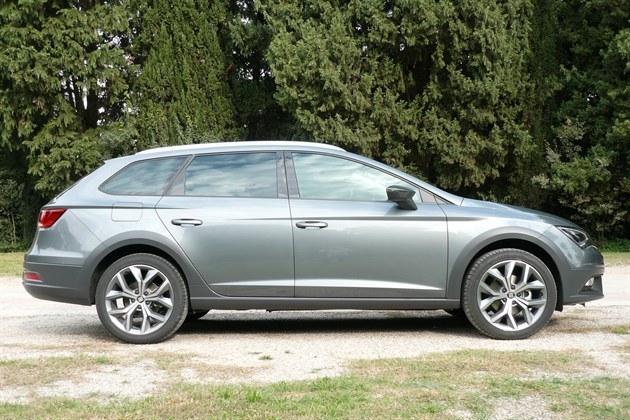 Jacked up by 28mm the X-PERIENCE isn't quite as elegant as the ST, but, of course, that extra inch off the ground can make the difference between motoring happily up a rough track and ripping the exhaust off on a rock.
Practicality is the same as the Leon ST with 587 litres of luggage space with the seats up and 1,470 litres with the seats down and loaded to the ceiling. There's not as much space under the load deck because that is occupied by a space-saver spare wheel. There are flippers on the sides of the load area to fold the rear backrests 'Karakuri' style, but these don't flop down completely flat.
The '4Drive' all wheel drive system is permanently on demand, electronically controlled with intelligent EDS dynamic control that transfers 100% of engine power to the front wheels in normal driving. However, under heavy load, or in slippery conditions such as mud, gravel, snow or ice, the 4Drive system will transfer up to 50% of the power to the rear axle, leaving the XDS traction control system to decide if there is more traction available for the right or left side wheels. Tyres are standard 225/45 R18 Goodyear Efficient Grip.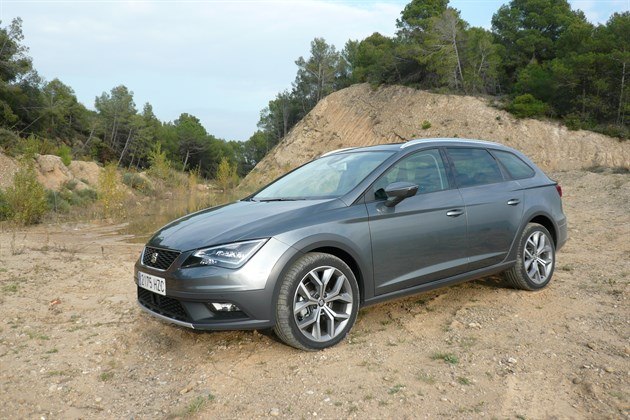 We didn't manage to find any snow or ice but did get ourselves onto around 15 kilometres of the kind of real world rough tracks the car is designed for. Hills, rocks, gulleys, steep descents, mud and ridges didn't seem to phase it and we only grounded once. It does what it is supposed to do.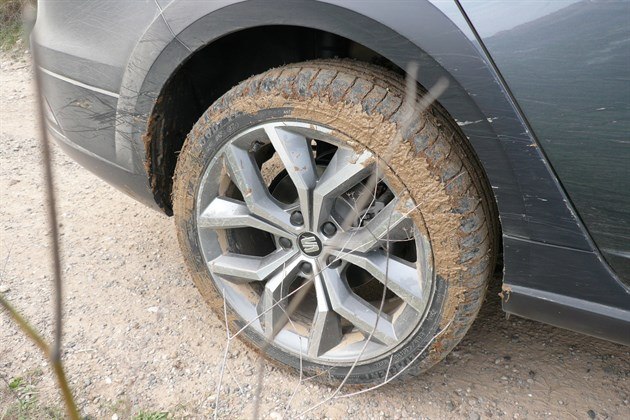 Our car was the lower powered 150PS TDI that on paper seems to lack torque at only 280Nm, but actually proved more than adequate. Of course it can't corner quite as flat as a front drive Leon ST on low profile rubber, but the steering had enough meat in it to inspire confidence and the only noise cruising at 120kmh was the swishing of the tyres.
It's curious that at a time when most manufacturers are offering two wheel drive SUVs that look the part but can't seriously venture into the rough stuff, here we have SEAT offering what looks like a conventional station wagon that can do what 2WD SUVs can't.
However, whereas most SUVs seem to be bought to act macho on the school run, I can't imagine anyone buying a SEAT Leon X-PERIENCE just for the look of it.
It's a serious station wagon for people who seriously need four wheel drive.
More at SEAT