Renault Grand Scenic dCi 160 2016 Road Test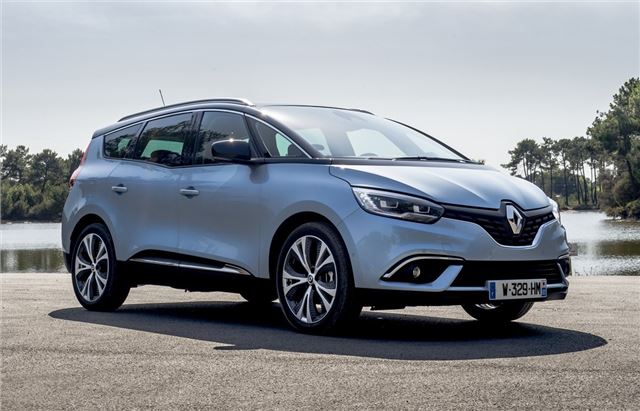 It's been 20 years since Renault introduced the first Scenic. Back then MPVs were new and (sort of) exciting - if you can imagine such a thing. Just like Britpop. Fast forward to today and the MPV has been replaced by the crossover and SUV when it comes to being flavour of the month. But while Oasis are thankfully long gone, Renault isn't giving up on the Scenic just yet. 
So it's ditched the rather conventional look of the old model (Renault that is, not the annoying Manchester-based band) in favour of a brave new design. Renault says it wants to give it some 'sex appeal'. Shudder. What it has done is made it look a lot like a crossover. Fancy that. So it's raised the floor height, made it look all swoopy at the top and stuck some big 20-inch alloys on.
And those big wheels aren't just for the high-spec models. No, every Scenic and Grand Scenic gets them as standard, the idea is to give the Scenic a premium appearance. They look ripe for kerbing, but at least Renault says that replacement tyres won't be any more expensive - presumably from a Renault dealer, whether Kwik-Fit agree is another matter...
The other big question is how do those big wheels affect the ride? Well it's a bit of a mixed bag that one. On the mainly super smooth roads of our test route in France, the Grand Scenic was pretty good, but on undulating roads it tends to be a bit wallowy, while the suspension and dampers are really busy on poor quality surfaces, much to the detriment of comfort.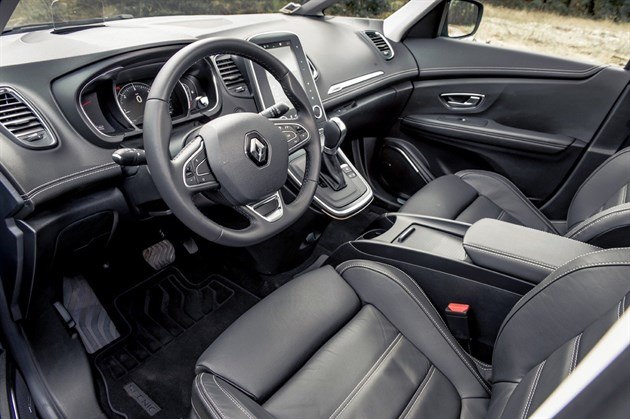 Things improve in the standard five-seater Scenic though. We tested one on the same roads and it was far better, yet fitted with the same wheels as the larger, bumpier Grand Scenic. It seems we'll have to reserve final judgement on the ride until we get to drive the seven-seater Grand Scenic in the UK. Renault was keen to point out that these were 'pre-production' cars, which is a general cover-it-all for any problems. We hope this includes the squeaky dash on our test car...
That aside, the interior does have a quality feel to it; it's certainly far better than the last generation Scenic and it's clear Renault has really upped its game here. The fact we were driving top spec models with leather-clad dashtops and leather seats did of course help. But Renault gets the basics right with a good driving position and nice thin pillars that makes seeing out at junctions easier.  
That said, it's not easy to judge the extremities of the Grand Scenic as the bonnet slopes away, while the rear pillar design means you can pretty much see nothing on the rear quarter angle. Fortunately Dynamique models and above get front and rear parking sensors as standard, but multi storey car parks are still daunting, especially when you're trying not to scratch those posh big alloys.
There are no complaints about the superbly versatile interior though. There's huge amounts of storage including clever features such as a glove box that slides out like a draw (although you do have to watch your knees) and an improved sliding centre console that neatly integrates into the dash when all the way forward. There's also a big iPad-like screen that sits vertically in the centre stack and controls all the main functions. It looks nice but does take some time to get familiar with and isn't the most responsive touchscreen.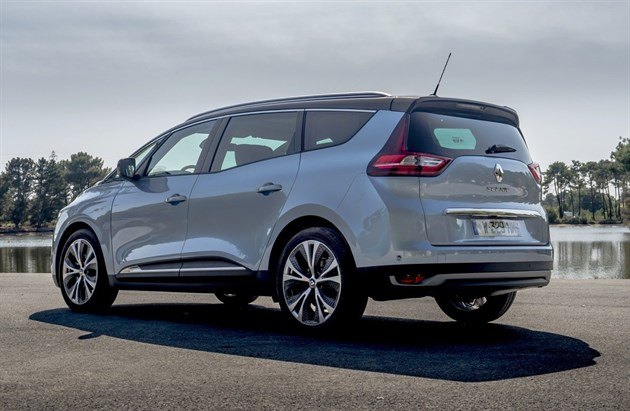 The middle row of seats has lots of room, although those over six-foot while find their heads close to the roof. The rear is good for younger kids or 'occasional' use as car manufacturers like to say. In other words it's a bit tight for space. What is good is the ability to fold down all the seats (or various permutations) thanks to handy buttons in the boot. The boot itself has a handy wide opening and lots of room for a pushchair in five seat mode. With the extra two back seats up, that space is cut down considerably but with 233 litres there's still a reasonable amount of room for a few bags of shopping or lightweight stroller. 
While the Grand Scenic does come with a 1.2 TCe petrol engine, most people will opt for a diesel. And if there's one thing the French are good at, it's a diesel. So there's a 1.5 dCi with 110PS which is going to be very popular or the more expensive 1.6 dCi. Go for the standard manual in the latter and it has 130PS but if you want the all singing and dancing 160PS version it gets a six-speed EDC automatic.
A diesel automatic is the perfect match for the Grand Scenic. It changes up quickly and smoothly while the dCi has plenty of torque for relaxed progress. Yet if you want to overtake something, there's enough get up and go to pass without sweat. It's also relatively quiet, while claimed economy is 62.7mpg, the same as the lower powered dCi 130. The steering in the Grand Scenic could be better though, it feels artificial and too light while in corners there's a fair amount of lean.
The Grand Scenic is a good looking seven-seat MPV and one that has plenty going in its favour, particularly its versatile interior and quality cabin feel. There's still a question mark over how it will ride in the UK on those 20-inch wheels but there's no doubting this is a big improvement over the old model. Can it compete with the likes of the Volkswagen Touran, Ford Grand C-MAX and Citroen Grand C4 Picasso? Well it has the edge on looks certainly and comes very well equipped as standard. Prices haven't been confirmed but Renault says the Grand Scenic will start at around £20,500, making it good value too. 
The Renault Scenic and Grand Scenic goes on sale in the UK in November.