Morgan Plus Six 2019 Road Test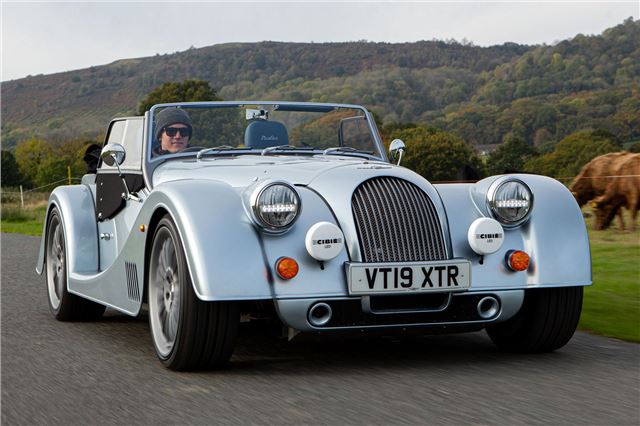 The Morgan Plus Six is a rarity. It's a new car from Worcestershire sports car manufacturer Morgan, which doesn't happen very often. It looks traditional enough to keep the Nigels happy, but it's also more comfortable and easier than ever to drive. We think it could be the best Morgan ever sold.
Let's start with the engine. It's BMW's 2019 B58 TwinPower Turbo inline-six. Or, in other words, the engine out of the BMW Z4 and Toyota Supra. It's at its fastest in the Morgan, though, accelerating to 62mph in 4.2 seconds and on to a top speed of 166mph. It's only available with an eight-speed automatic gearbox, while drivers can flick between normal, sport and sport plus modes - as well as a manual shift mode.
First impressions, on pulling out of Morgan's car park, are of how easy the Plus Six is to drive. Sure, its big turning circle and long bonnet means you're very aware that it's not a Ford Fiesta, but its light, power-assisted steering and automatic gearbox make it a doddle to manoeuvre. It's much more pleasant than the last Morgan we drove, a Duratec-powered AR Plus 4 with motorsport aspirations.
Even getting in and out is relatively easy. The cabin's more spacious than the Plus 8 it replaces, although you might still find yourself hanging your arm out of the window for comfort. The steering wheel adjusts for reach and height, while there's loads of legroom. It's comfortable enough to spend a few hours of cross-country touring in, but this is all relative.
Its interior looks positively pre-war compared to pretty much any other new car on sale, with a hard-to-read speedo positioned in the centre of the dash and a tiny digital display behind the wheel. While our test car was fitted with heated seats (£645 on all but the First Edition models), there's no infotainment screen or even a radio - simply an auxiliary-in socket and a set of speakers. Less is more, they say...
Back to how it drives. There's no traction or stability control systems. And 340PS through the rear wheels is plenty to overcome grip if you're ham-fisted with the throttle when setting off, even in the dry. But, once accelerating in a straight line, it feels really very quick. While 0-62mph in a smidge over four seconds is fast in any car, it's especially so in a car as back-to-basics as the Plus Six.
The eight-speed torque-converter ZF automatic gearbox works beautifully with the straight-six engine. There's certainly an argument for a car like this having a manual gearbox, but Morgan tells us the majority of buyers would prefer an auto. And it really does suit it well, changing gears at appropriate points depending on which drive mode you've selected. Plus, if you wish, you can slide the lever across into manual mode, giving you control via the column-mounted paddles. We'd prefer wheel-mounted paddles to make gear changes easier when turning, but that's a minor thing.
Talking of which, the Morgan Plus Six handles bends surprisingly well. If you're looking for a sports car to grab by the scruff of its neck and chuck down a B-road at speed, you'd probably be better with an Alpine A110 or Lotus Elise, but it's impressive how composed the Plus Six remains during twisty sections of roads. You'll need a bit of time to build confidence - the steering isn't the most communicative and you're very aware that it's been developed in a shed in Malvern (not to mention its lack of stability control), but the steering is quick to respond and the suspension does an excellent job of soaking up bumpy roads.
If you're used to modern cars, the brakes may not feel as responsive in the first instance. But there's plenty of bite, once you're in the habit of going on them hard when necessary. In fact, it will come to a stop surprisingly quickly - helped by its anti-lock braking system, one of its very few driver aids.
As a First Edition model, our test car features the sports exhaust system (£1495 on the standard car). While not the option to go for if you're the shy and retiring type (a Morgan probably isn't the car for you if you're the shy and retiring type), it's worth speccing as it really does the straight-six justice. Without it, you'd hear more of the turbocharged whoosh, but less of the burble you'd expect from a car like this.
Part of the appeal of buying a Plus Six is the whole build process. It's not like buying any other car. Order a Plus Six and you'll be added to a waiting list of up to six months. Once it's in build, it takes about a month of being hand-built at Morgan's factory. During that time, you can even arrange to go and see it in production. Factory collection is also available as an option, as is a photographic build record.
The Morgan Plus Six is as close as you can get to a modern classic car. You'd have to be a sadist to consider driving one as your only car, but as a weekend play thing it feels particularly special. There are easier cars to drive quickly - scratch that, there are easier cars to own (try putting the roof up as a storm cloud approaches) - but it's a very special sports car. Only you can decide whether it's special enough to justify its near-£80,000 price tag, though.
The Morgan Plus Six is on sale now with prices starting from £77,995.