Mercedes-Benz E-Class 2006 Facelift Road Test
Tue, 25 Jul 2006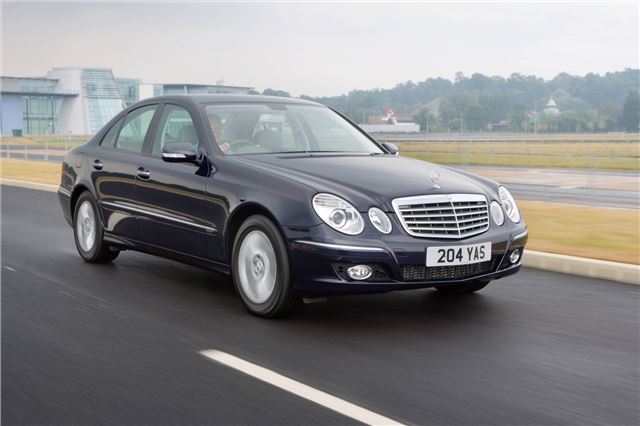 New engines, 2,000 improvements and gremlins finally expelled. The revitalised Mercedes Benz W211 E Class may look like the old one, but it's a good car made better in almost every respect.

Engines first, bottom to top, the 1.8 litre 200K now develops 184bhp and 250Nm torque with similar economy and CO2 output as before.

The 220CDI (the most popular engine) is up 20bhp to 170bhp, and now offers 400Nm torque yet economy is improved to an average 44.8mpg and CO2 is 167g/km.

The 3.0 litre 231PS 280 V6 petrol engine was new last year, the 3.5 litre 272PS 350 V6 petrol replaced the old 320 at the same time. Other engine changes from last year are the 3.0 litre 280 and 320CDI V6s with 190bhp and 224bhp respectively.

Hot news is that the E500 now gets the 5.5 litre 388PS V8 from the S Class and SLK that whacks it up to 60mph in a fraction over 5 seconds yet still offers 24.6mpg combined economy.

While sitting right at the top of the tree is a new 6.2 litre non supercharged V8, actually built from scratch by AMG, that pumps out an outrageous 514PS and 630Nm torque and gets you to sixty in a faster-than-Ferrari 4.3 seconds.

There are lots of other improvements too. A 10% quicker steering rack, standard Mercedes 'Pre-Safe' that prepares you and the car to withstand an impending impact, standard tyre pressure monitoring systems (allowing optional runflat tyres), and hydraulic rather than electro-hydraulic 'adaptive braking' that provides a quicker stop while simultaneously flashing the brake lights and hazards to warn the traffic behind.

Optional 'intelligent lights' are a bi-Xenon upgrade that illuminate the left side of the road at low speed enabling you to spot pedestrians, animals or other hazards that might suddenly jump out into the road. A standard feature of E-Class bi-Xenons is they can be simply changed from left dip to right dip by switches on the backs of the light units.

Outside the new cars are distinguished by a more prominent grille, new headlights, a new V shaped bumper and on the saloon a chrome highlight across the boot while estate cars get a full width high level brake light. New alloy wheels complete the picture outside and a new four spoke steering wheel and new interior colours inside.

To demonstrate the new safety features we were the first to be invited to Mercedes Benz World, MBUK's new sales, servicing and activity centre at Brooklands (opened October 2006), which features various test tracks on which to check out the systems.

Basically the adaptive braking stops you in half the Highway Code distances while flashing its warnings at the drivers behind, the intelligent ESP collects tail slides and other misbehaviour on wet and greasy surfaces. And on the two handling circuits the car we drove, an E320CDI, handles beautifully and totally predictably on its standard 225/55 R16 'comfort' tyres. Though Mercedes hasn't adopted the column shifter and steering wheel buttons of the ML, GL and SLK for the revitalised E Class, the Sport and the R63AMG do come with paddleshifts.

Out on the road, the E500 Sport was predictably harsher on its 245/40 + 235/35 R18s but was stonkingly quick. In my original W211 road test back in 2002 I wrote that the old 306PS E500 was all the car you could ever really need. Yet this one was more than that.

And from the sublime to the ridiculous, lastly the awesome E63 AMG. This shouts its credentials with big, brash 6.3AMG badges on its flanks, enormous 245/40 R18 fronts and 265/35 R18 rears, plus four exhaust pipes that emit a bark similar to the special SLK55AMG pace car you see at Formula One events.

Somehow AMG has adapted the 7GTRONIC automatic transmission to absorb the engine's violent 630Nm torque and with this you get billeted steel paddleshifters like the upgraded SL's. Give it some beans and it takes off like a World Rally Car gathering pace at an astonishing rate, possibly slightly quicker even than the 500PS M5 in 'Sport' mode. You can see 120 almost anywhere, 140 even, and as long as you are looking 'long' and anticipating what other vehicles might do, it doesn't even raise your heartbeat it's that good.

Well, maybe in another life. But I'd rather keep my licence so I'd go for the combination of performance, economy and comfort offered by the E320CDI on those nice 225/55 R16 tyres that were actually more fun to drive than the R18s of the E500 Sport.