Infiniti M35h hybrid Road Test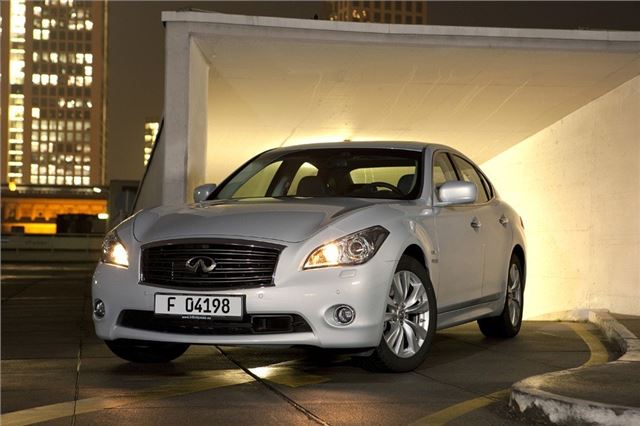 This unassuming hybrid version of Infiniti's luxury saloon is actually a proud record holder. The Infiniti M35h is currently the fastest accelerating hybrid in the world, capable of getting to 62mph in 5.5 seconds. That's quicker than any Lexus and even comes in below the new Porsche Panamera Hybrid.
Not a bad record to bag, considering that this is the first hybrid from Infiniti (and the wider Nissan family) and fitted to the largest saloon in the range.
Infiniti's in-house development of the M35h's drivetrain has really paid off as it notches up some decent figures where it really matters. The official fuel consumption figure is 40.4mpg (roughly the same as a 2.0-litre petrol hatchback), while CO2 is 162 g/km (placing it in Road Tax Band G). For a big, luxury saloon, these are impressive stats and for buyers they're far more relevant than how quick it'll get to 62mph.
What's notable about the hybrid system that Infiniti has developed is that it uses two clutches and a single electric motor. The first clutch is between the V6 engine and the electric motor. It de-couples when the car is in electric drive and power regeneration modes. This decoupling reduces mechanical drag and boosts the efficiency of the electric motor. It happens in slow-moving traffic and at speed, giving a sensation similar to coasting. The second clutch is on the other side of the electric motor. It is packaged within the transmission where its function replaces that of a conventional torque converter, in effect turning the seven-speed gearbox into an automated manual.
It's really on the motorway where this set-up is most evident. In cruising conditions, the electric motor will kick-in and the engine will be disconnected from the petrol engine. At this point, the car is running on electric power alone. It's eerily quiet as it does so, using energy that's been captured in the battery under braking and coasting.
Put your foot down and it's quick - there's no denying that - and feels as quick as its 'quickest hybrid' tag suggests. It gets to 62mph in 5.5 seconds and still has plenty of go left after that for safe overtaking at higher speeds. But it doesn't like to be pushed if you're not travelling in a straight line. There's a lot of bodyroll through corners and the steering (which is electrically powered) just isn't up to the job of changing direction quickly. It's not as agile as a BMW 5 Series or an even a larger Audi A8 and feels most at home when it's pounding the motorway, where it's quick, comfortable and generally quiet.
It's possible to squeeze out more miles from the car by selecting 'Eco' from a dial on the dash. This dampens the revs and makes the throttle pedal springier (to encourage you to be gentle with it). The sensation through the pedal is odd and can be off-putting. It feels artificial and you're left with the feeling that you won't know how it will react to inputs. Thankfully, through the on-board computer, it can be switched off .
The powertrain is silky smooth and you don't notice the electric motor kicking in. But elsewhere, it's not quite as refined at lower speeds and on rougher roads as you'd expect from a large luxury car. There's too much tyre noise and too much vibration in the back when compared to something like a Jaguar XJ.
But the Infiniti does partly make up for it by laying on an impressive standard equipment list – something that the likes of BMW and Jaguar can't match without adding thousands to the price tag. As the Hybrid powertrain is incompatible with four-wheel steering, there's no S spec, as with the petrol and diesel versions. That leaves just GT Premium, the top trim, which comes with a reversing camera, Bose sound system, vented and heated front seats, keyless entry, an electric rear blind, satellite navigation and a heated steering wheel as standard.
One major problem with Infiniti remains how visible the brand is to buyers. With just four showrooms (Reading, Birmingham, Central London and Glasgow), plus another two opening later this year (Stockport and Leeds), there's not much of a dealer network and most people will have to go out of their way to find one. But those who do buy are treated to the kind of service usually reserved for owners of Rolls-Royces and Bentleys, with bespoke service and trailer pick-up from your home for servicing. The good news is that the company is expanding in the UK, with 40 dealers planned to be up and running by 2016.