BMW 6 Series Gran Coupé 2012 Road Test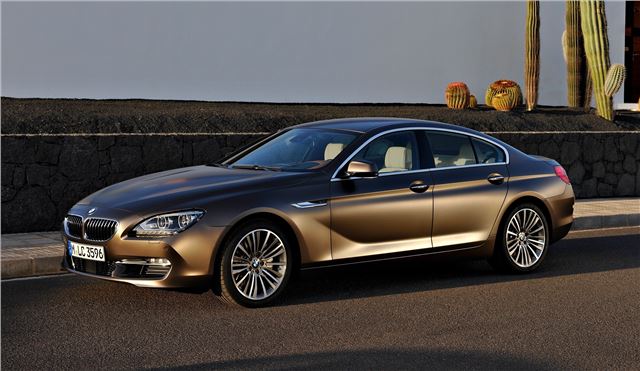 On looks alone the 6 Series Gran Coupé has been worth the wait.
The three premium German car makers seem locked in a battle to invent new niches and when one of them finds success the others quickly wheel out a rival. It's a tad surprising then that BMW has taken this long to launch what appears to be a competitor to the stylish Mercedes-Benz CLS and Audi A7 Sportback.
On paper, the Gran Coupé is just a 6 Series Coupé with 113mm extra metal in the wheelbase to accommodate rear doors. However, it proves to be a highly successful transformation, marrying the aggressive detailing of the two-door model's lights and front grille with an elegant side profile and squat rear view.
There are plenty of detail changes though, including a full-width high level brake light positioned at the top of the rear window, chrome finishing around the front air intakes and discreet 'Gran Coupé' badging behind the glass towards the back of those new rear doors.
Unsurprisingly, the quality, tactile interiors of other 6 Series variants are carried over - and rear occupants are not treated like second-class passengers. The attention to detail, fit and finish are exemplary. Is it as spacious in the back as a 5 Series? No, but there's far more room than in the rear of the two-door variant and it's on a par with the Mercedes-Benz CLS in that regard.
All versions are generously equipped with leather, sat nav, parking sensors, dual-zone climate control, keyless start and electrically adjusted and heated seats. SE and M Sport specifications will be offered, the latter adding more aggressive body styling, larger alloy wheels and a sportier interior for a premium of just under £5000.
Prices start at £61,380 for the petrol 640i model, though it's likely that more buyers will opt for the 640d Gran Coupé, which is priced at £63,895 in SE specification. A 650i variant arrives later in the year costing from £70,650 and an M6 derivative should be on the horizon as well.
While the turbocharged straight-six petrol engine of the 640i does a fine job, the 640d is a far more appealing car. Its six-cylinder diesel engine is fed air by two turbochargers, resulting in peak power of 313PS. That figure isn't as important as the maximum torque output, which is rated at 630Nm, produced from just 1500rpm. This endows the car with effortless performance regardless of the speed. If it is extended it sounds just as sporting as any petrol car.
The diesel model eclipses the entry-level version for outright speed, yet it's also significantly more efficient - it averages 50.4mpg with CO2 of 148g/km according to the official figures. This achievement was made possible partially by inclusion of stop-start, but also by the standard fitment of the latest generation eight-speed automatic gearbox. In default guise it's smooth and relaxing, keeping the engine at low revs, though it allows for more hurried driving with various modes to choose from.
If tied into the optional Adaptive Drive system this is managed centrally, along with the throttle sensitivity, damping and level of traction control. It's an option worth having, as it allows limousine levels of bump absorption in Comfort+ mode, while permitting the driver to engage with the car more in Sport and Sport+. It does a good impression of a sports car in these settings.
Irrespective of the mode, the Gran Coupé feels very different to a 5 Series saloon on the road, mainly due to the low seating position and wide stance. Yet it's a more resolved car than the two-door 6 Series Coupé, which is likely to be due to the extra stability afforded by the longer wheelbase.
Vitally, the Gran Coupé feels special. That's just as well, as it's more expensive than the equivalent cars from BMW's main adversaries. However, the four-door is less than £2000 more than the 6 Series Coupé, which could make that car all but redundant.
By Shane O' Donoghue