BMW 5 Series (2017 on)
reviewed by Anonymous on 5 August 2021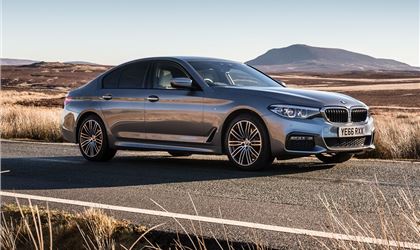 530i 2.0 M Sport Auto 4dr
reviewed by John Iles on 27 June 2021
4
Tax/Insurance/Warranty costs
2
Cost of maintenance and repairs
5
Experience at the dealership
5
How you rate the manufacturer
Brilliant car in so many ways but had major problems, thank goodness for warranty
I own a G30 530i and purchased it as it was coming up to a year old. It had only 16,000 on the clock and had been owned by BMW initially and I purchased it from a BMW dealership. The car is absolutely loaded with 5 of the BMW packages you can buy, plus sunroof and Bowers and Wilkins Hi-Fi system. Full nappa leather, massage seats, auto parking etc. Basically, you name it, it's got it. However, whilst it's a fantastic driving experience it's been plagued with problems that I had repaired under warranty, and more some later covered under BMW extended warranty that I'm paying £93 a month for (thankfully as it turned out). It all started with the small storage cover by the drivers door to the right of the steering wheel, the catch stopped working, had it replaced. Then the I drive control unit became extremely sticky and took many pushes to get to the menu you wanted. New one covered under warranty. Then I heard a pulsing type noise when the car was ticking over after starting up that lasted for nearly an hour. After some interesting exchanges with the dealership, whereby I had to make a firm stance, they diagnosed it to the timing chain area. Engine and gearbox removed. Found the plastic chain guide had snapped and it was in the sump. This resulted in them replacing all of the 3 chains, guides and some Vanos parts. The car had only done 29,000 miles by then having owned it for just under 2 years. Thankfully, again, I still had warranty cover but it expired when the work was being done to repair. However, it didn't end there. Before driving it away when I collected it I noticed the pulsing type sound was still present. They took the car back and after many discussions with Germany etc the dealership was told to strip the engine down. This was done and they found, where the chains had been flaying around as a result of chain guide snapped, that aluminium filings had scoured pot 4 and also the cam carriers. This resulted in two major failings that resulted in me getting a complete new engine, under warranty. With my car now returned, but warranty period expired, I purchased the comprehensive BMW extended warranty. Thank goodness I did that as 6 months later my auto handbrake warning light kept coming up as it kept failing. This resulted in the DSC control unit to be replaced. The unit alone is £1,400!!!! This was covered under my own BMW extended warranty. So, as you can see, it's been plagued with problems. Engine and gearbox removed twice, timing chains, guides, Vanos etc then a complete new replacement engine. My local dealership though were superb, as they always have been since owing BMW's. I've owned about 26 BMW's over a period of about 20 years and whilst I love BMW's this particular model has been really troublesome. But, as mentioned, the ride and handling is sublime, but, one must question the reliability following my own experience. The car has now only covered 31,000. I've ticked, surprisingly to some, I would recommend this car as it is a great car and I believe my experience is not common place, but please be aware that if you detect an engine type noise that you feel shouldn't be there, pursue it as it could result in a biggy.
reviewed by BMW Enthusiast on 27 November 2019
Write your review
About this car
| | |
| --- | --- |
| Price | £36,025–£49,945 |
| Road Tax | A–L |
| MPG | 36.2–141.2 mpg |
| Real MPG | 57.4% |
Just reviewed...