Our Cars: Subaru Levorg 1.6i GT Lineartronic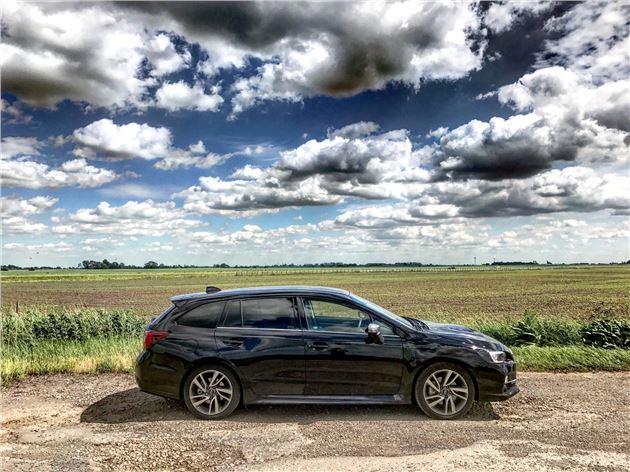 30 June 2017: MPG improvement gives fuel for thought
The Details
| | |
| --- | --- |
| Current mileage 5530 | |
| Claimed economy 39.8mpg | |
| Actual economy 40.6mpg | |
This is my first update on the Subaru Levorg, and while not meaning to contradict Dan Powell, who obviously got to know the car a little better than me in the few months he was driving it compared to my few weeks, but so far I think he might be talking rubbish.
I took the key when the car had 4500 miles on the odometer, so still hardly what you'd call run in, and immediately saw an improvement in the fuel economy Dan had been achieving. An accurate calculation from an indicated 36.3mpg on one tank saw a measured 35.5mpg brim-to-brim, while the latest tank is currently showing a trip computer average of 41.7mpg over 420 miles – the reading calculated when refuelling was 40.6mpg for 47 litres consumed over that distance.
To be fair to Dan, he has been commuting in the car at times of peak traffic on notoriously congested roads. He perhaps should have been using the urban fuel economy figure of 33.2mpg as a benchmark for how he has been driving it. I work from home, and I'm based in the countryside where there's little traffic.
I sometimes have to drive to Heathrow airport to fly to some far off place to drive a new car on a press launch, but I always allow myself plenty of time. It hasn't been too difficult to see the trip computer head toward 40mpg, although maybe aiming to go higher was me trying to rub it in a little, and I look forward to debunking the speed (or lack of it) issue in a future update...
The foglights (left photo) are the daytime running lights on the Levorg, despite an LED headlight 'signature'.

One aspect of the Levorg that both Dan and I agree on is that it's a great looking car. Riding low, and with a bonnet air intake and metal finishes on the grille, lower lights and door mirrors, it creates its own focus of attention.
But the lower light clusters incorporating indicators and front foglights are an area where I think Subaru has missed a trick. The Levorg, like all new cars, has daytime running lights. And even if it didn't have LED headlamps, like many other mainstream and premium cars, it has an LED signature design in the headlamp unit.
The difference here is that whereas an Audi, Mercedes-Benz, Ford or Vauxhall would use the LED as its daytime running light, for some reason, unfathomable to me, the Levorg illuminates its foglights only. They perform exactly the same function but look far less cool.

You might think this is irrelevant, but word has it that Volvo decided to make its 'Thor's hammer' LED daytime running light signature standard on cars in the UK because customers of other premium brands had been disappointed to take delivery of their new models and find they hadn't selected it as an option. On a £30,000 Subaru, with plenty of equipment as standard, you wonder why this oversight was allowed to happen.
« Earlier: Surveying the estate Later: Win on Sunday, sell on Monday? »
Updates

After six months with the Subaru Levorg, are we any the wiser as to its purpose? Simon ponders its place in the automotive world.

The Levorg has a huge amount of technology as standard. But Simon finds not all of it is as welcome as it is useful.

Want to avoid the stigma of driving in 'economy' mode? Simon finds you can in the Subaru Levorg.

Does the fact that the auto-only Levorg comes with a particular type of gearbox harm its appeal? Auto-loving Simon thinks not.

Subaru is one of the brands currently associated with the British Touring Car Championship, with BMR Racing running Levorgs. Simon assesses whether the racing heritage rubs off on the road car.

30 June 2017: MPG improvement gives fuel for thought
Have we been overstating the fuel consumption issue with the Subaru Levorg? Simon thinks so.

The time has come for Dan to say goodbye to the Subaru and summarise his time with the thirsty estate.

A small stone chip turns into a big problem as Dan's windscreen cracks up in the heat.

Dan heads to mainland Europe for a weekend to see how the Levorg performs as holiday transport.

The Subaru Levorg looks great. Sadly its performance is not as impressive, as Dan explains.

Subaru's estate has plenty to offer, including a huge boot. But how does it compare to the competition?

Dan swaps his compact and efficient Suzuki Baleno hatchback for the big and bold Subaru estate.