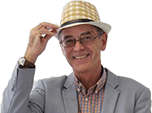 Our Cars: Skoda Superb Estate 2.0 TDI 150 4x4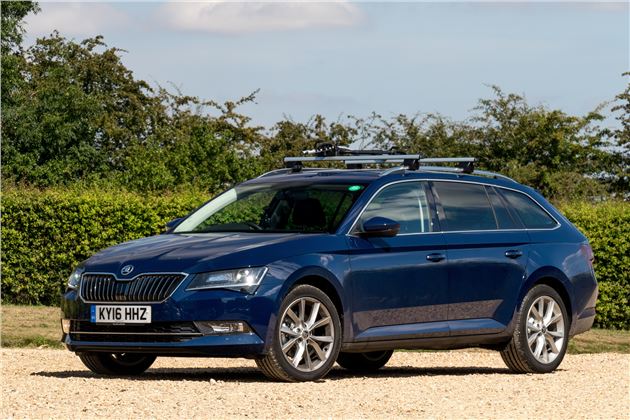 28 July 2016: Skoda Superb Estate joins the fleet
The Details
| | |
| --- | --- |
| Current mileage | 70 |
| Claimed economy | 60.4mpg |
| Actual economy | 46.9mpg |
It wasn't that long ago that Skodas were a bit of a joke. For example: 'Why do Skodas have heated rear windscreens? So you can keep you hands warm when you're pushing them.' Now, I always thought this was a bit unfair as our neighbours had a Skoda and it was in the garage less than our late-model Ford Escort.
Indeed, there are plenty of great old Skodas (see our feature on the best classic Skodas if you need reminding). And some of them are fetching serious money. Take my particular favourite, the MB1000 – one of those is hard to find and you'll pay a decent chunk of cash for it when you do.
But despite the many examples of Skoda excellence, certain members of the older generation (hello mum!) still turn their noses up at the Skoda brand. And there really is no reason to. Since Volkswagen got involved with the Czech car maker in 1990, Skoda has been a force to be reckoned with.
Which is why we'll be running this Skoda Superb estate over the next six months. We'll be putting it through its paces and seeing how it copes with everyday life -from the school run and trips to Tesco - to long-haul family holiday and shuttling various musical instruments from place to place.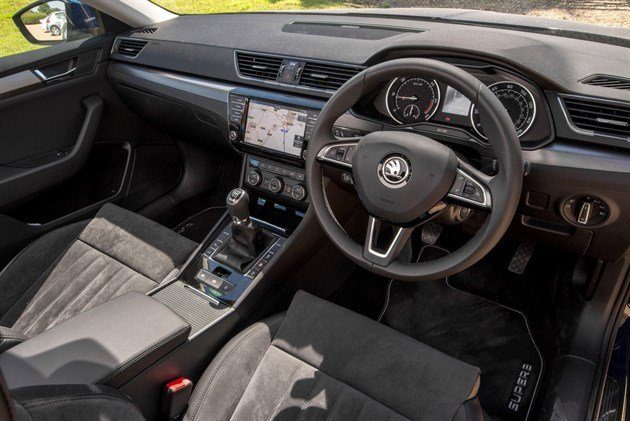 Superb's interior is fuctional and very comfortable.
The model we've gone for is SE L Executive Estate – one down from the top of the range. But don't think that we're missing out. This car comes loaded with kit. There's 18-inch alloy wheels, leather steering wheel, adaptive cruise control, xenon headlights, Bluetooth, navigation, DAB, climate control, an electrically operated boot and much much more.
But our favourite items on the car are the touches that you only get on a Skoda Superb. Like the umbrellas stashed in the front doors. Or the ice-scraper located in the fuel filler cap. There's even a removable LED lamp in the boot. Genius... even if our test car does have a list price of just under £30k.
Power comes courtesy of the 2.0-litre TDI 150PS diesel engine. This has slightly less power than the Volkswagen Passat we ran previously, but it's still quick enough. The 0-62mph dash comes in at 9.1 seconds while the car's top speed is 132mph… not that we'll ever have the chance to get there in the UK.
It's economical, too – the official figure is 60.1mpg, but we're hopeful of regularly seeing a number the right side of 50mpg, once we've managed to run it in (it came to us with just 70 miles on the clock). When you consider the sheer size of the Superb Estate, we reckon it could just about be the perfect family car. Only time will tell. 
Updates

Find out what the real world miles per gallon of our long-term load-lugger is

We swap our diesel estate for a petrol hatch - which is better?

Time to get the niggles on our long-term diesel estate sorted.

Skoda's rich cycling heritage makes it easy to transport road bikes in the Superb estate

We put our long-term load lugger through its paces on the continent

Our long-term Skoda is full of hidden surprises designed to make life easier.

A faulty Superb Estate allows us to get an earlier than expected chance to experience Skoda's dealer network.

Thanks to our big Skoda Superb wagon, Keith is able to indulge his love of large rear ends.

The Superb gets a baptism of fire as Keith takes it on a family holiday. Surely this will all end well..

28 July 2016: Skoda Superb Estate joins the fleet
Is the Skoda Superb Estate the best family load-lugger on the market? Keith has the next six months to find out...