Our Cars: Skoda Rapid 1.6 TDI SE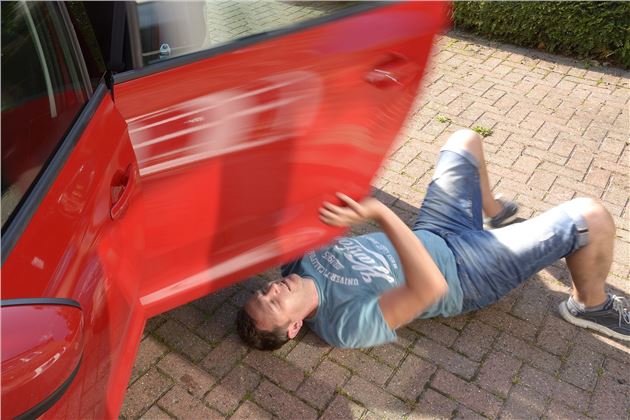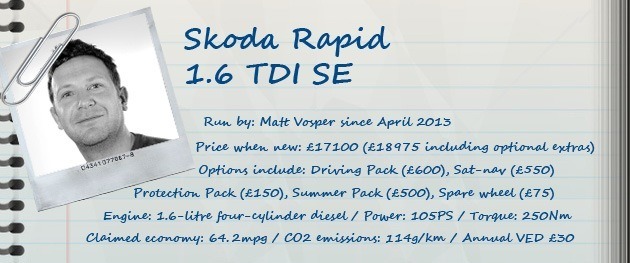 6 September 2013: Water torture
The Details
| | |
| --- | --- |
| Current mileage | 14,495 |
| Claimed economy | 64.2mpg |
| Actual economy | 58.6mpg |
It's back on track and back to work after a holiday in France and the Rapid, true to Skoda's word, was delivered back to me cleaned and checked by their technicians after they requested a look at the leaky doors problem. I had searched online about this problem and it seems a few people had also experienced the same issue with water in the rear doors. A worrying sign.
So I was confident the problem was fixed and with no more sloshing noises the car seemed fine. That was the case for three days and then in true British summer style it rained. And unfortunately the problem re-surfaced with the driver side and then passenger side rear doors full of water.
Skoda contacted me on its return and it does seem there is a known problem so its technicians have carried out a procedure from factory guidelines to fix it but unfortunately it hasn't worked, or it did but only temporarily and now the water build up is back I'm afraid to say.
So it's back to square one on this. I have worked out a way to drain the water out of the doors by gently pulling the rubber seal away from the bodywork in various places but it still remains a mystery as to how the water build up occurs in the first place. It's not a fix I'm really after here, more of an explanation as to how so much gets in.

We all know what happens when water and metal mix with oxygen and that's not something you want from a brand new car. Without a solution I guess that's exactly what will inevitably happen to the underside of the doors as time goes by. Hopefully Skoda will get back to me with a more permanent fix. Fortunately the rear doors have manual windows as opposed to electric, so I guess in this instance there's no electrical worry.
However, I have now noticed another area where there's significant water seemingly entering the car. After the rain last week I noticed on opening the boot, that once the tailgate is fully open, water on the rear glass flows back down the glass to the roofline where it then goes back down either side of the boot opening. When it reaches the rear lights there's a pretty big gap, at least 5mm, where the water simply flows down inbetween the body work and the light cluster.
Open the boot a few times on a rainy day and that's quite a significant amount of water being channelled, where it disappears to I don't know, into the depths of the inside of the car it seems.
« Earlier: Rapid goes in for some attention Later: Rapid economy on the up »
Updates

Our Rapid is leaving us after six months and while the leaky door problem remains unresolved, we still think the Rapid is an impressively practical small family car.

We've been keeping an eye on the Rapid's fuel economy over the past few weeks which has been a distraction from the leaky doors problem.

6 September 2013: Water torture
Our Rapid is back after its fix but it seems the water leak problem has returned, leaving us with a bit of a headache as to what to do next.

Our Rapid has gone off to Skoda HQ in the hope that the leaky doors problem can be solved. In the meantime, we've been looking back at how it's performed so far.

The recent thunderstorms and heavy rain have highlighted a worrying issue with our Rapid which sees the rear doors get filled with water when it's been left parked.

Goodwood may be all about performance and glamour but that didn't stop our Rapid getting a run down the hill. Even if it was under a 10mph restriction...

The sat nav in our Rapid is a good value system that also adds Bluetooth but it can be a little too keen to divert you around imaginary traffic problems.

Our Rapid is proving a bit like Fort Knox when it comes to actually unlocking all the doors and getting in.

We've been impressed with the space and practicality of our Rapid but after several thousand miles already, what's the verdict on the handling?

The Rapid may look like a saloon but it's actually a hatchback - and a very practical one and that - with a huge boot and loads of rear space.

The new Skoda Rapid is the latest addition to Our Cars and with its practical space and economical TDI engine it should prove the perfect car for our resident photographer.