Our Cars: Skoda Rapid 1.6 TDI SE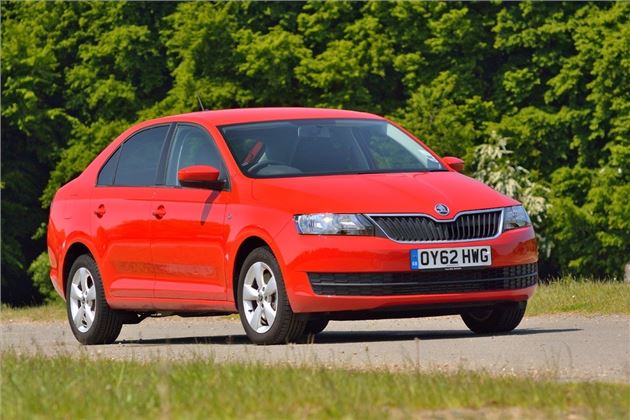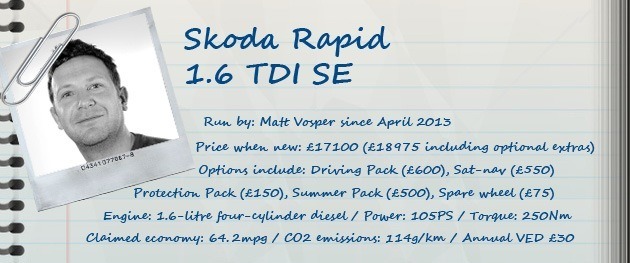 21 June 2013: Red alert
The Details
| | |
| --- | --- |
| Current mileage | 9960 |
| Claimed economy | 64.2mpg |
| Actual economy | 58.6mpg |
The specification of our Rapid SE is something of a mixed bag. There's nothing in the car to get overly excited about however there's nothing to really complain about either. There are some quite luxury features like the MMI system, alloy wheels and rear privacy glass. But then there are no electric windows in the back, only a simple winder which seems a little dated.
This may well be keeping the costs down but the drivers electric window also seems very basic as there's no auto up, it's a small niggle but after being used to most cars having this feature as standard coupled with the wind up windows in the rear you do get a sense of corners being cut a little.
While on the subject of security glass and security in general, the Rapid feels like its on a constant red alert, before even entering the car. Upon pressing the key fob you hear a very definitive clunking sound of the doors unlocking, not so it seems, as only the drivers door has actually unlocked. To open all the other doors you have to double press the key fob - a traditional Volkswagen feature that's made its way across the group. It can be annoying though, as I find myself repeatedly pressing the fob, so it becomes guesswork as to whether the car is locked, unlocked or fully unlocked?
The car then goes into a further state of security by auto locking itself as soon as you drive off with a very definitive clunk and a door lock light button lights up, however pressing this button soon unlocks the car again if required. It becomes even more apparent when you fill up the car as even the petrol filling cap needs to be unlocked with the keys which again is something you don't see much on modern cars. Usually the flap is unlocked from inside rather than using the key.
But having said all this, added security is no bad thing it just takes a little bit of effort to remember it's there and ignoring your passengers faces as they repeatedly pull door handles whilst I repeatedly press the key fob.
One nice extra touch while on the subject of the filler cap is the ice scraper fitted on the inside, which easily slides out when required. This is something I've not come across before which given our summer so far might come in very handy.
              Lock on the fuel cap seems old fashioned but the clever ice scraper in the flap is a neat touch
« Earlier: Rapid on the road Later: Over sensitive sat nav »
Updates

Our Rapid is leaving us after six months and while the leaky door problem remains unresolved, we still think the Rapid is an impressively practical small family car.

We've been keeping an eye on the Rapid's fuel economy over the past few weeks which has been a distraction from the leaky doors problem.

Our Rapid is back after its fix but it seems the water leak problem has returned, leaving us with a bit of a headache as to what to do next.

Our Rapid has gone off to Skoda HQ in the hope that the leaky doors problem can be solved. In the meantime, we've been looking back at how it's performed so far.

The recent thunderstorms and heavy rain have highlighted a worrying issue with our Rapid which sees the rear doors get filled with water when it's been left parked.

Goodwood may be all about performance and glamour but that didn't stop our Rapid getting a run down the hill. Even if it was under a 10mph restriction...

The sat nav in our Rapid is a good value system that also adds Bluetooth but it can be a little too keen to divert you around imaginary traffic problems.

21 June 2013: Red alert
Our Rapid is proving a bit like Fort Knox when it comes to actually unlocking all the doors and getting in.

We've been impressed with the space and practicality of our Rapid but after several thousand miles already, what's the verdict on the handling?

The Rapid may look like a saloon but it's actually a hatchback - and a very practical one and that - with a huge boot and loads of rear space.

The new Skoda Rapid is the latest addition to Our Cars and with its practical space and economical TDI engine it should prove the perfect car for our resident photographer.