Our Cars: Skoda Rapid 1.6 TDI SE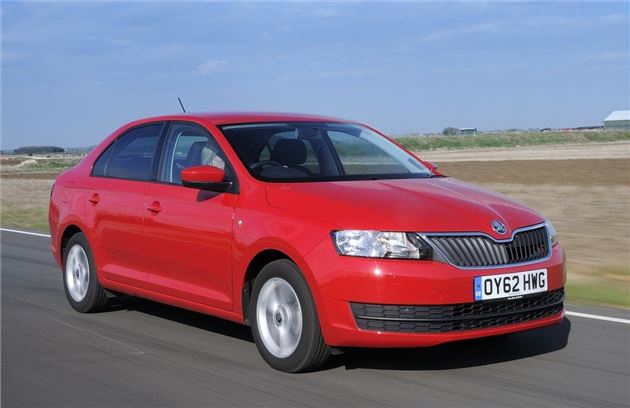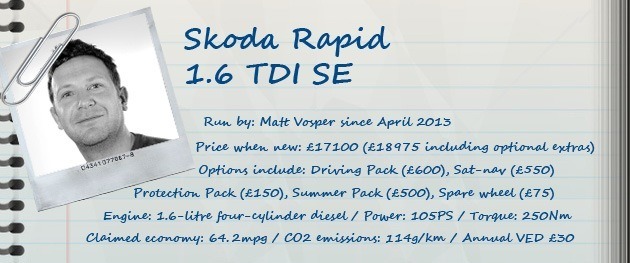 16 August 2013: Rapid goes in for some attention
The Details
| | |
| --- | --- |
| Current mileage | 13,960 |
| Claimed economy | 64.2mpg |
| Actual economy | 57.4mpg |
Having been on holiday for the past two weeks the Rapid hasn't seen many miles and I intended to give it a well-earned rest on the driveway. However, since the problem with the doors taking in water Skoda has offered to take a look at the problem.
So it's taking a rest back at Skoda HQ as technicians try and discover exactly where the water is getting in and hopefully how to remedy it. In the meantime it's given me a chance to look back after the past few months with the Rapid.

Since April I've been running my own economy figures and recording mileage, cost and litres to see how close the figures are to the quoted manufacturers figures. Skoda claim combined fuel economy of 64.2mpg and at present my figure comes in at 57.4mpg - so not far short.  That's over 6371 miles and considering I regularly carry passengers and lots of heavy equipment I'm quite impressed. My driving covers motorway and towns which should give a good representation of a real world figure.

It's something that was apparent right from word go with the Rapid, some journeys it reached an average of 70mpg, mostly motorways mind, you but if you're after a big family car with a huge boot enough leg room for an NBA basketball player that's also super economical, then this could be your car.
As such I can't think of anything competition wise which comes this close at this price range other than Skoda's own Octavia. However the diesel Rapid starts at a higher price than some of the petrol Octavia models, so inevitably where you save on fuel in the 1.6 TDI Rapid you end up spending more initially for the ability to be economical.
Next month sees the Frankfurt Motor Show where Skoda will be unveiling an estate verison of the Rapid, called the Spaceback. With a bigger overall boot (confusingly the estate has less boot space than the standard Rapid when the seats are in place) and even more practicality, it could be a real success.

However, there are still niggles in my Rapid which may be small but are worth mentioning. The sat nav system is playing up again and has decided at regular intervals to just turn itself off while the cruise control has never worked, leaving me wondering whether there is in fact cruise control or whether it is in fact just a generic stalk that's fitted to all cars in case you wish to add or upgrade in the future?
« Earlier: Driving in the bath Later: Water torture »
Updates

Our Rapid is leaving us after six months and while the leaky door problem remains unresolved, we still think the Rapid is an impressively practical small family car.

We've been keeping an eye on the Rapid's fuel economy over the past few weeks which has been a distraction from the leaky doors problem.

Our Rapid is back after its fix but it seems the water leak problem has returned, leaving us with a bit of a headache as to what to do next.

16 August 2013: Rapid goes in for some attention
Our Rapid has gone off to Skoda HQ in the hope that the leaky doors problem can be solved. In the meantime, we've been looking back at how it's performed so far.

The recent thunderstorms and heavy rain have highlighted a worrying issue with our Rapid which sees the rear doors get filled with water when it's been left parked.

Goodwood may be all about performance and glamour but that didn't stop our Rapid getting a run down the hill. Even if it was under a 10mph restriction...

The sat nav in our Rapid is a good value system that also adds Bluetooth but it can be a little too keen to divert you around imaginary traffic problems.

Our Rapid is proving a bit like Fort Knox when it comes to actually unlocking all the doors and getting in.

We've been impressed with the space and practicality of our Rapid but after several thousand miles already, what's the verdict on the handling?

The Rapid may look like a saloon but it's actually a hatchback - and a very practical one and that - with a huge boot and loads of rear space.

The new Skoda Rapid is the latest addition to Our Cars and with its practical space and economical TDI engine it should prove the perfect car for our resident photographer.